Hello, I'm the project lead for Severed World! Our game is a fairly ambitious project that I'd like to think is a bit different from what you can expect. Let me tell you a little about it!
So, what's the goal here?
Essentially, we're looking to fill a niche. That niche is an MMORPG that's presented in the form of pixel art, a style many of us love that's never really been fully taken advantage of in the ORPG genre. There's a few games, like ROTMG and Graal, but I think we could definitely take things a step further.
Imagine a Zelda-like game in a massive multiplayer world, with similar arcade-like gameplay, and you have an idea of what we're trying to create here. Less of the puzzles and more of the badass bosses, though. Things like traps in dungeons will still be a thing, but we're focusing on party PvE here when it comes to the content, as well as features that promote competitive PvP.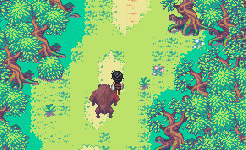 Features?!
We have a lot done so far in the time we've been developing. A good chunk of the art assets and all of the core code (networking, menus, AI, cutscenes/NPCs, etc). We're at the stage where we're just adding quest and dungeon content, along with features to spice things up.
Here's our plans for the beta and what to expect:
- Immerisive storyline. Enjoy wacky villains and noble comrades as you embark north to reach the world tree and avoid your country's doom. Nine towns each with a challenging boss and several dungeons.
- Every monster is unique. Even lesser creatures in Severed have special mechanics that make them an interesting encounter... and there's over fifty critters planned to bring the areas to life! From man-eating plants that travel through the ground to pesky shapeshifters, we promise an impressive repertoire of enemies to take down.
- Focus on crafting. Every single enemy in the game not only drops awesome gear to outfit your character in, but ingredients that can be used to craft new items. Collecting ingredients to craft new shinies will be a big focus for the game.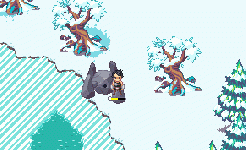 - All content is replayable and scalable. Not only can you relive that incredible boss fight, but you can ramp up the heat. When replaying a dungeon, choose a mode from normal, hard, to extreme difficulty. The rewards scale accordingly.
- Engaging multiplayer features to climb the leaderboards that reward items for your achievements. Go up against other guilds in MOBA-styled death matches, king of the hill, and capture the flag. Alternatively, join your guild members to face off against challenges in a roguelike mode where you embark through procedurally generated dungeons.
Closing Statement
We're fast approaching a closed beta and we have big plans. We hope to have a Kickstarter up soon to make our ambition a little more realistic and give us some flex-room. I'll be posting progress here on and off, so...