Hello folks, we finally made it to this place and I'm happy to announce our new project to you :-)
The Goal of the Mechcommander OmniTech mod is to create an upgraded and more easily moddable version of the good old Mechcommander 2. A game based in the universe of a great and fun franchise, a game with lots of tactical components and full of possibilities, which have unfortunately not being discovered by the Microsoft programmers or they simply couldn't do because of technical limitations and/or business pressure. Our Goal is NOT, to release a new campaign, there are actually a lot of good campaigns already available, and some of us are also working on a new one in their offtime (everyone for himself, since it's so damn easy :-) ). So content for the future is certainly no problem, it's the game that needs upgrading.
And now, since MS released the sourcecode of the game (which really surprised me when it happened, and that's certainly something, I like MS for) I thought it's about time for a real attempt. I have started modding MC a few years back before the sourcecode came, but the possibilities where quite limited at that time, and so I left it quickly (like most of the fans did, not to mention the Carver V campaign was rather boring storywise IMO). In the following years the community did rather extinct, and the game slowly became forgotten and unmentioned
But a few people remained and created some nice new additions, and after the SC came out, there has already been some scattered, but very good work being done throughout the web in the last few years, like new mechs, vehicles or gameplay changes. That has restarted my modding will for this game again, and I started to collect information. I found some very talented modders who have already made changes to the code, and so I made the proposal for a combined effort and my idea found some interest, because combined work has a much higher chance of going somewhere than lonesome modding warriors. Sofar, there is already an alpha base available, and two of the three major code enhancements are making progress or are already half way done. Of course, there are a lot of more changes than only those three that could be done, and our list of project goals is quite long :-)
Of course we are currently at the beginning, but in the first place, it was the Freespace SCP team that inspired me to the thought that with the necessary effort and enthusiastic people something really great can be born. The more people join us, the faster we get it done. Of course, the main goal here is coding, and coders are hard to find. Even if I can spit new models out like a machine, it's of no value if I fail to maintain the coding department (which works well atm, but could always use help of course). As for the look of the game, here is an example in what way the upgrading will take place :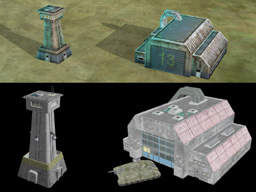 You can find more images in the gallery. :-)
Besides that, I really want to pump some life into the already dying community for this game, because I'm very sure, that it still finds a lot of interest under todays PC Gamers. It's an awesome game, and deserves a comeback. And for getting known better, this site is very good in my opinion. I always loved this game and the idea behind it, I just never really liked the dull graphic that much, but hopefully that will change in the future. Keep your fingers crossed, watch this mod and if you feel to it, send an application. But before doing so, please read this thread here :
I have added this mod to the "Mechcommander 2" game, however, the mod is completly standalone, since it is based on the released sourcecode, which also includes a completly playable version of the game, just the video and multiplayer has been deactived/removed from MS to prevent law issues, but fixing this is also on the to-do list.
For our first showcase and the introduction here, I provided some first images in the gallery, and in a few weeks we will release the alpha build, which will be (graphically) like the old MC2, just with some new features.
So, that' enough for introduction, back to work. See you around :-)
Best regards
Starman