So what is FUEL: REFUELED?
The mod itself is based on being an improvement/enhancement mod that for starters fixes a number of bugs in the game and secondly brings various new features to the table. It has been in development since the fall of 2009 and was first publicly released (Version 10) in Spring 2010. V14.4, the latest downloadable version was released originally in June 2010.
What new features?
A lot of requests and suggestions for the game are about expanding on concepts and features already in the game. Such as... why are there no multi-vehicle type races? Why are there no tornado's in offline free-ride? Why is the hovercraft only used in one race? And so on...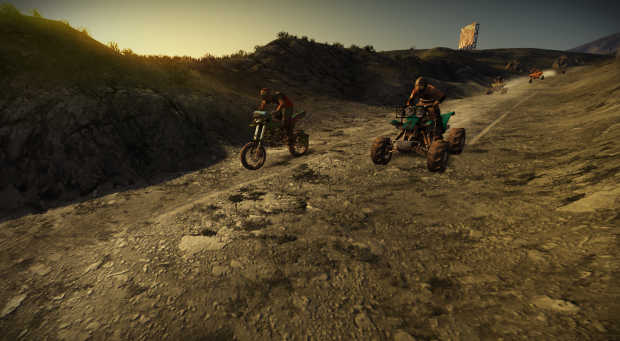 Multi-vehicle type races
In the CGI trailer for the game it shows various a whole mix of vehicles types all racing against each other and the elements. Races such as this never made it into the game.
In FUEL: REFUELED I've been working to make vehicles selection more fun and less restricting, obviously while still retaining some balance. To achieve this I came up with five vehicle groups:
Bikes & Quads
Your light vehicles, on any number of wheels - essentially anything thats light and nimble and not a car or truck.
Buggy's, Muscle-Cars & SUV's
Your average vehicles, such as cars, buggies and SUV's - anything that isn't a lightweight such as a bike or heavy like a truck.
Trucks
The heavies - the sort of massive vehicles that just power over any obstructions and don't stop for anything. These are stuff like Monster trucks and any other type of large truck style vehicle.
Hydro


The Trident Hovercraft... that can obviously cross land and water.

Dragster


The Damocles Dragster... that can obviously out-run any other vehicle on land.
These classes are based on the what makes the game balanced, putting bikes up against trucks didn't work well in my early tests... especially for the bikes that often just got flattened lol
Tornado's in Free Ride
I understand obviously why online would be a problem - but why not allow tornado's to appear offline?! To achieve this I had to create an entire game concept I call "Free Ride Activities", which are essentially mini-games that you can activate in the game-world at various points such as a vista-point or helipad. From this I was able to create "Free Ride Extreme" which is a mini-game that spawns a tornado in the zone.
Other stuff I've developed include true chopper chases that don't follow a traditional race route, literally chasing the helicopter back to a nearby helipad.
What am I currently working on?
New Challenges
Currently I'm in the process of completing V15 of the mod - which goes beyond previous versions and actually replaces some of the lesser content of the game.
A example of this was the catch-destruction and chopper chase challenges, which I'd rendered obsolete by my Free Ride activities feature - instead they will be replaced by 38 new challenges including ones using the dragster and hovercraft.
New UI
One of the most noticeable changes when you start up the game is the removal of the old menu - In some ways I thought it was too obstructing and the various text strings and buttons that didn't follow the same use of terms, also made it confusing for some. Below are few mid-development screenshots that give an approx. idea as to what the menu will look like.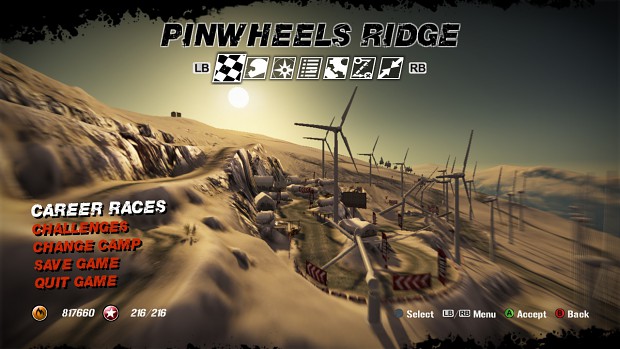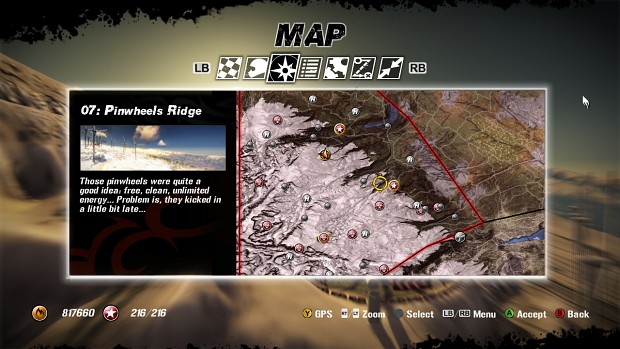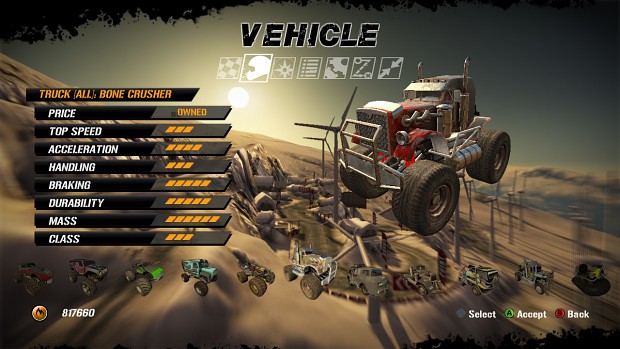 I should also add that I'm currently looking into a way for users to customize their menu to their liking, likely by me suppling a set of themes that can be customized.
When will the next version be out?
Hopefully later this month if all testing goes to plan, there are many more new features and changes I haven't mentioned so check out the change notes when I put them up and also why not take a look at www.tfroc.net for a discussion on some of the various features.