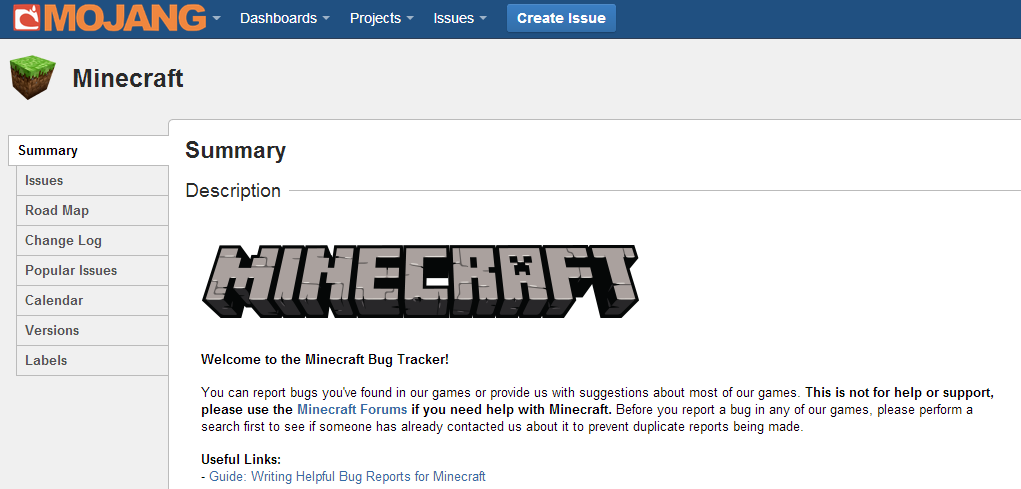 Mojang now has a proper Minecraft Bug Tracker for the community to use! Many of you guys have been asking us for a real bug tracker instead of using the Minecraft Wiki, so I was put on the task of working with Atlassian to make that happen using their fantastic issue tracker, JIRA.
Although this new Minecraft bug tracker will mostly be community organized and run, it will be the official location to report bugs in Minecraft that we'll be keeping an eye on. Although we're currently only accepting bug reports for Minecraft 1.4.1 pre-release, we'll be using this new bug tracker for all future releases of Minecraft. If you're already familiar with JIRA and want to get right into reporting a bug, go check out the new Minecraft Bug Tracker here!
Otherwise, we have a Help article containing helpful tips and an easy to follow guide on how to write a helpful Minecraft bug report here. Read on for the surprisingly awesome story of how our new Minecraft bug tracker came to be and our relationship with Atlassian developed.
The awesome story…
When we were looking for the perfect service to use for our Minecraft bug tracker, we had to focus on two things: it had to be powerful enough to actually be useful and it had to be relatively easy to use. If you have any experience with issue trackers, you'll know that it is really difficult to find one that isn't entirely developer focused and too complicated for non-tech savvy users to use. There are plenty options out there, but they're either too powerful and complicated or too simple and watered down.
Enter Atlassian's JIRA, their answer to issue trackers. Having used it extensively and successfully for the Bukkit project, I was fully aware of how powerful JIRA was. As such, it was a clear place for us to start evaluating the options we had and we quickly found out how flexible and customisable, as well as powerful, it was after some tinkering. With JIRA, we feel that we're able to achieve the important balance we need that provides the community with the right tools to properly manage and report bugs, while continuing to be easy to use.
With that in mind, we sent an email to Atlassian, let them know of our plan to set up a proper Minecraft Bug Tracker and asked if they could help us out. To our surprise, they're huge fans of Minecraft and immediately offered to help us out, providing us with a free JIRA license and whatever guidance we needed. In fact, they love Minecraft so much, they even used it to showcase their improved JIRA developer's API for JIRA v5.0 in a cool video. So, it's thanks to Atlassian for being awesome, supportive and lovers of Minecraft that we're able to provide the community with a fantastic and powerful Minecraft bug tracker.
How to help out!
Want to know how to write helpful bug reports for us? Just follow this simple guide and you'll be well on your way! If you've ever wanted to help us improve Minecraft, reporting bugs is a great way to do so.
If you want to go a step further, you can also help us out by testing reported bugs and letting us know if you're able to reproduce them, as well as helping people put together great bug reports on the Minecraft forums so they're ready to submit them to the bug tracker.