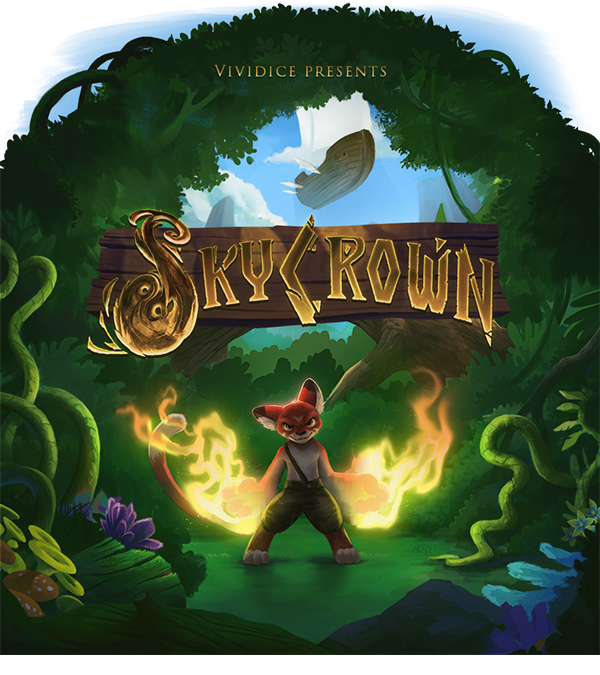 Introducing Skycrown
We're proud to announce that we've finally taken the step towards showcasing Skycrown next to all other wonderful Indie Game titles present on IndieDB.
Let's have a look at what the game's all about.
The Concept
Skycrown is all about the experience—The story, artwork, content and controls should all feel natural and at home with the Player, and as this is a single-player game, it's even more important that the game can deliver an intriguing experience. Above all, we want to tell a story that our players can resonate with and that they wish to strive to complete.
Foundations
Skycrown is designed to be so much more than a single game; We want the world and its characters, creatures and concepts to all be part of a universe: The Skycrown Universe. This first title is only the beginning, developed to establish grounds for the universe's growth over the coming years.
In this game we'll follow a young Tvill on a journey packed with emotional struggles, action to fight your way through, puzzles to solve and a world to explore.
Mechanics
Players will be able to inspect and interact with the environment to learn more about the universe's lore and much of its content, or to make use of their surroundings. There'll also be times when the player has to fight for their survival, and puzzles to beat to unlock secrets or to further the adventure.
The game is currently designed to be controlled with mouse and keyboard, but we're looking into other possibilities as well.
The World
As we alluded to earlier, the world of Skycrown is a big place, and the adventure is about to begin, unraveling mysteries of a long forgotten past. We hope to satisfy the player with fleshed out, lush environments with interesting findings throughout.
The world is set in a completely new fictional universe, and we hope that the departure from standard fantasy creatures will intrigue our players.
The Characters
We won't reveal much about the characters yet, but the image above should give a hint at what the tvill look like. You'll be playing as one of those, a youngster tvill to be more precise. You'll follow his adventure, guiding him through hardships, despair and experience his growth both mentally and physically.
Trailer
We recently produced a trailer for a competition held in Sweden for Indie Game Developers, and we thought it would be a great way to finish off this introduction—Enjoy!
Have a great weekend!
Sincerely,
The Skycrown Team