Hello,
we want to take the moment to introduce our new game Lonely Mountains: Downhill here on IndieDB.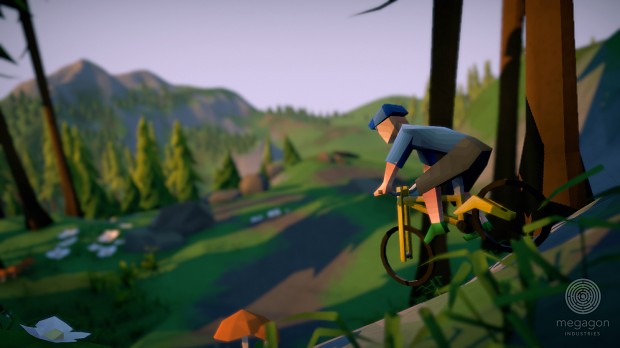 Lonely Mountains: Downhill is a Downhill Mountain Biking Game for PC focusing on responsive and fun controls, an open level design and an untouched nature in a beautiful low poly style. The game is still in early development and will hopefully reach the finishing line early/mid 2018.
Our goal is to build a fun racing game but still giving players the feeling of riding a downhill bike through rough terrain. We deliberately didn't want to build a downhill simulation but an arcade game which also downhill/mountain bikers can enjoy.
Here are some of our main features:
Custom Bike Physics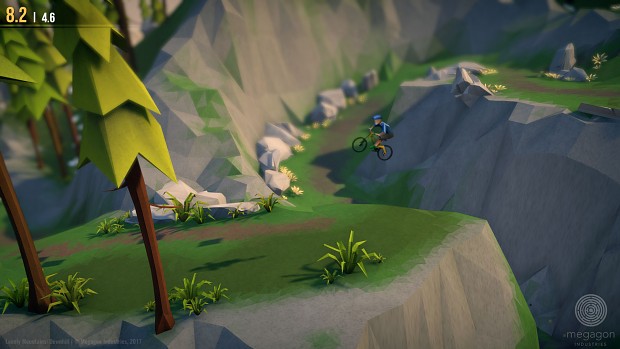 We developed a custom bike physics system to achieve very tight and fun controls while still incorporating the feeling of driving a downhill bike. You can steer, accelerate, brake and also sprint to overcome hills or get the little extra speed to make a large jump. We support mouse and keyboard controls but game controller works best. You can jump and slide however this is not button controlled but happens naturally through the bike physics as we want to keep the core gameplay as easy as possible.
Seamless Tracks
You always start at the top of the mountain and can ride all the way down to the valley in one seamless ride with no loading times. Behind the scenes the mountain is separated into different tracks (think of it as a checkpoint system) and when you crash you will always start at the last checkpoint. We keep each section very short on purpose so that starting a track again from the last checkpoint isn't too frustrating.
Open Level Design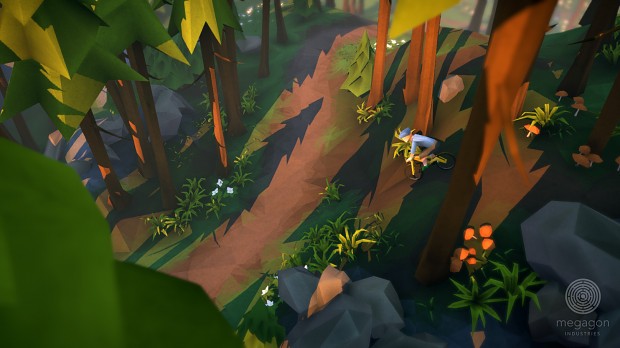 You can play it safe and follow the main trail or take the risk and go cross-country to find the fastest way down. There are a lot of different short cuts (official and unofficial ones) to reach the finishing line. Early playtests showed that this is really fun if you want to compete on leaderboards or do speed runs as finding the fastest way down is really a challenge.
Untouched Nature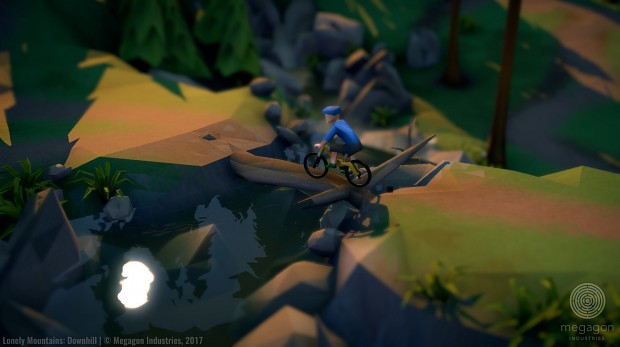 Take your bike all over the world and experience a beautiful nature untouched by men. No audience, no barrier tapes – just you and your bike (and some bears but it's better to stay away from them). We don't want to have a sports tournament feeling with sponsor signs all over the place but instead you riding along quiet mountain lakes, through majestic forests or steep canyons.
Ragdoll Crash System
We advise you to try not to crash but if you do we want to make sure it looks cool (and painful). For this we switch from our custom physics to a rag doll system (enhanced through some custom animations) powered by Unity's Animation and PhysX system when you crash. This way crashes are always unique and fun to watch.
Beautiful Low-Poly Style
For the game we combine low poly art with custom shaders as well as modern lighting and post-effects to achieve a stylized and unique look. Our goal is to have enough visual details to give you the feeling of standing on the top of the mountain or riding through a thick forest but without even trying to achieve a realistic look. We also use a lot subtle effects like trees moving in the wind or dust particles to bring the world alive.
Further/Future Features:
(Most of them not yet implemented so please take them with a grain of salt...)
Leaderboards:

We want to have a really good leaderboard system deeply integrated with the game, allowing you to compete on different mountains, tracks and game modes with other players.

Different Ground Types:

We (already) have different ground types which affect the behavior of the bike.

Secret Locations: Explore the mountains to find secret locations.
Weather System:

Ride your bike through wind, rain and snow.

Dynamic Day & Night System:

Start your ride in the middle of the night and feel the sun rising when you reach the valley.

Ghosts:

Play against your own ghosts in your hunt for the best-time.

Replay & Share System:

Rewatch your best actions and your funniest fails from different camera perspectives and share them with the community

Rider & Bike Customization:

Customize your rider and bike after your own taste.

Unlock & Progression System:

Strive for the best times to unlock new game modes, modifiers and tracks.
Development Status and Road Map:
Although we're working on the game for more than a year now it is still in an early development state. Since two weeks we have a fairly polished showcase/vertical slice version we mainly use for playtesting at private and public events but as the feedback is pretty good we will probably ramp up the development speed now.
What's next? On the business side the next big step for us will be to get the game greenlit before Valve shuts it down. We're working on a trailer and some more material for the greenlight page - hopefully we can show you something soon.
Gameplay-wise we are currently implementing a basic highscore system for our pre-alpha testers and also improving the controls - we think about giving the players more air control which would not only making jumping easier but also give the player options to do some cool tricks in midair.
Who are we?
Megagon Industries is a two person indie studio from Berlin. We're pretty much both handling the game design while Jan is doing most of the coding as well as the 3D modelling/animations for the biker and Daniel is doing the 3D environment art and level design (and also writing blog posts like this one). We also have Martin Wiese on board who is doing the sound design. Lonely Mountains: Downhill will be our third Megagon title and by far the biggest one we've ever made.
We'll try to write more blog posts here in the future but if you want to make sure to stay up-to-date with the development you can subscribe to our newsletter at www.lonelymountains.com or follow us on facebook or twitter. If you want to chat to one of us personally it's probably best to reach out to us on twitter. (Jan: @DrWDSo, Daniel: @DannyHellfish)
We would love to hear your feedback! If you have any questions, critique or recommendations please let us know in the comments.
Thanks for reading!
Jan & Daniel