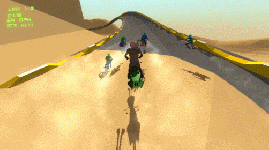 Hoverbike Joust started as a prototype when I needed a break from my first game, B-12. You see, B-12's original purpose was to be a short (few months) project to learn Unity and was essentially my very first game. All of my code had become a huge mess, and as I tried to add new features, I'd encounter complications caused by my older code from when I was just learning. I'd been working on B-12 for nearly two years. I needed a break.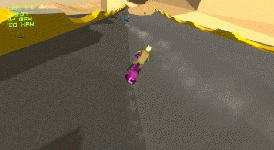 Suddenly, I found that my side-project, inspired by games like Jet Moto and Waverace 64 (along with the terrible-yet-awesome swoop level from Shadows of The Empire) was almost instantly more fun to me than B-12. Not only that, but the code and systems are much cleaner now that I'm better at scripting in Unity, and progress is much faster.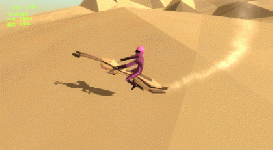 Since I feel confident that development time for Hoverbike Joust won't be too long, I've decided to focus on this as my primary project until it is completed. I hope to release a public pre-alpha demo in the coming weeks which will include one track and one arena with support for both single-player and local (split-screen) multi-player.
I'll end this with a slogan idea sparked by an anonymous comment from yesterday:
In Hoverbike Joust, your bike is the lance.