INTERVIEW WITH HOOKEDGAMERS!
We recently sat down with Hooked Gamers to answer some questions and let them in on some information regarding the ORION game series. The interview just went live today – make sure to check it out!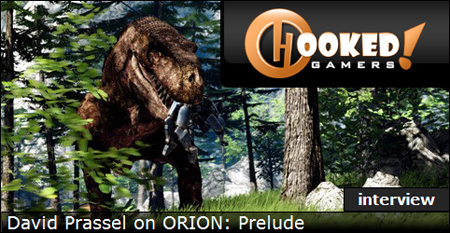 SNIPPET:
Hooked Gamers:
Thanks for taking the time to answer a few questions today David. To get this started, how about you tell us what ORION: Prelude is all about and what genre it falls under.

David Prassel:
ORION: Prelude is a fast-paced, retro-inspired First-Person Shooter. It encompasses feature sets that no hard core gamer could resist, including: interactive dinosaurs, multiple levels of vehicular combat, cooperative modes and competitive gameplay.

Hooked Gamers:
How exactly did this idea come about?

David Prassel:
Back in the late 90's, I was a HUGE gamer. The PC market ignited with titles such as Quake 2 CTF, Starsiege: Tribes, early renditions of Counter-Strike, StarCraft, the first Unreal Tournament - it was an incredible time for the gaming industry. I also was part of the "grouped" gaming phenomenon, or "clans" which really complimented team work elements and strategy. All of this factored in to when I sat down and started designing the ORION game series - and it will be extremely apparent.
Find out some new details regarding ORION: Prelude, the history of the game, what inspired it and plenty of other questions and answers – only at HookedGamers!
Read the rest of the 3 page interview over at HookedGamers.com:
Hookedgamers.com