SITREP is basically an ongoing progress report where we publicly display our current tasks, progress and focus areas. Primarily targeted at those of you who find game development and our Open Door Development methodology intriguing. - Read last weeks SITREP here
Remember that you can preorder and support the development of Interstellar Marines by upgrading your profile to Spearhead or Frontliner, or by buying Support Medals in our shop.
Team debriefing


Kim (ZPSHicks)
Game Director
"You've probably noticed that we added a few additional marine badges yesterday. These color-coded badges should help honor all our 'super-supporters' (marines with 30+ Support Medals) .. Designing, iterating and finalizing these badges have been a nice small break away from Unity and the Operations map (Pixel work is just great fun and reminiscent of the good old days working in Deluxe Paint IV on the Amiga 500). The badge-ribbon takes its inspiration from NATOs actual naval ribbon just to keep our alignment with ITO consistent. Next up I'll focus a bit of my time selling the Art Direction of Deadlock in greater detail because we feel that it'll help visualize to everybody what to expect from the coming months and I also need to prep Anders for his commitment back into the IM universe".


Kenneth
Lead Sound Designer / PR
"This week has been quite schizophrenic. I don't think I've been working on the same thing two days in a row. First of all I've been working with ASPM on one of Jess' levels, and encountered some performance issues, which are not yet solved. I've helped heks a bit with our troublesome server and I also took a day off in order to finish and deliver a report at the IT-University in Copenhagen, where I'm currently taking a Diploma in IT 'after hours'. Finally I wrote the latest newsletter (Log Entry 020) and sent it out."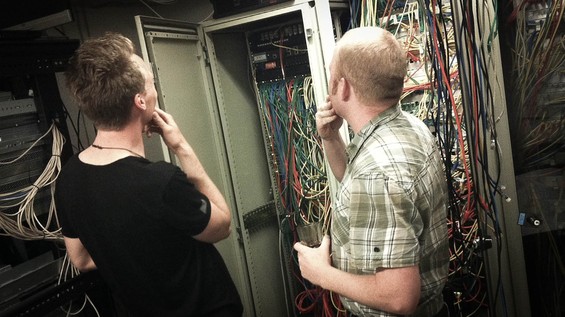 "hmmm.. what goes where??" - Tax and Heks tries to understand the hardware world of our Interstellar Marines servers.. Did anyone say FUBAR?


Mikael (heks)
Lead Programmer
"Last week we found out by mere coincidence that our production server was feeling a bit blue, which consequently rendered some of our projects inaccessible - Yikes!
I'm not much of a SysAdm (things should "just work" indefinitely!). I'd rather be without these non-development related tasks but this is a real issue that we cannot ignore, and which prevents us from any meaningful collaboration. So I've been working on restoring the server to its former glory which is taking longer than we were hoping for. Hopefully we'll get it up beginning next week.
In other news; I worked with Kim on the new badges (which turned out pretty nice!), and I also accidentally spawned a team-building talk which unintentionally took a whole day instead of half an hour - Whoops! Much fun and insights for all of us though" :)


Jess (NecroSonic)
Level Designer
"Hi guys. I am currently working on three different maps in parallel. This has some drawbacks but also some benefits. The bad thing about it is obviously that it takes longer to get a map in a state where I feel that I can release it (I am working as fast as I can I promise).
I really want you guys to try it sooner rather than later but in order get the best possible inputs from you guys I figure that the map needs to be in a state where you can really judge it. To me this means that whereas it can be released without polish in terms of fancy lights, props etc. the basic layout must be complete so that what you see is not just part of a map. As I'm looking forward to get some feedback as to how you think that a given level will play I think that it needs to have all the intended loops and be sealed of so that there is not a gaping hole somewhere".


Nicolai (Reese)
CEO & Composer
"Finally! AGM and Annual Reports are done. It's time for some serious game creativity featuring audio talks with Kenneth and music composing.
Stay tuned :)"
InterstellarMarines.com Summary
Picture of the Week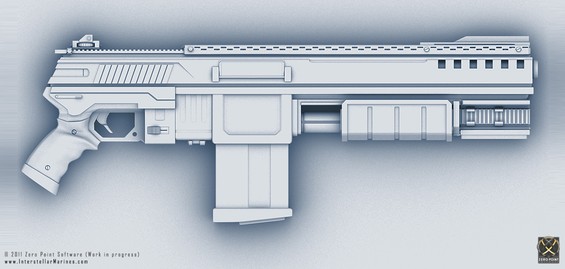 Mentions this week
Interviews this week
Thanks for your support and feedback on our community website.
Feel free to preorder and support us by upgrading your profile.
All the best,
Nicolai (Reese) & the team at Zero Point Software
Join and follow us: