Get ready to move, Candidate!
We have already seen that you can handle yourself in a controlled training environment inside Shooting Range D aboard AIV Kitty Hawk 538, but now it is time to prove your worth in grueling combat training under the supervision of Drill Sergeant Barry.
Our latest playable slice from Interstellar Marines!
A select group of Elites!
The training takes place two kilometers below ground deep inside a secret military facility. Here you'll face an onslaught of challenging Combat Training Robot in a range of different training environments. If you succeed you'll be one step closer to becoming a part of the elite battalion of Interstellar Marines secretly being established as first line of defense against other sentient species.
"Running Man" - Release Trailer
20Mbit WMV 720p Video available in Briefing Room
Our "Running Man" release trailer which tributes the old Project IM teaser released back in 2005!
Whats new?
As usual we made a bunch of improvements to the game since our last release Bullseye. The biggest of course being free movement and storyline, but we have also added caching, so you don't need to download Running Man every time you want to play it.
Other notable features:
AI-controlled combat robots
Cool ragdoll effects
Absolute immersion (You have your body in the world)
Realtime shadows on the 'Fantastic' quality settings
Realistic and dynamic Reverb sound system
Terri Brosius returns to reprise her role as the mighty ITO AI SARA.

Master composer Nicolai's fantastic Running Man Musical theme is available to everybody, Enjoy!


Download Interstellar Marines: Running Man Musical Theme (320kbit, mp3)

A few Running Man screenshots:
Real time / Gameplay / Running Man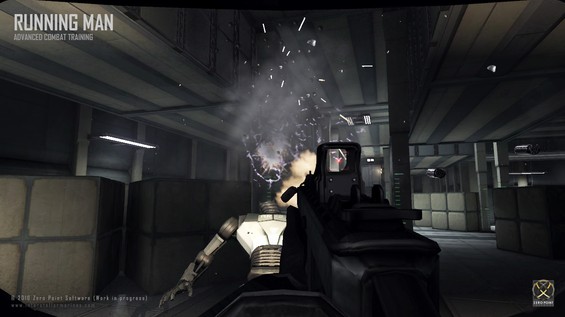 Headshots will fry the fragile control circuits instantly and send most training bots to the ground!
Real time / Characters / Combat Training Robot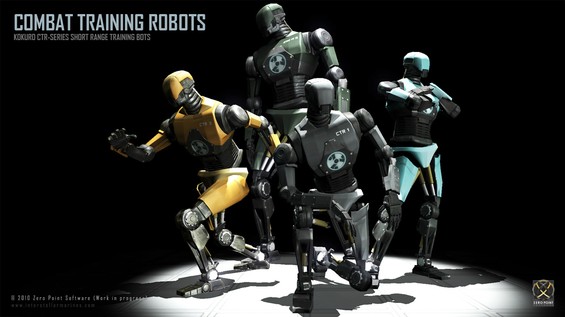 The Kokuro Combat Training Robot - Built for destruction!
HD wallpaper (1920x1080) available in Briefing Room
Real time / Gameplay / Running Man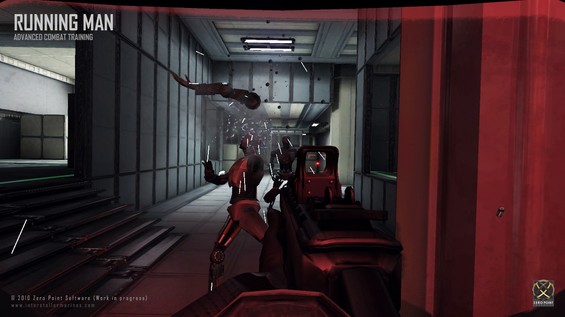 The CE-6 high velocity projectile acceleration can break most CTR parts to pieces!
Your feedback always matters
As you all know this game is being made with the support from you guys. We're constantly checking the forums for feedback on the releases, and to this date we have already made over 15 various additions and adjustments based solely on your feedback on the Running Man Alpha release.
One of the changes was to remove the stamina bar from the HUD because you felt it was to old school. Instead you now have to listen to your breathing to know when you are getting exhausted. We also added a warning indicator so you know when a robots is about to take you down from behind.
Keep giving us your Running Man feedback in the forum, so we can make the best game possible and please help us spread the word about the game by telling your friends about it.
Thanks for your support - Interstellar Marines would not be the same without you!
Enjoy!
FOR THE LOVE OF THE GAME,
The team at Zero Point Software
Click here to see the original article