Running Man
- our latest release on
interstellarmarines.com
Fundraising
We are still in a fundraising phase, and we are pursuing some very promising investor leads. The future looks bright for us, but it just takes some time to raise enough funding for the next project. Fundraising is probably not the most exciting phase for you guys, as updates on interstellarmarines.com from our side is very limited, but bear with us, it's not a matter of if we will deliver new cool stuff for you - it's just a matter of when.
In the meantime we encourage you to continue to play Bullseye and Running Man, check out the occasional new videos on our YouTube channel and hang around in the forum and chat with us and the rest of the community. You are of course also more than welcome to follow us on Facebook and Twitter.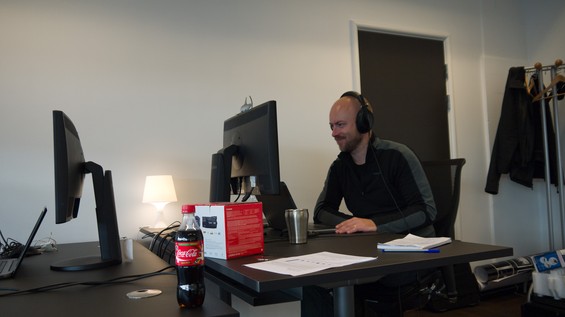 ZPSHicks
at our new office, obviously working hard ;-)
New Office
We have just moved office from Nørrebro in Copenhagen to the old meat district of Copenhagen, "Kødbyen" (Meat-town), in an office hotel called SOHO. Unfortunately this meant that we missed this weeks "Question of The Week", but will return next week with more intriguing questions for you. For those of you who don't know what "Question of the Week" is about, then check out this forum thread, and check our our forum every wednesday.
The current team
Co-founder Nicolai has returned after a small break as CEO, so we are now four guys working hard to get to the next phase of Interstellar Marines:
Nicolai (Reese, CEO), Mikael (heks, Lead Programmer), Kenneth (Kenneth, Lead Sound Designer) and Kim (ZPSHicks, Game Director).
A view of how many registered users we have gained since the 1st of July.
Numbers
As promised we will give you a regular update on numbers - we haven't had a big boost in users since the last newsletter, but we still have a solid progress. We now have 49.922 registered users, 835 Spearheads and 79 Frontliners. The total sum of Support Medals is 1358.
Other news
FOR THE LOVE OF THE GAME,
The team at Zero Point Software
Click here to go to the original article