Back from Space, Moving Forward!
We thought that we would share what is going on at Zero Point Software at the moment, and give you some insight in what has happened since the launch of Running Man.

Running Man - our latest playable slice from Interstellar Marines!

Running Man has been launched Running Man was launched the 2nd of July with a newsletter, a press release, and an exclusive releasetrailer on gametrailers.com. We were very excited about the launch, and hoped that we could make a breakthrough even though it was launched in the summer holiday season.

Since the alpha release of Running Man we have gained more than 9.000 registered users and a little less than 100 Spearheads and Frontliners. Our goal for Running Man is to get 35.000 registered users, so we are not quite there yet! It seems that even though Running Man is a great game, we cannot compete with the beach, the sun and the summer parties.
So in order to attract more users, we will relaunch Running Man in short time. There are still a couple of million gamers out there who haven't played it.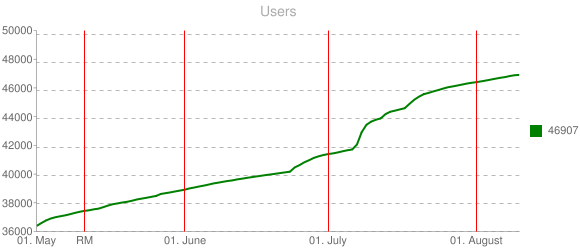 A view of how many registered users we have gained since the launch of Running Man alpha.
Numbers
Speaking of "numbers" - some of you might have wondered how many registered users, Spearheads and Frontliners we have. In this writing moment we have 46.907 registered users, where 789 are Spearheads and 76 are Frontliners. The total sum of Support Medals is 1199 and on a sidenote: more than 800.000 Bullseye challenges has been completed!!!
We'll make sure you get a regular update on these numbers.
What now? We are currently in a fundrasing phase and are seeking new investors to get enough finance to develop and launch the multiplayer. This also means that most of the development team is on a break, while we talk to investors and make preparations for developing the multiplayer. In our current phase we are 3 guys at the office: Mikael (heks, Lead Programmer), Kenneth (Kenneth, Lead Sound Designer) and Kim (ZPSHicks, Game Director).
We have some very promising investor leads, and if everything goes as planned, we will have the full team back, working on the multiplayer, within a few months.
Our current focus is, besides fundraising, to improve our communication and navigation on the website, so it's easier for a new visitor to understand our strategy, and what Interstellar Marines is about.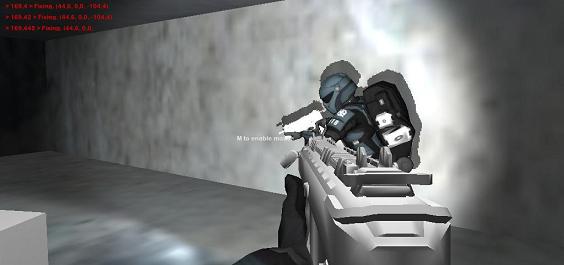 Here is a glimpse of our first and most crude multiplayer prototype in Unity
Open profile and earlier alpha access
We wish to have a more open profile with regards to development, so we will soon introduce developer blogs where you can follow our ramblings on game development, sci-fi, business, etc.
Spearheads and Frontliners will also have access to very early versions of the multiplayer, as well as other prototypes. So far our earliest release has been Running Man alpha, but from now on Spearheads and Frontliners can expect to be "let in" a lot sooner.
We discovered that with the alpha release of Running Man, almost all feedback we got from the community was on par with our own to-do lists. For us to see that we were in sync with our community was very satisfying, and as a sign that we were heading in the right direction.
But we want even more out of our community - to give you even earlier access to future development, will make your opinion and feedback even more valuable to us, and you will get a greater chance to influence which way the development goes. This doesn't necessarily mean that we will put laser weapons in the game if you suggest it. We have a very clear idea and design behind all we are doing, but we still listen to what you say and continuously hold your feedback up against our own ideas to see if we can make our games even better!

FOR THE LOVE OF THE GAME,
The team at Zero Point Software
Click here to go to the original article