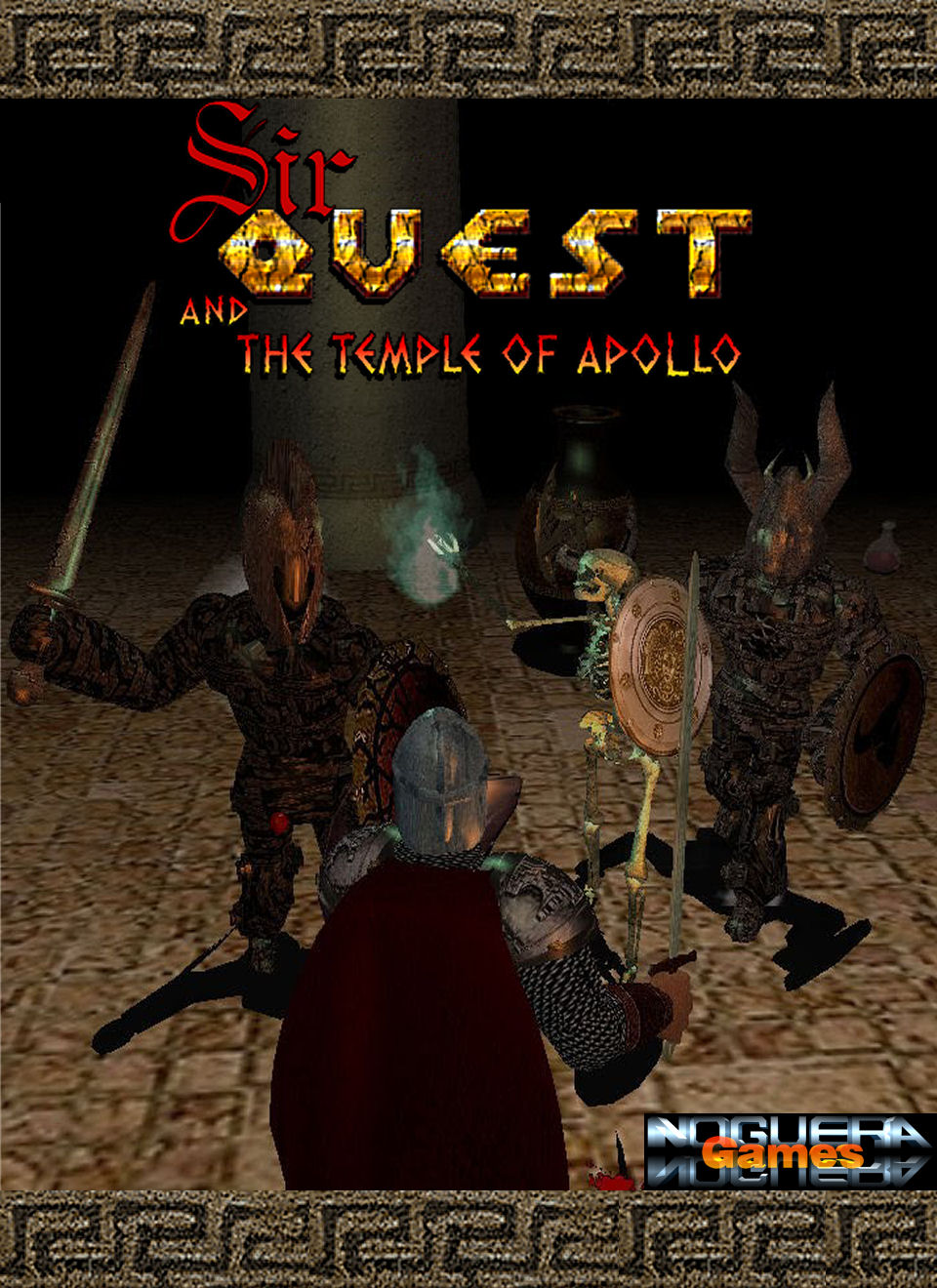 GENRE: Action and adventure with puzzles and platforms.
PLATFORM: PC-compatible Windows.
INTRODUCTION
"Sir Quest and the Temple of Apollo," a 3D action adventure where a treasure hunter medieval knight will delve into a Greek mysterious temple in search of the flying artifact which according to mythology Daedalus used to escape with his son Icarus from the Labyrinth of Minotaur.
We have to discover the secrets of the ancient temple of Apollo, dodging traps and platforms while we face a lot of mythological beings with our sword before the last grain of sand falls in the clock of destiny.
FEATURES
- 3D third person.
- Various types of enemies.
- Four types of control.
- Dynamic lighting and shadows.
- Reflection as materials.
- Specular effects.
- Particle systems.
- Environmental effects.
- Effects of fire and water.
- Regeneration random puzzles.
- Controls the sword with mouse movements.
- Minigame temple of Knossos to save game with coins.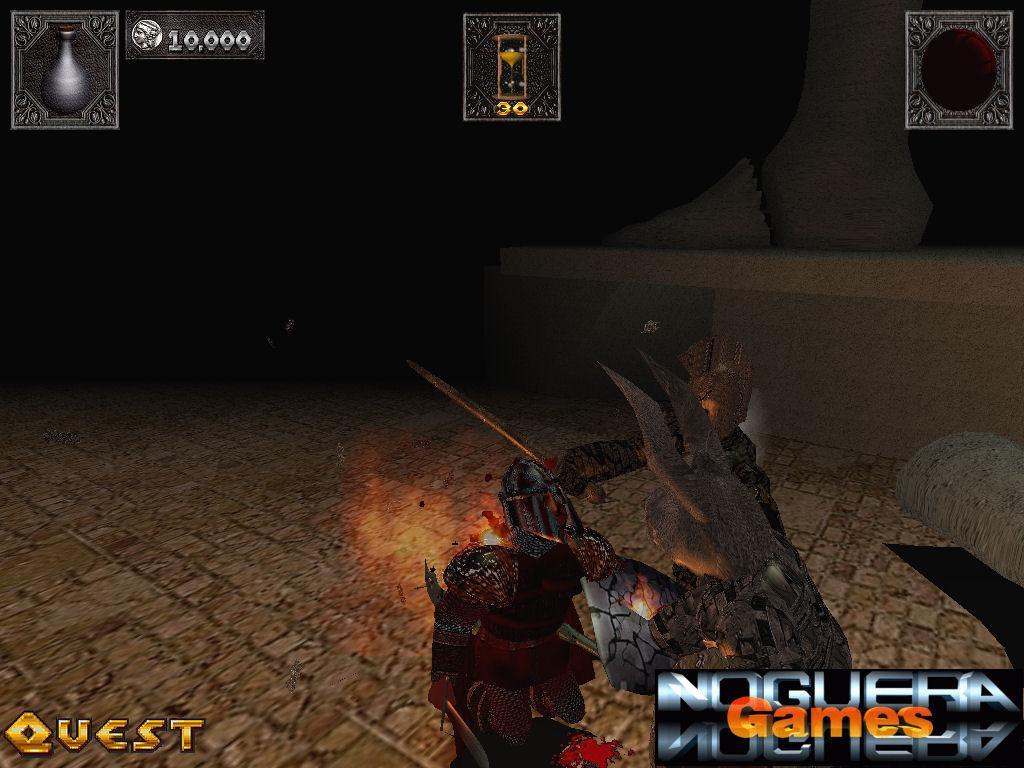 MAIN CHARACTER
The main character is a medieval knight dressed in chain mail, leather breastplate,iron shoulder pads, helmet, coat, shield and sword.
You can perform various actions such as attack, cover, run, jump, crouch, grab and use items.
ENEMIES
- Soldier Automaton: Greek soldier made of bronze or iron
- Explosive Automaton: walker that exploits with contact
- Warrior of Medusa: Magical skeleton with the ability to turn into stone
- Minotaur of fire: indestructible magical fire being
- The wrath of Apollo: The ultimate protection of the wings of Daedalus
OBJECTS
- Currencies: Increase our score and lets you record the game.
- Potions: Recover part of the vital energy.
- Hourglasses: Recover the lost time.
- Powers: Temporary improvements such as speed, strength and shield.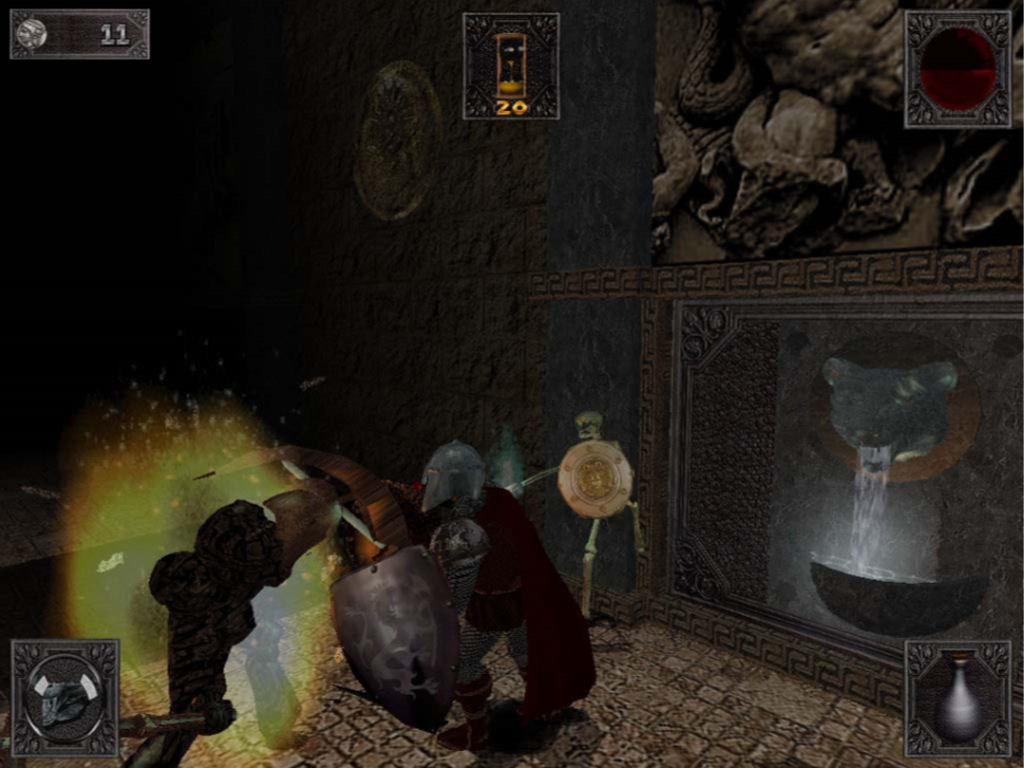 CONTROL
Keyboard:
- Cursor arrows: Direction + camera
- Control: Attack
- Shift: Crouch / Take / Use / Cover
- Spacebar: Jump
- Key P: Pause.
- Esc: Exit
Joystick / Gamepad:
- Left Joystick: Direction / Run
- Left button: Attack
- Right button: Crouch / Take / Use / Cover
- Down button: Jump
- Joystick right: Camera
- Up button: Center the camera
Keyboard + Mouse:
- Cursor arrows: Direction
- Left Mouse Button: Attack
- Central button mouse: Crouch / Take / Use / Cover
- Right mouse button: Jump
- Mouse movement: Camera
Mousemove:
- Cursor arrows: Direction
- Left mouse button + mouse movement: Attack in different directions
- Central button mouse: Crouch / Take / Use / Cover
- Right mouse button: Jump
- Moving the mouse: Camera