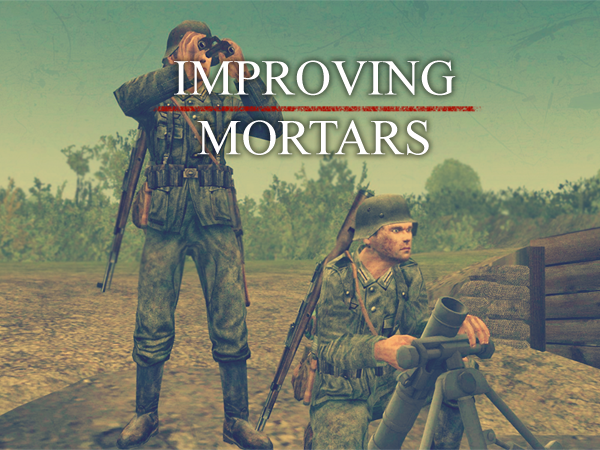 To me, nothing in our game more terrifying than being pinned down by machine-gun fire while the whistle and thundering explosions of incoming mortars draws ever closer. And nothing is more satisfying than working with teammates to land the perfect mortar round right on top of the enemy's head. Our mortars are a system that's unique to Darkest Hour, and one that's dear to my heart as I was the developer that took most of the responsibility in designing and developing the system.
While the mortars have been generally well received, there are a number of problems that I feel the system currently suffers from. I want to take the time to discuss some of these concerns and offer solutions that could help alleviate them.
My intention is to spark debate and discussion so that we can, together, make a fun and satisfying teamwork-oriented system that's as much fun to be on the giving end as it is to be on the receiving end!
---
Few players want to be a mortar observer
The Problem
While many teamwork-oriented players enjoy (or at least tolerate) taking on the role of a mortar observer, the average player shies away from this role.
For the average player, the issue seems to stem from a lack of incentive in taking the role. Right out of the gate it is an unattractive role, since most observer roles are outfitted with a bare bones loadout usually consisting of a standard issue rifle with no extra bells or whistles (or even grenades). The thinking behind this kind of loadout was to make the role a less effective combat unit than an ordinary rifleman, drawing the player's in-game attention instead to his role as the mortar observer. While this has certainly worked in dissuading less combat oriented players from taking the role, it harms the team as a whole when no one wants to be the observer!
The Solution
The proposed solution is to outfit mortar observers with at least the same type of equipment the standard rifleman recieves. This makes the observer role no less attractive than a rifleman role based purely on equipment alone. In fact, it makes it slightly more attractive since they are also given some nice shiny binoculars as well.
---
Being a mortar observer is often frustrating
The Problem
Most of the frustration of being an observer appears to arise from the fact that marked mortar targets disappear upon death. This behavior was meant to act as an abstraction for the observer no longer being able to relay corrections to the mortar operator. While it fulfills that idea, it has created a fairly major issue.
The issue is that the mortar observer (if he's behaving "correctly") has virtually no incentive to willingly enter combat. This effectively takes that player out of the fight, usually marking a target and hiding as far away from the bullets and grenades as possible. This sort of thing just isn't fun!
This is also doubly frustrating for the mortar operator, since he will routinely and without warning stop getting any feedback on where his rounds are landing.

The Solution
The proposed solution is to allow marked mortar targets to persist through death. This relegates the mortar observer's responsibilities to that of a spotter marking targets of opportunity, rather than tying the player down with the added burden of avoiding combat. This will allow the observer to be an effective combat soldier despite his additional responsibilities.
---
Dude, where's my round?
The Problems
New and veteran players alike often have a very hard time figuring out where their rounds are landing. There a couple underlying problems here.
The first problem is that, currently, a mortar needs to land within 100 meters of the marked target for the impact to show on the operator's map. Aside from this being completely arbitrary and not scaling for map size, this becomes a huge issue for some players who are perhaps less skilled with the mortars in that they will likely get zero feedback as to where their rounds are landing on their first outings. This sort of system is one that forces teamwork rather than one that encourages it.
The second problem is that the operator has no indication of the distance to the target. In reality, there would be a team of operators who would have a firing chart available to them and could translate target grid vectors into headings and distances. In game, this sort of support is frustratingly absent.
The Solutions
I believe the solution to the first problem is to eliminate this 100 meter restriction outright. Removing this extra constraint won't sacrifice teamwork, as effective use of the mortar still requires a dedicated observer to mark and update targets of opportunity as the battle progresses. Another solution being considered is to simply increase the 100 meter restriction as well as offering the motar operator a range table sheet in-game.
A proposed solution to the second problem is to display (perhaps with some sort of delay) the approximate distance to the marked target to within 25 meters. This will allow the operator to have a good mental starting point for firing off the initial round, resulting in more accurate fire and less frustration.
---
What do you think?
We want to hear from our players! Have your own ideas? Let us know!
As always, don't forget to like us on our Facebook page!