Innovations:
- Fully working BOSS bot, which has never worked in the Project Raptor mod, at the moment updated versions of the BOSS bot are pinned on two maps for two modes, for battles 1x1
- Added newest SU-57 Pak FA aircraft and many other models.
- Fixed many effects that overloaded the game engine in the old 9.0 version.
- Removed objects that had a negative impact on optimization.
- Balance adjustment took place over 5 years of development, from 2015 to 2020.
- The US laser general has been changed beyond recognition, now the laser general has also received laser aviation, which fires laser beams rather than missiles.
- December 2, 2020, map released
1-TD Hard BOSS USA up bot 9 1 19 FX 5

The most interesting thing in fashion is the new BOSS bot!
- How to play this map correctly?
The player's starting position is below.
For a bot, the top and difficulty level is hard! Army for the bot BOSS.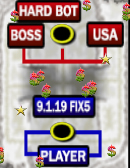 Bot BOSS, designed for a starting amount of $ 10,000, is the most interesting alignment when you are for China.
This card has the most powerful BOSS bot, which also reacts to the amount of money at the beginning that the player chooses. For example, if you play with $ 10,000, the bot operates according to 1 scenario, if starting from more than 10,000+ the bot turns on ultra difficulty mode.
Ultra mode includes the use of the very powerful and long-range Typhoon artillery.
Also on this map is a heavy US bot. Its release was under the older version 9.1.19 FX2, but it also works well in version 9.1.19 Fix 5
And 3x3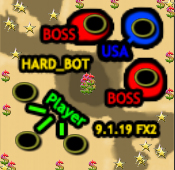 Remember that if you use maps of unknown origin, then each map has its own bots, often with internal stuffing for purchasing tanks from the original Zero Hour builds.
A common question is why bots don't perform as well on most other maps?
- because it is necessary to load newscript fillings on the map, which are responsible for purchasing new types of units that are included in the mod. And often the developers simply do not have enough time to transfer the updated bots to all maps, as it takes a lot of time.