DevLog #1
Announcing HyperParasite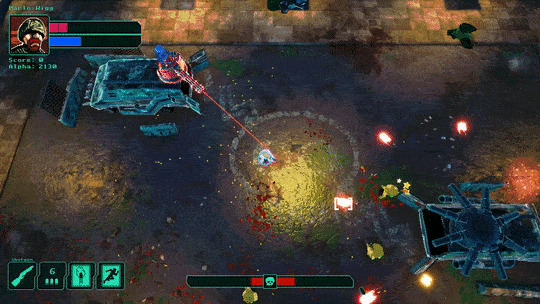 A perma-death defying trip through the 1980's, now in active development by Troglobytes Games.
Indeed, it's been nearly a year since we at Troglobytes Games left the internet with the last major update concerning our flagship title, Tenebrae: Twilight of The Gods, before parting for the holidays.
In all honesty, the countless hours that have filled the gap ever since have involved a vast amount of uncertainties, in-house deliberation, catering to freelance/outsourced contracts to keep us afloat and yes, relentless development-time too as we've worked to establish the groundwork for an all-new IP.
After numerous teasers issued across social media over the past seven months, the Troglobytes banner is thrilled to bring you your first, official look at HyperParasite. We've rather nervously been referring to it as our side-project but as you'll learn, our scope and goals travel much deeper than that.
Regarding Tenebrae
To address the elephant in the room, the multi-console, Metroidvania ARPG that we've devoted more than a couple of years to, Tenebrae: Twilight of The Gods, is still very much in production.
The game had left its prototype phase in December, 2016, before we were hit with the jarring realization that our vision for the title was too large to sustain on the limited amount of resources we had been thriving on.
Despite our best efforts and numerous prospects, we found ourselves unable to secure for the game a suitable financial partner/investor/publisher. As such then, we've had to direct Troglobytes' focus towards much smaller, more feasible projects in an attempt to independently fund Tenebrae's production.
This is where HyperParasite comes in.
What is HyperParasite?
A top-down, rogue-lite shoot 'em up at its core, HyperParasite pays homage to an era that we at Troglobytes Games consider ourselves heavily influenced by; the absurd, pop-culture ridden decade of the 1980s.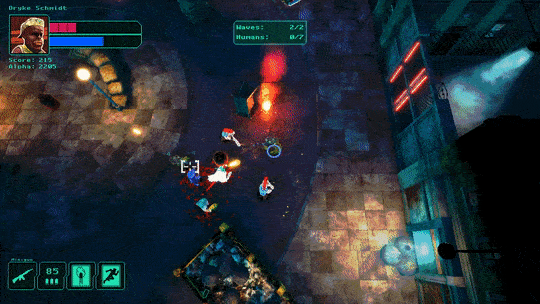 Never mind the fact that the office's walls are still plastered with cheesy posters and that we own an original arcade gaming cabinet, HyperParasite attempts to be every bit preposterous while retaining the hard-core nature of the gaming industry's third generation.
Set in an alternate-history, dystopian model of the decade, HyperParasite follows a body-snatching organism's quest for global domination. Needless to say, you play humanity's deadliest adversary.
Persistent wit and dexterity is demanded with multiple character classes to body-snatch, host-specific abilities to exploit and a skill-based progression system to overcome.
HyperParasite takes its rogue-lite mechanics very seriously. Procedurally generated levels, multiple game-play objectives, grueling waves of enemies, deranged bosses and perma-death make it nigh-impossible to beat in a single run.
All while Troglobytes' in-house dungeon-generation technology, Vania, ensures the seamless randomisation of visuals, sub-levels & secrets.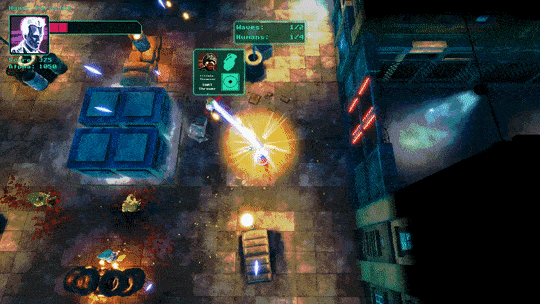 Too intense, agreed. Which is why HyperParasite will also feature local co-operative multiplayer, letting you cherish its characters, urban legends, items and pop-culture references with a mullet-wielding friend.
Release Plans
While we do not have a definite release date set in stone yet, HyperParasite is being prepared for a 2018 launch on Steam. Console versions will follow.
HyperParasite's structure and core mechanics is such that it allows us to expand and iterate on the game content (procedurally generated levels, dozens of unlockable character classes, items, powers, skills, etc.), which in turn provides for plenty of publishing options.
We're yet to decide upon the best option for the project.
The Team
HyperParasite is being developed by Troglobytes Games' core team and a select few external collaborators; this time, we intend to keep everything in-house.
Meanwhile
Tenebrae: Twilight of The Gods will continue production, albeit at a much slower pace. Any significant updates with regards to the same will be issued across the game's dedicated website,indieDB and/or Troglobytes' social media channels.
Following HyperParasite
Likewise, we intend to place a greater emphasis on community development with regards to HyperParasite.
This announcement doubles as the first of many periodic dev-logs, HyperParasite's Facebook page continues to showcase progress from our monthly builds, while it can also be found on BrightLocker where we're offering plenty of benefits to those willing to contribute towards the game's development.
A few closed testing sessions are planned, while we'll also be showcasing a playable build at the Milan Games Week later this month. More on that shortly.
For now, thanks for your continued support.
Let us know what you think in the comments below.
-- The Troglobytes Team.
DevLog #2
The October post-Milan Games Week report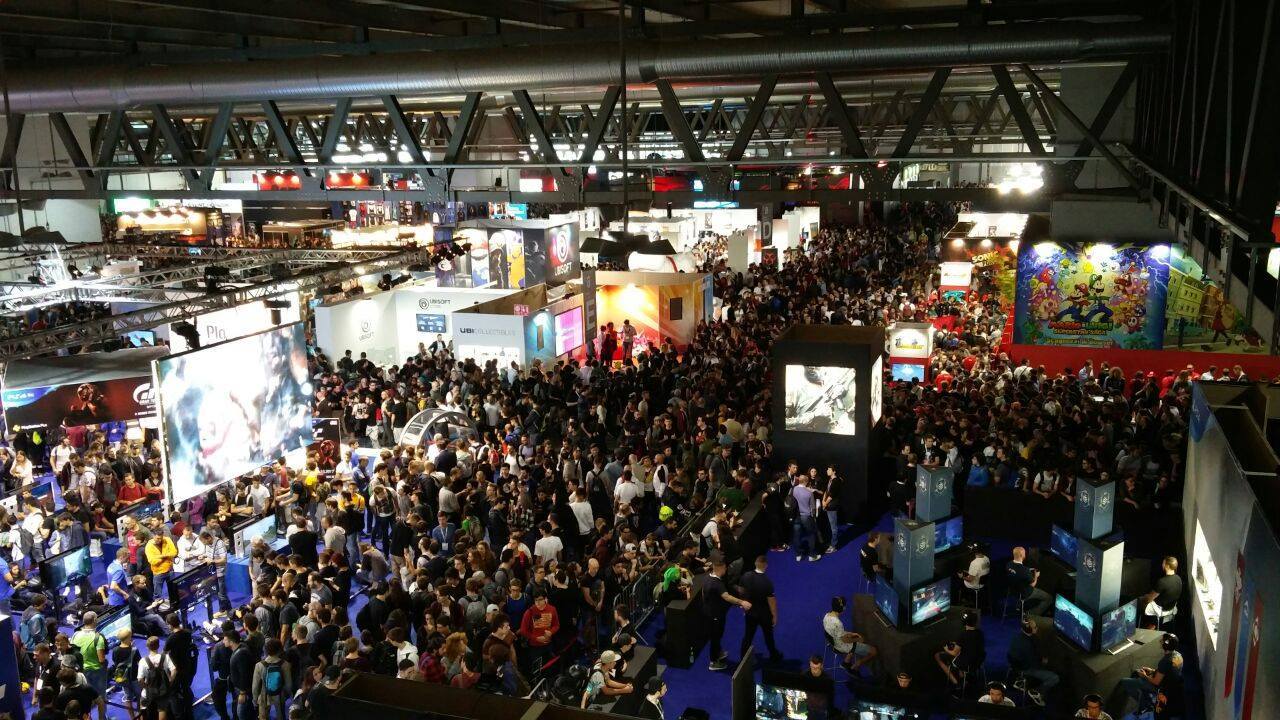 We're fully grateful to all those who took the time to visit and play HyperParasite in its entirety at Troglobytes Games' Milan Games Week booth earlier this month. As hoped for, the event proved to be fundamental in helping us gauge user experience and response with regards to the direction we've been taking.
As a matter of fact, the two weeks since have already involved an extensive amount of refactoring, reorganisation and tweaking on our part. Here is a quick report as we proceed into yet another month of production on the game's calendar.
Day #1, 29th September - All the Feedback
3D Artist Luca Eberhart and Game Designer Saverio Caporusso set up base at MGW's Indie Area a day in advance, the 28th of September, expecting the crowd to come in only by Day #2, a Saturday.
On the contrary, Friday the 29th turned out to be our booth's busiest and most interactive with visitors providing the majority of their feedback on Day #1 of the festival.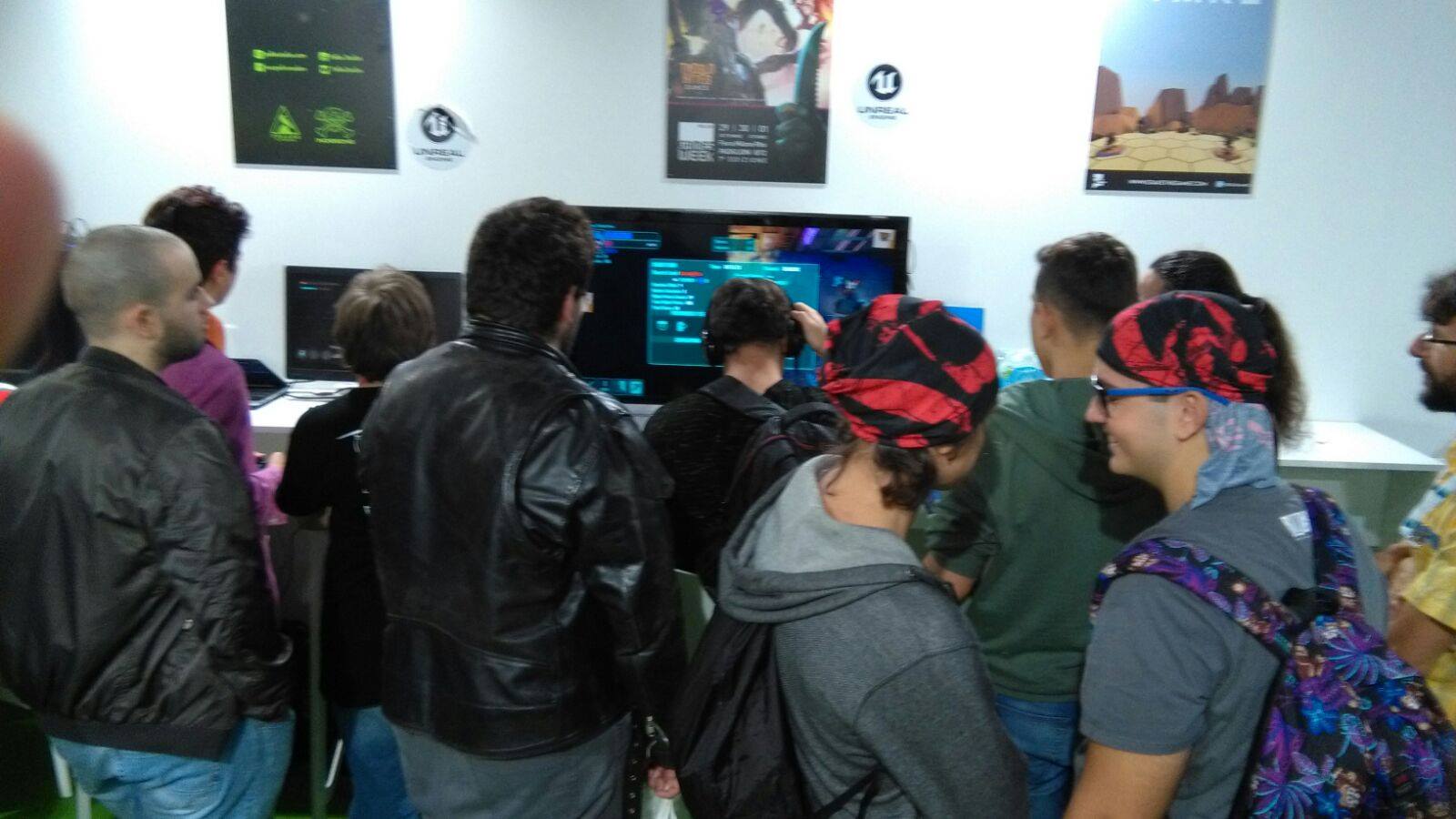 Readers might recall that the HyperParasite build we presented included one, fully playable level, an intense boss fight, eight characters derived from the three core macro-classes (Melee, Ranged & Bomber) that players can body-snatch, special items, a secret sub-level and other minutiae.
In general, players lauded the game's body-snatching mechanics, the polish, seamlessness and frenzy of game-play, along with its 1980's atmosphere.
Opinions regarding difficulty however were more divisive, as hard-core players deemed it too easy (à la Enter the Gungeon, albeit less punitive) while casual enthusiasts thought it too challenging. Other criticisms involved –
The weapons crosshair system, with many claiming that the existing targeting reticule was difficult to follow on-screen. A laser-like crosshair was commonly suggested, with the option to toggle between different crosshair styles being a potential solution.
Weapon reloading and projectile pertinent mechanics, both of which have already been addressed and fixed.
Health Point drops/pick-ups. Several called for an increased frequency of random HP drops although in honesty, the full-game will compensate for this in the form of a greater variety of secrets, discoverable items and other complex mechanics.
Day #2, 30th September - The Press
Saturday, the 30th was marked by a visit from Epic Games evangelist and Teotl Studios founder, Sjoerd De Jong apart from members of the press.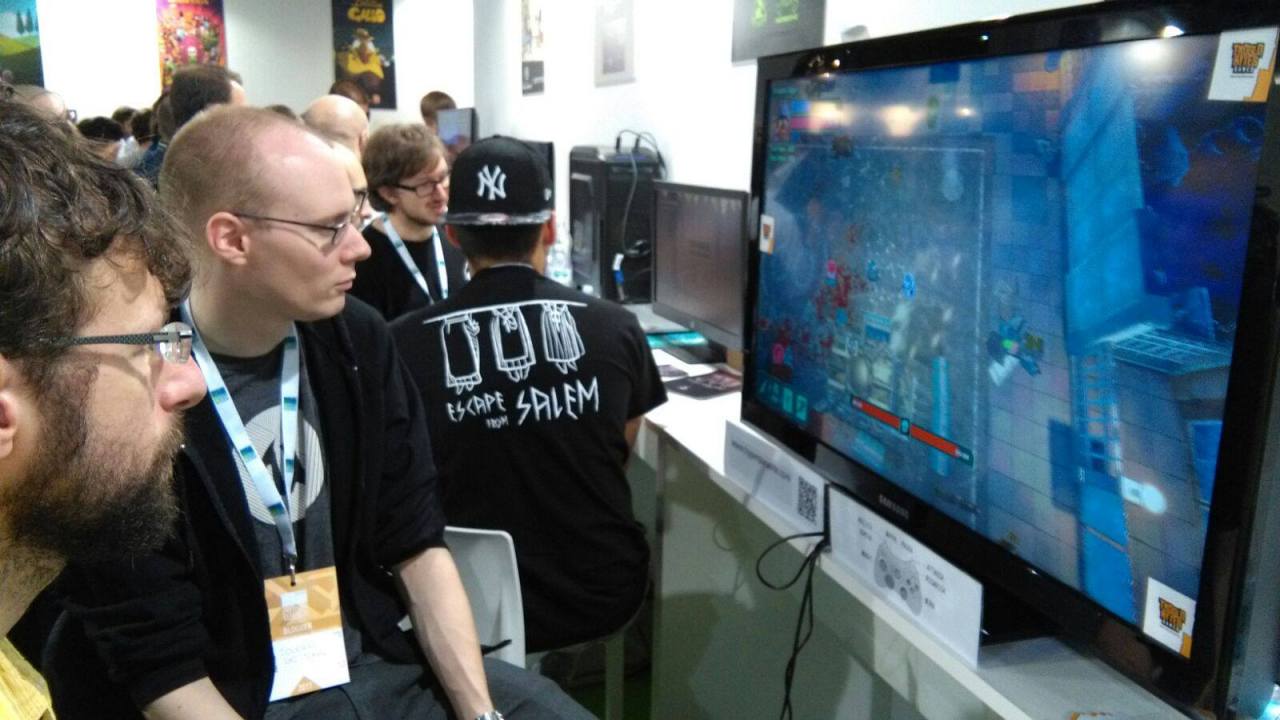 While Jong was kind enough to chime in with his own evaluation, HyperParasite was subsequently featured in an article by Eurogamer, a hands-on report by Gamesvillage and a video Q&A with our Game Designer Caporusso, courtesy of ProjectNerd. All in Italian, mind you.
Day #3, 1st October - Rounding Up
By Day #3, much of the feedback started to repeat itself which ultimately helped us reach a conclusive overview of the things we've been doing right and wrong.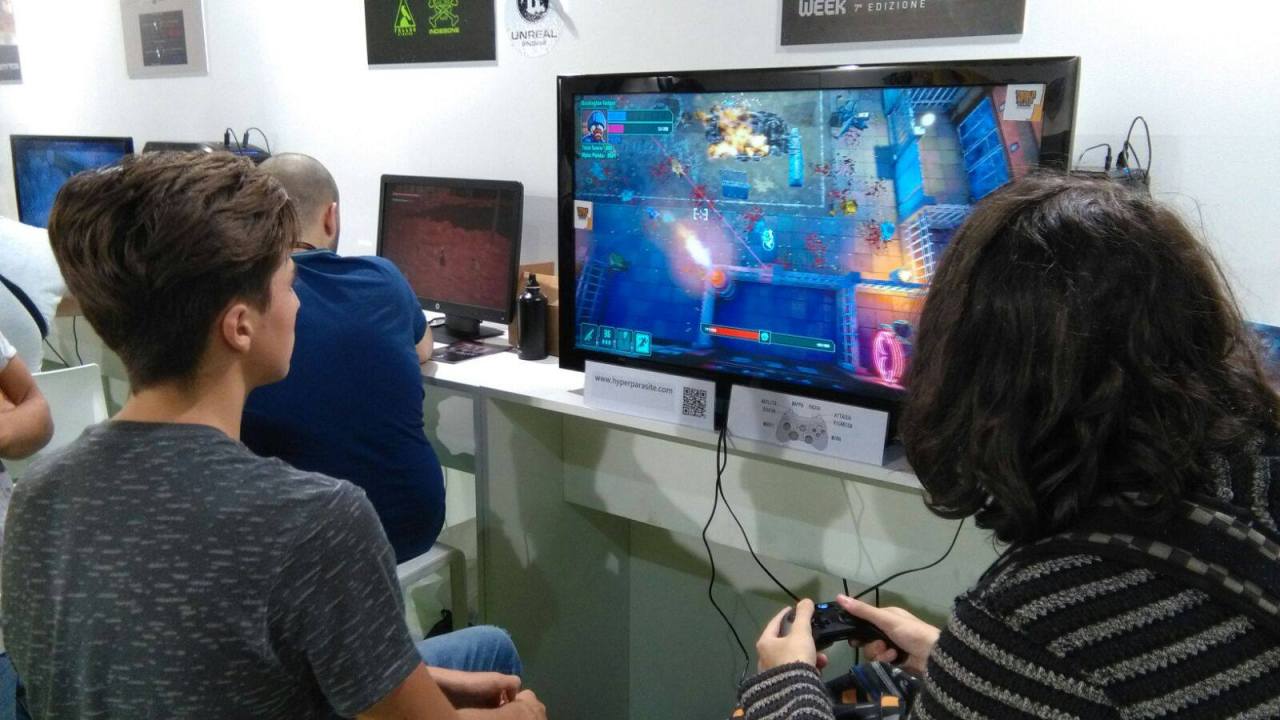 What's more, Caporusso went ahead to demonstrate HyperParasite at this year's Barcelona Games World on the 5th of October, interacting with additional publishers and representatives of the press in the process.
Moving forward
Besides tackling bugs and other inconsistencies that were brought up over the past 12 days, HyperParasite's ongoing production was also interposed with examining all the contacts that it had amassed across both events.
We've been working on sending out improved builds of the game to these publishers/investors for purposes of evaluation; it's interesting that many of our Milan Games Week visitors suggested that HyperParasite should take to Steam Early Access immediately.
It's possible that over the next few weeks there might not be a significant amount to report on in the way of dev-logs, as much of our work will now move towards being centred on the back-end, programming aspect of HyperParasite.
Our social media feeds will continue to stay populated with content nevertheless and we'd love to have you hang with us there. If staying social isn't convenient, signing up to our mailing list should suffice.
As always, thank you for your continued support and please don't hesitate to leave us with your thoughts.
-- The Troglobytes Team.