Trailer
After a one-year hiatus, the sole developer of 1428: Shadows over Silesia is coming out with a new three-minute trailer that shows a lot of footage directly from the game and reveals what the game itself will look like.
First, let us remind you that Shadows over Silesia is a dark action-adventure game with fantasy elements, set in real medieval Europe. There are three main pillars of gameplay - exploration, puzzles and combat. We like the graphical stylization the most. The isometric graphics are reminiscent of classic RPGs and have a bit of a fairy tale feel to them. The player will move on foot as well as on horseback and visit many real and fictional places in medieval Silesia. He will plunder villages, defend city walls, explore secret underground dungeons, abandoned mines, or forbidden parts of monasteries.
The trailer reveals for the first time that the game's story is told from the perspective of the two playable characters: Hynek, a grumpy Hussite hetman who doesn't hesitate to swear or mess around with anything, and Lothar, a Hospitaller knight, a man of good education and manners who stands alongside his brethren in the front line of the Silesian defense. Each has their own motivations and views of the world around them, different equipment and abilities. Their fates will soon become intertwined. Will they face one another, weapon in hand, or forge a fragile alliance to stand shoulder to shoulder against a far worse enemy?
Crowdfunding campaign and early access
The development of the game has reached its midpoint and the originally planned scope has increased by a third. The game will be divided into thirteen chapters, with which you will spend 20-30 hours of playtime. So far, everything has been funded solely from family savings. But now the author needs help to bring the project to a successful conclusion. He is launching a crowdfunding campaign to raise the amount of money needed to complete the development.
You get a unique opportunity to not only pre-order the game and support the author, but also to get exclusive early access to the demo, alpha and beta versions of the game. The campaign can be found here (HitHit is the Czech variation of Kickstarter): Hithit.com.

Key game features
Finally, I'll summarize all the key features:
Isometric graphics - The graphics are inspired by classic RPG games. They are isometric, stylized, and a bit fairytale-like. The action often takes place underground, in the rain, or at night, which serves to amplify the dark atmosphere and focus, which is mostly placed on the contrast of light and shadow.
English and Czech voiceovers - All dialogues will be fully dubbed in both English and Czech.
Challenging riddles - The original riddles you will come across on your dangerous journey will most definitely be challenging. Classic adventure games of the 1990s were a big inspiration. You will have to take advantage of your surroundings, look for objects, obtain information, and solve puzzles or encoded messages. Some problems can be solved in multiple ways, or they can be cleverly worked around.
Sneaking in the shadows - Sometimes you'll have to blend into the shadows and sneak past enemies to avoid being detected. Following their patrol routes and habits will help you find the best path. Or you can try to quietly take them out, one by one.
Complex combat - The combat system is easy to understand but it takes practice to fully master it. Remember one thing: being outnumbered is a problem! If three or more opponents attack you at the same time, you will die! The key is to take advantage of their mistakes, wait for the right moment, and then attack. You will face not just knights, villagers, and robbers, but also various supernatural beings - and you shouldn't underestimate them.
Diverse environments - During the game, you will move around on foot as well as in the saddle. You will visit various real as well as fictitious places in medieval Silesia. You will plunder villages, doggedly defend the city walls, and explore places such as secret dungeons, abandoned mines, or forbidden parts of monasteries. For example, you can look forward to visiting Röwersdorf, Nysa, the Brzeg monastery, or the Rabesberg castle.
Hidden coins - You will have the opportunity to search for two kinds of hidden coins. Only the best of the best will be able to collect them all. Not only will you fill your wallet with them and unlock unique achievements, but you can also occasionally use them to progress through the story.
About the team
The entire project has been developed by a single programmer and designer for the last two and a half years or so. He is assisted by many external collaborators (graphics, animation, music, dubbing and localization) and a team of volunteer testers.
Technical details
The game is currently planned for PC and Windows only (via Steam). Other platforms are being considered, but their support will depend on the success of the PC version. Full gamepad support is planned. The game is powered by the Unity engine.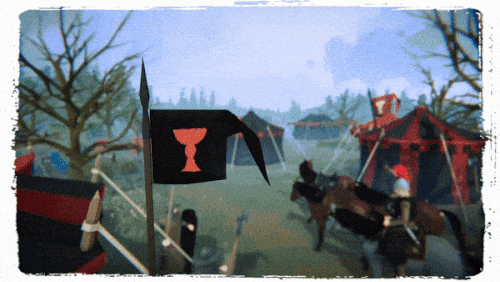 Other useful links
Thanks, and best regards!
Petr Kubíček aka KUBI Games