Firstly, We would like to thank everyone for their support by giving our game a try and leaving feedback. We are excited to tell you guys that we have a big update soon to be released towards the end of this month.
For this weeks news we would like to talk about we came up with the art style for our game.
When we all sat down together to discuss on how Sp.A.I. should look like we all had a very vague Idea.
The main problem we faced with a purely "digital" world is how do you define something so vague. There is no country of Digital, nor is there a Town of Digital. How do you define it and at the same time have everyone go "Oh it's a Digital World".
For me as the environment artist in the group I found this very difficult. I have always created stuff that is architectural in nature or convincing enough to be real; no floating platforms or objects or as our designer frustratingly said "You know like inside a computer" .
At first we wanted to create a world that's large and open with miscellaneous 'digital' stuff. But I felt that there wouldn't be much of a challenge for me and as this is a university project you want to feel challenged.
Thankfully during this time there was hype about the new upcoming movie Tron Legacy set also in a virtual world. It showed us that it doesn't have to be so cliché it can have some architecture as long as you still feel like you are in that type of environment.
So we looked at Tron and discussed what looks cool and what we should take away from. We took two things from what we saw, large architecture and neon lights. We figured that the tron lines only look cool because it defines the silhouette of an object letting the viewer fill in the void.
"My god it's full of parallel lines"
The other major influence came from the series Ghost in the Shell, I found how similar the premise of certain parts of the anime were to our game; it too involves hacking and at times is inside the virtual world. We then did the same process as what we did with Tron.
"Our first character idea was a tank, but can you blame us?"
We liked how objects in GITS were represented by gates. Rotating circles that drew the viewers eye. We also like how the world had no up or down, no gravity like the viewer was in space. So we took two ideas and smashed them together adding our own style along the way and came out with.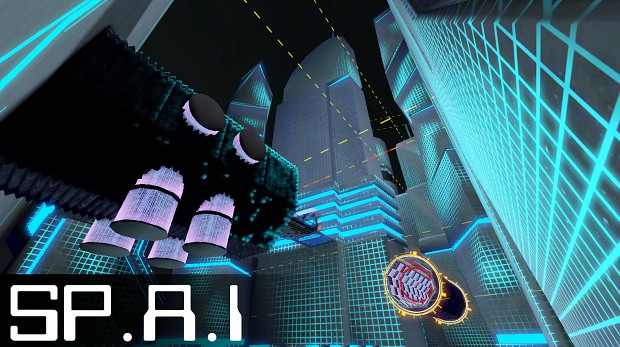 "THE WORLD OF SP.A.I."
But would you believe that when we first started it looked like this
"Wow the internet really is a series of tubes"
These screenshots were taken from our very first tech demo back in April. So the next question is how did we get from tech demo to Digital world?
In hindsight I can see 3 distinct milestones where the art changed dramatically and why? But that is a another story for another time.
Thanks,
Clyde (Drakar)
Environmental Artist