Here are some tips, how you can prevent account hacking or "Phishing".
Many people try to hack steam accounts to get access to all the games in your Steam-Account. They will change the password (later PW) and change the e-mail (later mail) if they get access to an account. How they could get this access and how you can prevent it, you can it read here:
Normaly, you get a "chat request" over Steam. Normaly, those accounts are hacked and the hacker use them to get more accounts.

Attention: If someone got hacked, who is in your friend list, you don't get a chat request!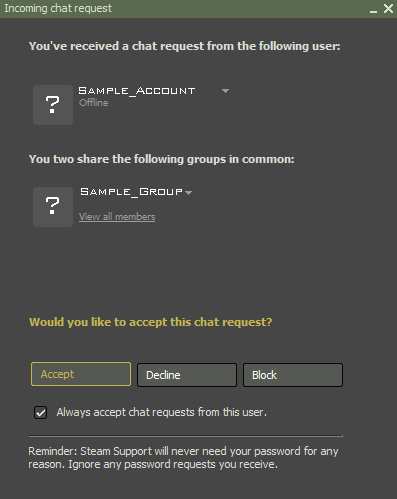 If you want to see, what the user has written, click accept. If you don't want to see it, click decline and if you want to block, this means the user can't send messages to you, than click block.
Also Steam shows you which groups and friends you have in common.
Back to the chat:
Now the hacker contacted you over an hacked account or his own account. He or She trys now, to get your account, too. Normaly, they ask for your password and your account name like
"Hey, you have this xy game, I want to crack it for me, can I get access to your account, m8?"
Also they want to be friendly, because someone will never give is account name to someone who says "A**hole, give it to ma!".
But they also use "Phishing-websites". Those are normaly hostet by bplaced with the abbreviation .tk (it is very popular because bplaced hosts websites for free).
If you visit this website, you would see, that the CSS-Design is the same as the original one by VALVe. This should give you the feeling, that you are on a official Steam website. There is also a field to login. But if you login, they save your account name and password, and soon the will change the PW and mail.
So the text, which they send, is mostly simular. The words "Steam", "free games" and the website "www.xyhackingpage.tk" excist in those messages.
Attention: Steam-Support will never ask you for your password, CD-Keys or any information! Also Steam doesn't give free games! If they do (like with Portal), there will be an update news, they will never contact someone over the community chat!
If you get a message with this text (e.g. "Get free VALVe games on www.Ihackyoursteamaccount.tk) , you should do the following:

1st: Visit the Community Profile of the user and click on the right side (shown above) on "Report Violation".
2nd: Choose the violation (e.g. for hacking try "User misconduct", for billingsgate, as the pciture shows, "Offensive Text" ) and add the text which you got in "Description of Problem"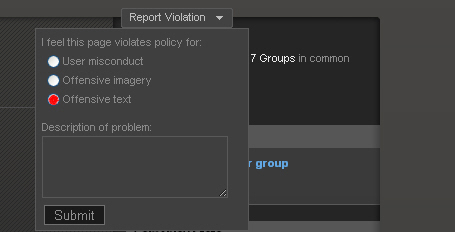 3rd: Block all communication. For this, click on the arrow beside the name in the chat fenster. A new window opens, and you can click on "Block All Communications". (If you block someone, but want to unblock him/her later, you can visit his/her Community Profile and unblock him/her there.)
If you alredy got hacked, visit Support.steampowered.com for nearer information!
---

---
These tipps are not official tipps by the Steam-Support, they were made by .BloodRaven and should help you, to prevent account hacking or "phising"! They must not be true or must not work!
For anyquestions, please leave a comment or send him a message.