Well work on the horizon project is proceeding with average speed for a 9 man crew. The crew my self shadowdude100. RC-0001-nick our storyline and scrip editor and developer. scottellison92 MandoBardenJusik PlanetKiller Aliha The_Darker_Side and ponyus or modelers animators and concept artist. Also gotoprime the guy who is creating the sound track for horizon. Now for the some goodies the sniper rifle is now almost complete.
Vehicles are in development like the scimitar APC.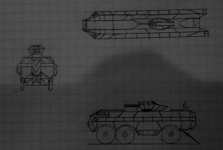 There is still the need for skilled blenderheads who can. Model animate create game environments and do game scripting and pretty much any thing. if you can export obj files in your modeling program you can contribute models
We are still using the Blender Game Engine
the same issue i need to repeat. I AM UNABLE TO PAY ANY ONE FOR THERE CONTRIBUTIONS TO THIS PROJECT DO TO THE GAME BEING FREE FOR THE PUBLIC.