The clouds of black powder smoke hide the battlefield well but the enemy is so close now you can make out the patterned lace on their uniforms. Their boats lie discarded on the shore, the distant threat from their ship safely hidden from sight. Men either side of you raise their muskets in time with yours along to the orders shouted above the chaos. Another flash and crash to signal the volley. It's too late to run now and so only one question remains. Can you stand?
We are most excited to announce that Holdfast: Nations At War will be released through Steam Early Access on September the 21st!
Holdfast: Nations At War is an online multiplayer first and third person shooter focusing on
a combination of teamwork and individual skill. Take part in historic clashes on land and at sea waged by the most powerful nations during the great Napoleonic Era.
We said this year and we meant it. While this might seem like an overly short interval we wanted to be in a position where we could be confident in delivering on the date and not end up being forced to postpone. Our systems are in place, our assets locked in and our testing is well underway. While this is but the first in a series of stepping stones to the eventual full release; we are expecting to deliver a polished and very playable slice of our dream come September. There's still a whole lot to show from the game which we have yet to reveal and quite frankly it's not going to be possible to show each and every bit of content before Early Access!
From the outset we have been developing the game with open communication with our community and testers, gathering their feedback and iterating on our systems to best deliver a game that we all want to play. The intensity of this was increased tenfold when we first announced Holdfast: Nations At War on the 18th of January 2017. We did not expect such a great following combined with an overwhelmingly positive response towards the game. For this we are extremely thankful; you have been amazing.
Be sure to follow us on our Steam store page so you don't miss the release day!

Community driven. Ongoing dedication
We are completely dedicated to make Holdfast: NaW the next big "thing". Thanks to your feedback, support and a lot of hard work during these 3 and a half years of development, we've built our dream game from the ground up.
The game itself has also changed after interacting with the community; our priorities are very different to what they were at the outset in terms of content. You'll also see this being reflected in our development roadmap for the game.
When the game is released on Early Access we will be in need of a new method to easily gather opinions from a wider audience due to the inevitable growth of the community. We will start submitting polls so that our players can vote on the prioritisation of new features that make it into the game for instance.
We will of course always be there on our discord, forums and social media. You have our word that the Holdfast: Nations At War is and will always be community driven!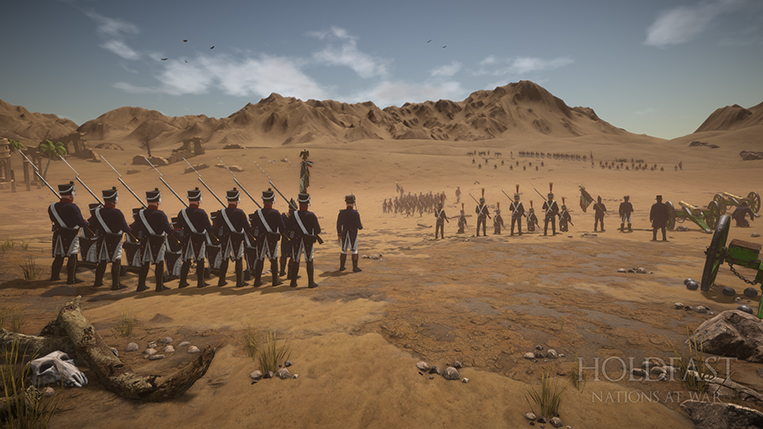 Development roadmap. Being transparent
We will be releasing the development roadmap for Holdfast: Nations At War when the game is released on Early Access this September. This roadmap will include a list of new features on both land and sea along with improvements to existing mechanics within the game.
We believe that being open and transparent with our community is far more important than the potential hype over a hidden surprise. We will need your help to refine the feature list as we progress. To that end, we are also open to iterating or including new features within the roadmap for the game if there is a demand for that from our community.
Q&A blog. Answering your questions
Within our future Q&A blog we'll be addressing the following subjects; confirm our ongoing dedication towards supporting high player counts, continue working with the community to improve upon and add more depth to the directional melee combat system, how we'll be working on cavalry during early access, the inclusion of additional factions and ships, our ongoing dedication to competitive play and how we'll continue involving the community in the development of the game. And more!
Until then, feel free to head over to our discord or forums if you have any questions about the game.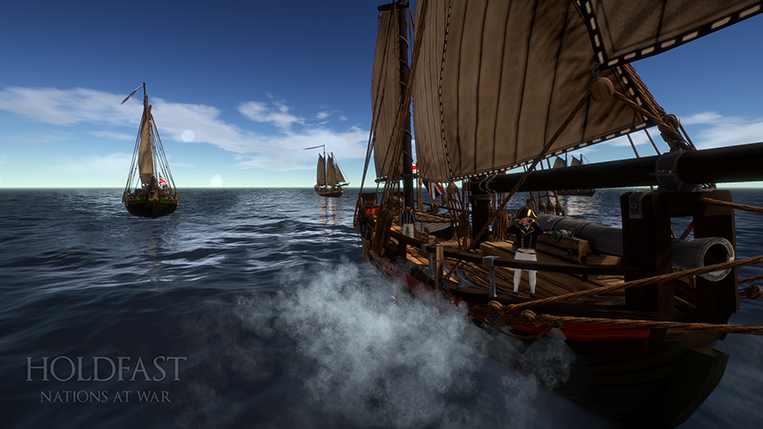 Game content. Constant updates
Simply put, we very well understand our responsibility towards our Early Access supporters in bringing it out of that phase and into a full release. In order to achieve this in a timely fashion, we will be pushing out regular updates and improvements to the game based on our development roadmap. We will also be releasing changelogs with each and every build to provide you with greater visibility of our progress. We feel that visibility and community involvement within development will be the secret to a successful transition from Early Access to release.

What state will the game be in for the Early Access release?
Holdfast: Nations At War will still be undergoing development so some of its features and content are more polished than others. It will not be the final release version of the game. Our vision for the game is expansive as you can already tell from the short sneak peek of new features and improvements that we've talked about earlier in this blog post.
It is safe to say that the scope of the project is grand. As we have already mentioned; what we revealed in our developer blogs is but a small sneak peek of what's currently in the game.
We have yet to show off more maps on land, sea and the coast. There are more naval vessels, a directional melee combat system with our entire selection of melee weapons and an even greater selection of classes to play. This is without even mentioning our work on 'under the hood' player count optimizations, advanced sailing mechanics, dynamic weather system and the selection of options available to favour performance over graphical quality. Due to feedback we have also implemented a wide array of key bindings and re-worked the bullet trajectory mechanics. Oh did we mention the library of voice acted orders? There is even more but it can wait for future releases. Our point is; Early Access is going to be a bit of a roller coaster of existing content which will only grow as we progress.
We would really appreciate it if you decide to support Holdfast: Nations At War while it's still in development. The main reason we have chosen to go into Early Access is for us to be communicating directly with you when it comes to game mechanics. You can expect regular communication and ample opportunity to shape the game as it progresses into something that we all want to play.
We would like to express our heartfelt thanks for all of your support so far. The prospect of playing and working with you all in Holdfast is extremely exciting for us.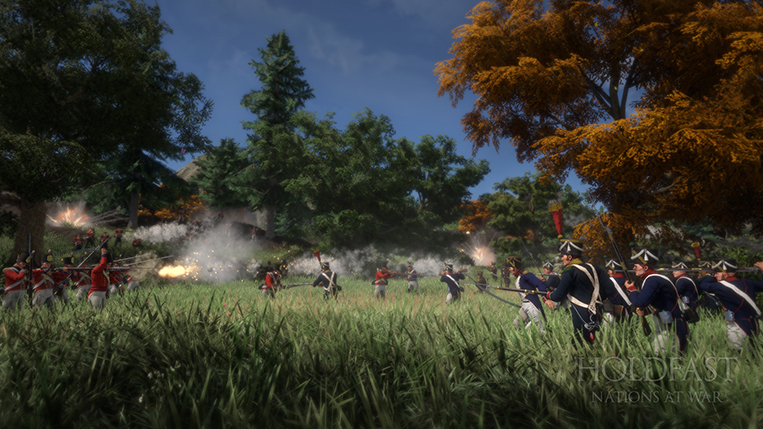 Why did you decide to go into Early Access?
Early Access plays a key role in allowing us to remain independent. We are currently self-funding Holdfast: Nations At War to avoid any sort of outside influence to the development of the game and remain community oriented. We also want to create the game without the need for accepting donations or loans largely as part of our overall motivation and dedication to this project.
Shaping the game together with the players is going to be the key ingredient to our success with Holdfast. We have been gathering feedback since the very early stages of the game's development and we will continue to do so. Early Access will enable all of our followers with an opportunity to provide us with direct feedback allowing us to continually improve and include new content within the game.

Assemble the crews and regiments!
Holdfast: Nations At War is best played in groups. It is very rewarding and exciting for us to see all of the crews and regiments that are already being formed in anticipation of the game. We hope that you will have enough time to get yourselves organised before our release in September! You might want to hit the servers on day one to get that extra edge because...
We will be directly supporting the competitive scene by hosting official events as well as the inclusion of additional features within the game itself. Within our roadmap, we have plans to allow you to host single elimination tournaments, form up your own crew or regiment and recruit to it as well - all from within the game. How this is realised will be formed by conversing with you, the community. This will include support for individuals or groups to host their own events as well.
If you haven't joined a crew or regiment yet we would suggest that you look for one! You can do this both on our discord and forums.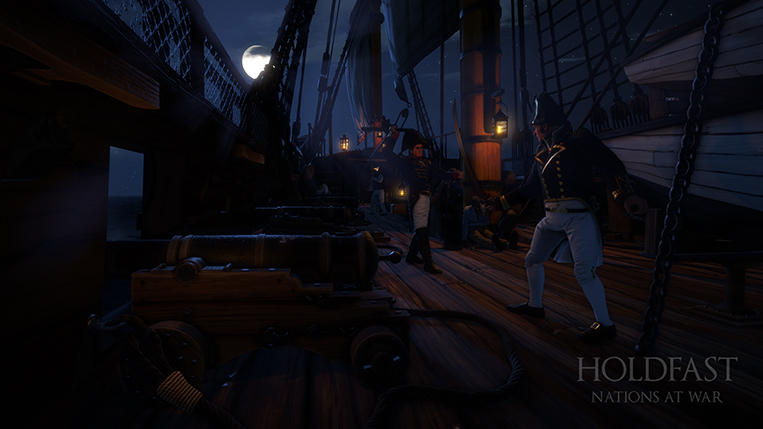 Competitive play. Official events
The competitive scene is important to us - We want to provide a precedent for regiments and crews to compete in. We will be hosting official events soon after the game is out on Early Access on both land and sea. It'll be a great way to nourish and grow what we hope will be a fierce and fun competition based culture among player organisations. We'll also be looking for help from the community for hosting these events.
Here's a shot from one of the "Sunday Napoleonic Battle" events we've been hosting with our play testers. As some of you already know, we have been in contact with a number of YouTubers, casters and streamers. This is partly in an effort to widen the coverage of these events as well as the game in order to reach the widest audience possible.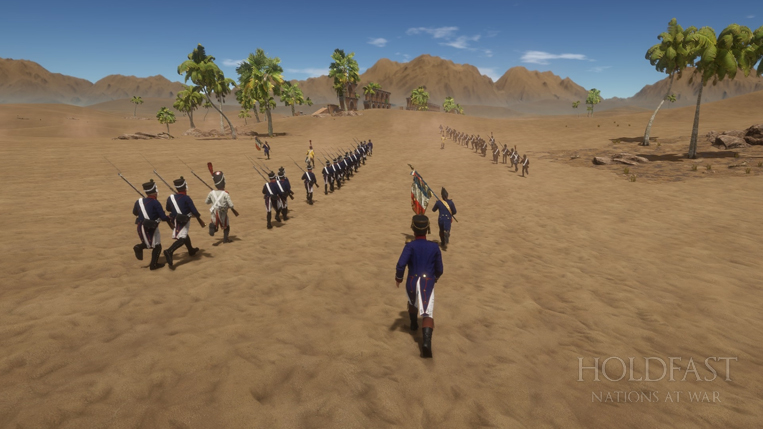 It would be also good to know that we have also been directly working with members from the competitive community to provide us with direct feedback on the features which are at the heart of all of this. These largely unsung heroes have been essential to the early balancing of core features as well as fast tracking the bug fixing process.

Pre-release event. Gameplay
We'll be inviting YouTubers, streamers, regiment and crew leaders and members of our community to a pre-release event for Holdfast: Nations At War. This event will take place shortly before the Early Access release and is designed to give players a good look at how the game will actually play. More on that later!
Community hosted servers. A call for hosters
Server files for Holdfast: Nations At War will be made publically available for our community on the first day we'll be releasing the game on Early Access! The server files will be coupled with documentation that will detail how to host and freely configure your own server.
We will of course also be hosting official servers ourselves in a variety of different regions.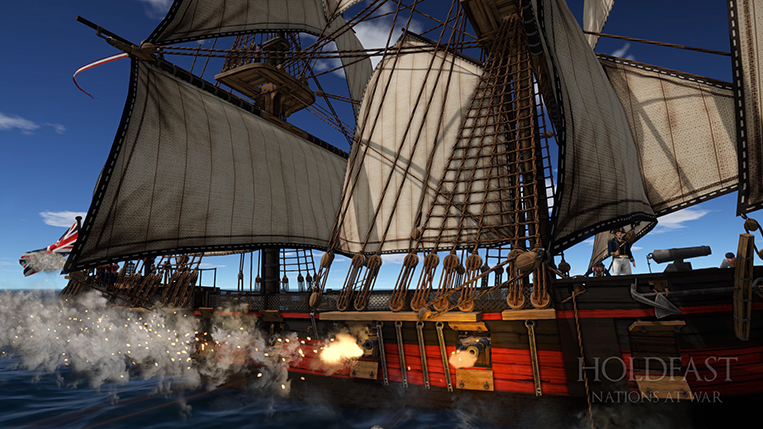 Keep updated. Follow us!
There's still a whole lot to show from the game which we have yet to reveal and quite frankly, it's not going to be possible to show each and every bit of content before September! We will, however, be revealing additional content throughout this month and the next on our social media.
Give us a follow on Facebook and Twitter if you fancy seeing some of the content we have planned for the game.
To celebrate this day we are revealing one of the uniforms for another class that will be available within our Early Access release. In their most glorious form throughout the battlefield; we present to you... the British and French Flag Bearers (Ensigns)!

It's been a long road to get to this point and we still have a long way to go. But being able to give you a release window has made everyone in the team perk up with excitement. We are so close!
Before we leave we really want you to know just how much we appreciate you. Whether you are discussing game features on Discord, providing us with feedback, testing the game, spreading the word through YouTube and social media, organising regiments/crews or sending us supportive messages, we really can't thank you enough. The least we can do is make it one to remember.
Feel free to join in the discussion on our forums here and as always, may good health be yours.

Once again thank you for all of your support from all of us on the Holdfast: NaW team,
- Peter, Andrew, Julian, Andreas, Cameron & Tassilo
Anvil Game Studios