Hey guys, here with the latest news on HLT! A lot of university work of the report writing variety (snore) has been going on, and delaying the work on the important parts(i.e. THE MOD!!) but now its over and handed in, and work is ongoing on HLT as my personal project, so there should be a lot more updates coming!
---
And now for the news:
For anyone who wonders how the map will work for HLT, an example map with the HLT fgd is now available to download! Check the Downloads page to get it!
This should give you guys an example of how maps in HLT will look, the example one is based on two players in a 1v1 match. It is important to remember that the map is flat, and has nodes everywhere you want the units to be able to move.
In the fgd you will find two new entities, info_team_one and info_team_two. These are meant to be placed where you want your player's initial units to spawn at the beginning of the game.
The mod will be using ep2 content(for the NPCs), so feel free to use everything from the ep2 artswork in your maps! Also as a side note, this does mean that people will need to have episode 2 in order to play the mod.
---
In other news: collision detection has been added: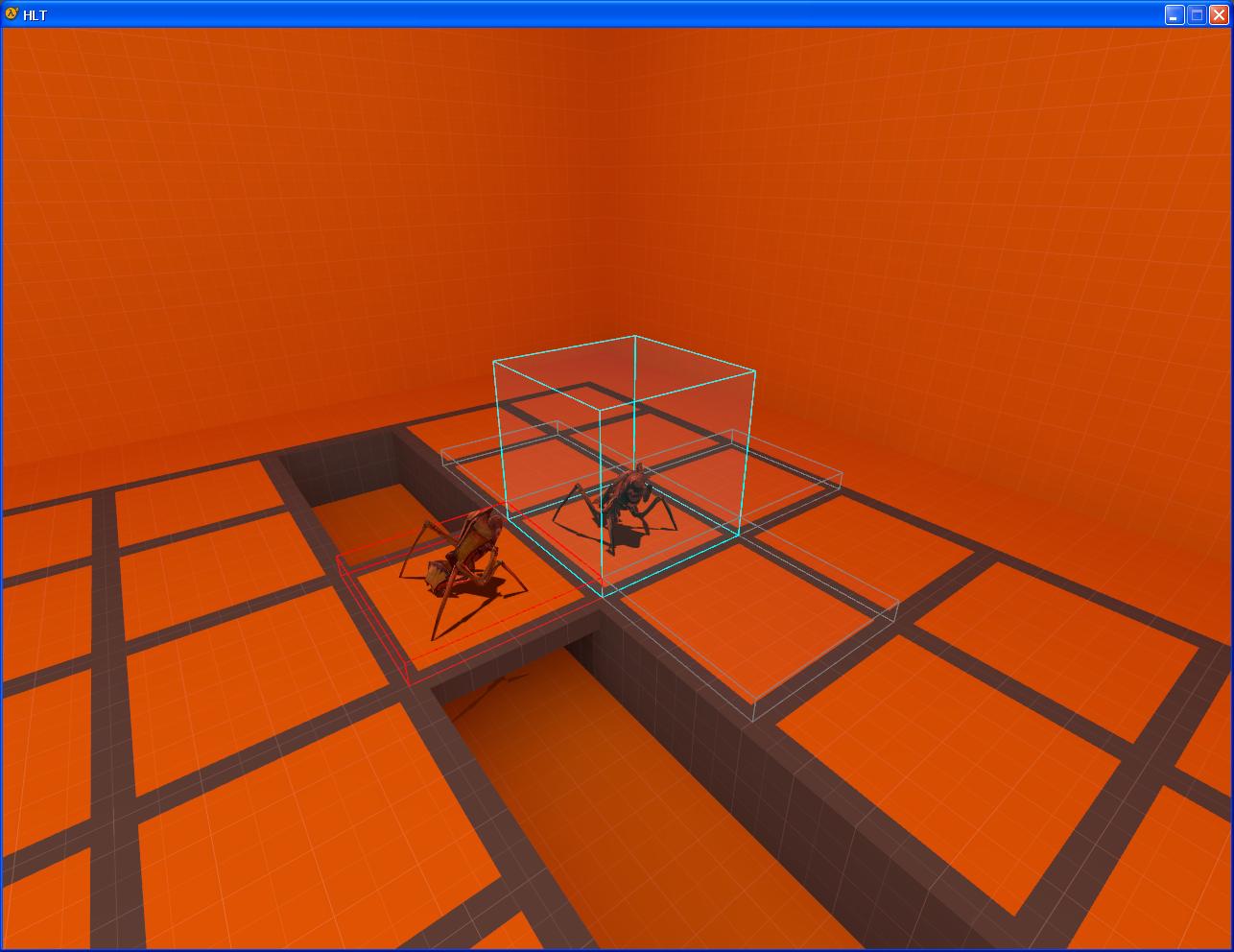 This image shows how one unit is unable to move into a space because it is already taken by another unit.
Other work that is ongoing with the mod include the team selection menu, action points for the units, and general game rule implementation.
---
Lastly, I want to hear your views! How do you think HLT should play?
The game is currently based on the four factions: Rebel, Combine, Antlions, and Zombies.
Antlions will be the weak/numerous type, with the worker antlion providing ranged support.
Zombies will be able to use headcrabs to capture rebels/combine to turn then into fast zombies/zombine!
Combine have multiple assets at their disposal, including manhacks, hunters, scanners, and the combine weaponry.
Rebels are unique with their survival capability, working with a few key units that change roles with changing their equipped weapons, for example, giving a rebel a crossbow will make him a sniper unit.
Citizens are important to the game, as they are the resource! Rebels and Combine recruit them, Zombies use headcrabs to take over them, and Antlions feed them to their grubs.
I would be interested to hear the views of the community on how they would like to see the game play, though bear in mind the game is meant to be based on HL2/episodes, so shouldn't be too different from something you would see while playing that!
More news as it happens :P