Hi there ! Alley from the HLDM-Pro Team here. We are very excited today to publish our second news report, we have a lot of things to say ! The development has been very active this week.
I. Programming news
II. Mapping news
III. Modelling
IV. Miscellanous
---
I. Programming
We are proud to announce that the core is complete, which means the movement changes are fully implemented and gamemodes fully functional.
The code will be updated multiple times in the future to offer new graphic and gameplay features, the player will be able to deactivate thems if he does not wish to use thems or if his computer isn't powerful enough to support thems.
---
II. Mapping
Mapping has also been very active !
Alley started working on a second map called "warehouse" since a few days, this map is focused on 1vs1 strategic combat especially with the use of the new longjump of HLDM-Pro, the map reaches my personal high-quality standards and will be probably finished next week.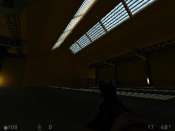 Rayvex has completed his first map and started working on a second one, he is keeping what this second map is about secret, expect anything :o
We have no news from Srbo since a few days, thus we are unfortunately unable to inform you about his work.
---
III. Modelling
Every default player models have been transfered to our new animation system, this means that HLDM player models have been converted to 9 way blended animations.
Though, we know that a lot of players use custom player models. Unfortunately, they will not be compatible with the new animation system, though once our forums are up, a guide and a section will be created for those willing to have their model converted, we take care of our players. :)
---
IV. Miscellanous
So yeah, we worked hard this week ! And I still have some infos to deliver.
Servers will be avaliable upon the first public release, a linux port is being made on the same time, this port gives us the possibility to have servers hosted by professional services.
The mod will enter private beta stage in the next two weeks, as we said in the previous news, this will help us to balance the game and fix bugs that we haven't seen so far.
On another hand, less fun, a group of Adrenaline Gamer addicted players led by [HoC]izO are trying to ruin the mod for an unknown reason. We assume they are doing this because the AG players are enthusiastic about HLDM-Pro to offer new content, new fun and new gameplay, and will turn these "elite players" into dust because of the new gameplay and movements.
Here is some of the things they say about us :
- It seems we are going to put hacks and viruses in the game core, take care maybe we're trying to retrieve pics of your dog or your cat.
- The team is made of hackers, cheaters and lamers. Yes, take care, we are real bad guys, we might hack your computer to know what games you play and what your sister looks like.
On a serious note, we find this more funny than embarassing. None of us have any knowledge about viruses or hacks, we are even playing their game to let thems in their little dreamworld. Though, we recommend you to stay away from [HoC] members before they give you less intelligence than a monkey with a banana.
Thanks for reading and thanks to the community for following us.
See you soon !