Hello everybody, Rookie718 here, and this is the return of Half Life 2 on Crack.
Hl2:OC is basically Half Life 2 gone crazy. It will have a very random/funny storyline, and will be very fun.
Now I need to tell you all something, this is a MAJOR change. Before the mod "closed" I was only going to do reskins and some other crap as you know,woohoo nothing special...I have decided this mod will consist of new skins/maps/storyline(it won't be the old one with the same maps and junk)/new npcs possibly/over powered,underpowered weapons/and more.
So this mod isn't a reskin of original hl2 now. I will also be posting stuff more often now, so no more waiting 2 weeks for just 1 skin of something.
Well here are a few skins I made a little while ago, they are possibly new skins for the zombie/barney/metropolice. However they will probaly be replaced most likely, currently unsure.
Here is a picture of barney. Really screwed him up..
You may not be able to see him good,here is a bigger image.
Moddb.com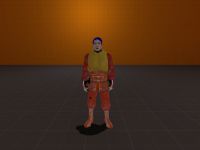 Next up is the Metropolice
Probably gonna replace him with something more screwed up.
Here is a bigger image if you can't see.
Moddb.com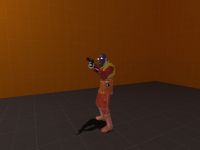 Next up is the new zombie.
Most likely will be replaced don't think it's screwed up enough(note it only has default headcrab because I haven't reskinned head crab yet) No matter what the zombies will still have gore, just though I would say that.
Here is a bigger image if you can't see well.
Moddb.com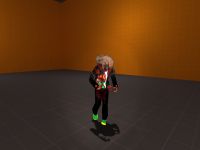 Also, I need someone to help with the following jobs. Please PM(private message) me on moddb if you can help.
Need the following :
Modeling
Programming/Coding
and anything else you can think of except mapping really
Also, when I make news or something like that on moddb ,in the end it adds session data, how can I make it not add session data to the end.
<!--Session data--><!--Session data--><!--Session data-->