Hey guys! It's been a while since we posted some news,
so here's some stuff we've been up to.
Relics
Relics are rare items that you can find hidden throughout the hives. These mysterious items could have been left behind by past JUMP teams, explorers, or other alien races. Finding a relic will add it
to your collection and may even give your Jumpers an added bonus.

These four relics were voted on by our fans on Facebook. Every 100 likes for the Facebook page triggers a new vote on which relic to put into the game next! (3 relics enter the vote, 1 relic goes into the game)
Rewards
We've revealed many of our physical rewards. We know you've all been dying to see that T-shirt!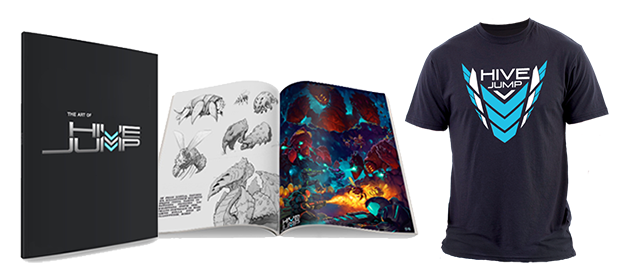 On the left is the Hive Jump artbook that will be full of great art from our own artists and many others (like Eric Hibbeler!). You can snag a digital artbook by backing at the $35 tier. Backers at $100 and above get a physical softbound version.
On the right is our awesome 100% cotton T-shirt. There are still a couple of openings in the Early T Shirt tier, and T-Shirts will be available as add-ons when the campaign is complete!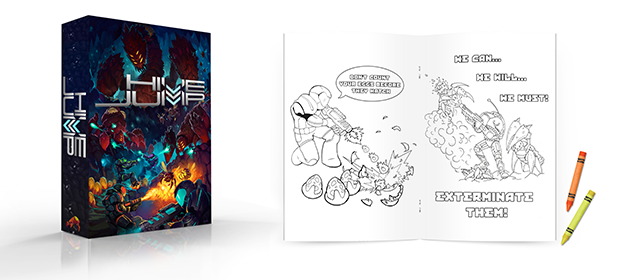 Here's the game box and coloring book! Filled with propaganda and violence! Fun for the whole family!
NEW ALIEN: ORDOVICIAN DRONE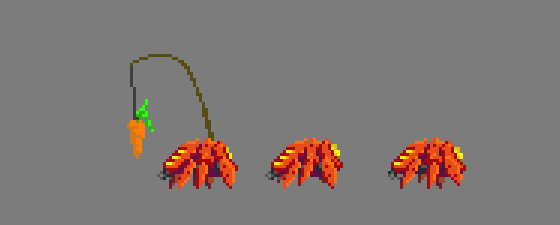 Classification: Bombus armatae (armored drone) Hive Role: Worker Behavior: Drones transport food, water, and other supplies throughout the hive. They repair damaged parts of the hive, remove dead bugs from the hive, and have the ability to secrete resin that serves many purposes. The are able to traverse the hive walls with ease, even clinging to the ceilings and crawling up walls. Drones are generally not very dangerous, but when they travel in swarms they can overwhelm even the most seasoned Jumper.
THE JUMP CORPS GROWS!
Two weeks in and we've reached our 40% mark! Here's a fun fact. If 500 of you jumpers found your 3 best friends, and got them to back the Hive Jump Kickstarter, we'd blow away the $50K goal! So start picking your jumping buddies, form your squad of 4, and have them back Hive Jump right away! The galaxy needs you!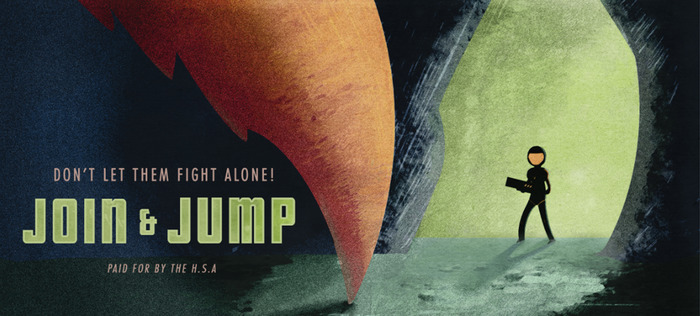 Send your friends this little treasure as motivation!
We also made you guys some profile icons for fun! Spread the hive across the web!
Oh and here are some sweet press quotes we've gotten from some pretty cool places.
"The speed of it all is exhilarating, aliens swarming at incredible rates, guns offloading dozens of rounds a second… There's really no messing around, it's immediate and constant action." - Ben Barrett, Rock Paper Shotgun
"Hive Jump promises to combine Spelunky with XCOM and, yes, I would like that very much." - Patrick Klepek, Giant Bomb
"Hive Jump shows off some stunning running and gunning" - Darren Nakamura, Destructoid
"This beautiful Contra meets XCOM meets Starship Troopers hellspawn is off to a promising start..." - Greg Micek, Cliqist
"Hive Jump looks like an absolute blast" - Kurt Indovina, Indie Gaming Mag
"This game is stunning. . .a stylish action-packed multiplayer platformer." - Maanav Goyal, Always Nintendo
"The Next Wii U Game To Get Excited About" - Sknygy, Nintendo Enthusiast
"Hive Jump: 2D coop shooting platformer with dynamic-lit supercool pixelart? BACKED." - Glauber Kotaki, Artist/Animator of: Rogue Legacy, Chasm, Duelyst
"Every screenshot of Hive Jump I see looks sweeter than the last. I can't wait to see how this game ends up." - Finn Morgan, Snake Hill Games Maker of Sprite Lamp