D
id you know that the Horzine had a smart and shiny chemical plant down in the Deep South? No? Neither did we, until recently. Turns out, not very surprisingly, that it has been leaking a glowing green goop into the local lake where Bubba and his kin have been dynamiting catfish for generations. Bubba did try to explain to the local Horzine execs that this was not what Al Gore meant by a "green revolution", but all he got was a face full of buckshot for his troubles.
Of course, all the chickens have come home to roost. To be completely fair to Horzine, what happened to Bubba and his family was only made worse by their habit of killing and eating most anything non-human wandering around in the woods. The first clots never knew what hit them...
And now, we can show you the end result. Visit the Hillbilly Horrors and take in the sights. You can check out the whole farm. Start with a little tour around the Wade family residence and then you can move on to some of the delightful out-buildings. The barn and slaughter-house are particularly nice this time of year. There is a fine collection of vintage vehicles scattered around the yard for you to admire - and the trampoline is just great fer the kids to play on.
Move on to the boat-house and you will get a look at Green Lake and a fine view of the old Horzine plant across the way yonder. And before you leave (or should that be "before you TRY and leave"?) you really should try and enjoy Mama Bessie's fine collection of exquisite plastic garden gnomes. It took her years of couponing at Farm Depot to put that collection together. Please try not to break any of them.
While you are on your tour, do watch out for Bubba's family. Some of them don't take kindly to trespassers. Well, in their current state, NONE of them take kindly - if you get mah meanin'.
Bubba always had a temper - now he can really rage! Maggie May was always a cute lil' thang, but she can be a bit clingy, especially as she now comes in packs. Mama Bessie has some very unpleasant habits and Granny Crystal May was always a screamer. Bubba's brother Sparky always liked to play with fire - such a worry to his momma. Why anyone let Cousin Otis loose with a chain-saw is a complete mystery. And, finally, if you make it through your tour, Sheriff Wade will come on by at the end to see you off and wish you well. Or is that saw you off and wish you dead? Go figure...
As a reward, we have new toys for y'all. 4 shiny new weapons of our own making: the MKb 42, Dragon's Breath shotgun, the Vlad 9000 nail gun and a specialist grenade for the medic, makes quite a set.
But wait! There's more! You can play for the achievements and unlock the Grim Reaper himself. And you can pick up the new Chickenator DLC character, with his own delightful trail of feathers.
And that's not all! we also have 4 more weapons fixed up by those good 'ole boys at IJC as community DLC. A Flare Pistol, Scythe, new Buzzsaw Bow (guaranteed to stop even the most angry opossum) and an old Tommy Gun.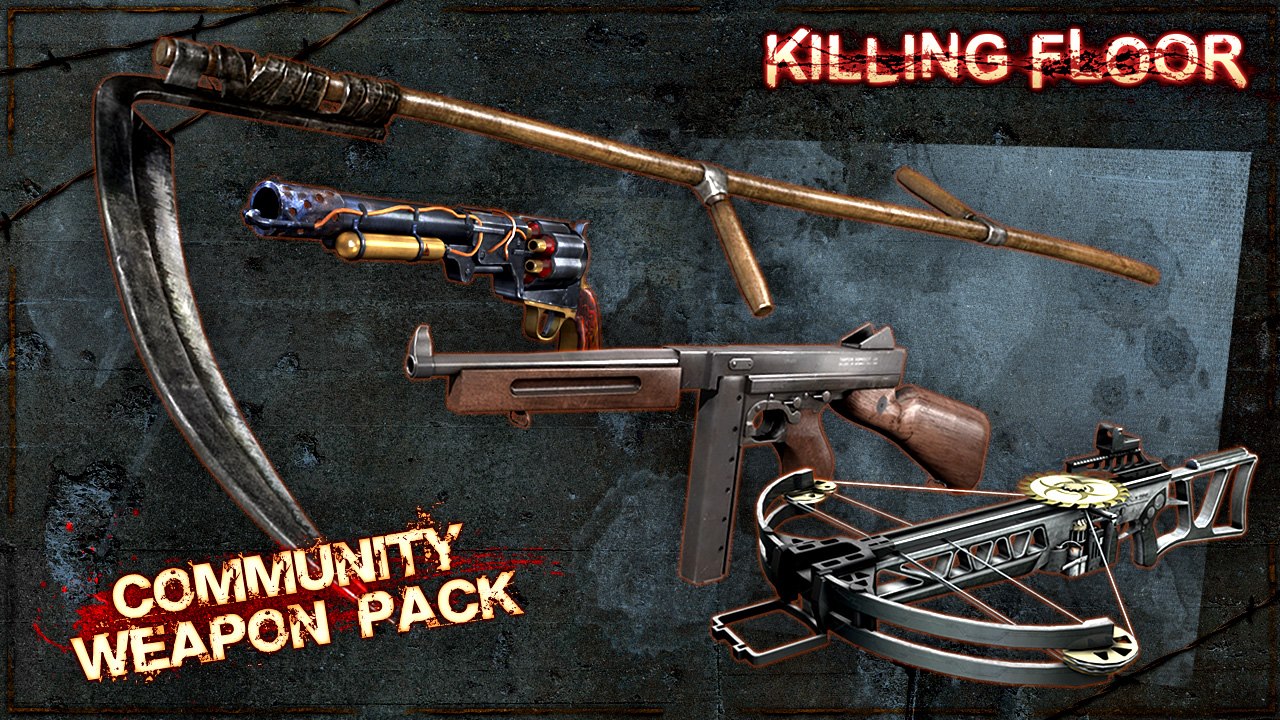 The Hillbilly Horrors Halloween event - once you visit you'll never want to leave!
Official Event Page - Update Changelog