Have just finished making "all" the player weapons. It's possible player might get a few more, like an unlimited/recharging ammo low power ranged weapon at the game beginning in addition to a melee weapon. Could also have some BFG sort of overpowered weapon. All the weapon textures are wip, might do some little tweaks into the models before finishing the textures.
Current set of weapons is pretty much my personal favourites and they all use just 4 different ammo types. I've tried to balance the weapons in a way that even after finding the "better" weapon, the "basic" weapon would still have some use. The hud is missing ammo type icons and only have the generic ammo icon.
The ammo and weapons:
Bullets: Assault Rifle - Minigun
Shells: Double Barreled Shotgun - Sniper Rifle
Rockets: Grenade Launcher - Rocket Launcher
Fuel: Flamethrower - Laser Cannon
---

The video shows all weapons except the melee and assault rifle.
---

No safety fences around the oil pit in Hell. While the oil doesn't do any damage when swimming in it, you don't see much at all when submerged in it.

Some goodies at the top of the oil pit middle structure: 100 health, fuel canisters and the laser cannon.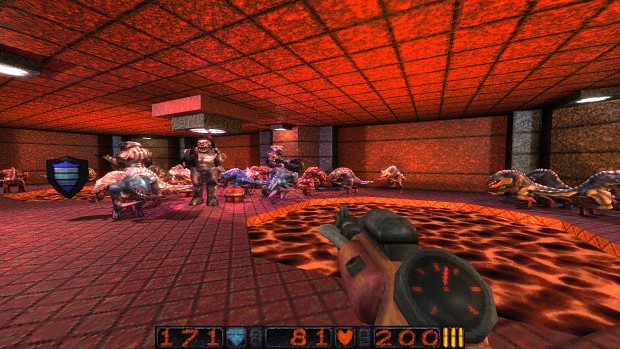 Laser cannon equipped.
---
And some other thing to mention: initially this game started off as a first person shooter, then wanted to try it as a third person shooter (at which point I also put up the profile here), but couldn't get the skeletal animation to blend 2 animations together and didn't want to split the character into upper and lower halves, so better revert back to a first person shooter. The game could still be played in third person, just the character animations might not look the best ever for a third person shooter.
Probably adding arms visible into the the first person view later, so the character would be a little bit visible then too. I could add more than just the arms visible too, just there's some little problem about player's arms and weapons might appear inside the rest of the body. If it was just the legs visible when looking down, then that problem wouldn't be so noticeable.