"Lantern" is the name of the latest Resident Evil 7 demo, from a build put together during Tokyo Game Show – and it's an apt descriptor. You find yourself inside the house of the game's antagonists, the Baker family, being pursued by the family matriarch as she holds a lantern aloft, searching the dilapidated homestead for you.
For this build, we played the game using the PlayStation VR headset, as well as the Plantronics Rig4VR headphones. As this was our first time experiencing Resident Evil 7 in VR, we were privy to the latest changes and adjustments the team had made to make the VR experience more comfortable.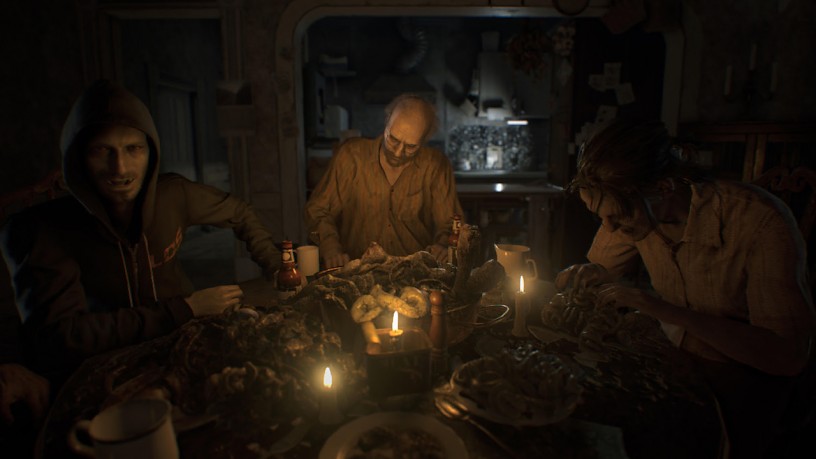 Playing with a DualShock 4 gamepad, the player's movement was controlled with the left analogue stick. Their default walking speed was slow enough to remain comfortable, and not produce any immediate motion sickness. Sprinting was activated by clicking the left stick, and increasing your movement speed like this – or rapidly turning your head – caused the field of view to temporarily be restricted by a dark shroud. This is a purposeful technique also used in games like Ubisoft's Eagle Flight to reduce simulation sickness.
Turning was accomplished with one-to-one head tracking motion, or by using the right analogue stick. The right stick did not fully turn, however; instead, it shifted the player's view about 30 degrees to the side, in a short and sharp motion. Rapidly flicking the stick to initiate multiple short turns actually feels more comfortable that one single, continues turning motion – it's a technique that Minecraft's VR version also utilises.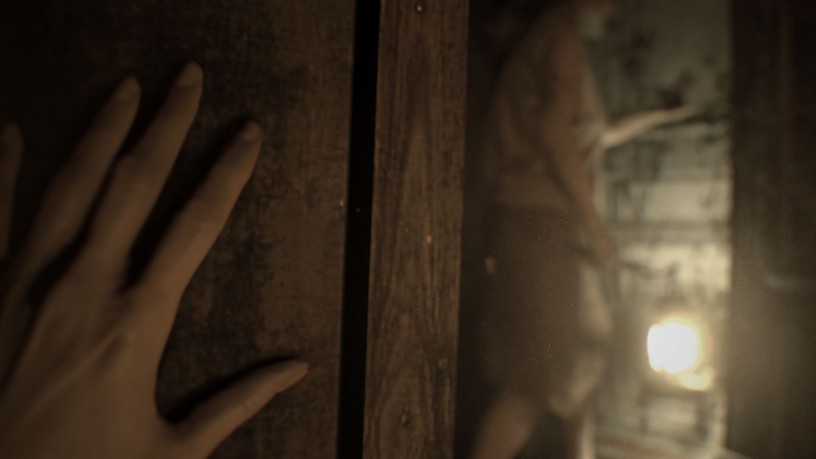 With the PlayStation VR headset, the player is naturally able to crouch and hide behind objects without having to press a crouch button. However, a crouch button still exists – obviously to support non-VR play – so there was a significant disconnect between the VR-exclusive ability to naturally crouch, and the game not actually registering you as being hidden unless you had already pressed the crouch button.

Though I didn't experience any motion sickness throughout my ten-minute play session, I did experience a sense of dizziness when walking around the Baker's house. It was as though my legs wanted to step in time with the character's audible footsteps, and not doing so would put me in danger of falling over. Crouching and hiding felt far more fluid and natural than walking around because of this sensation.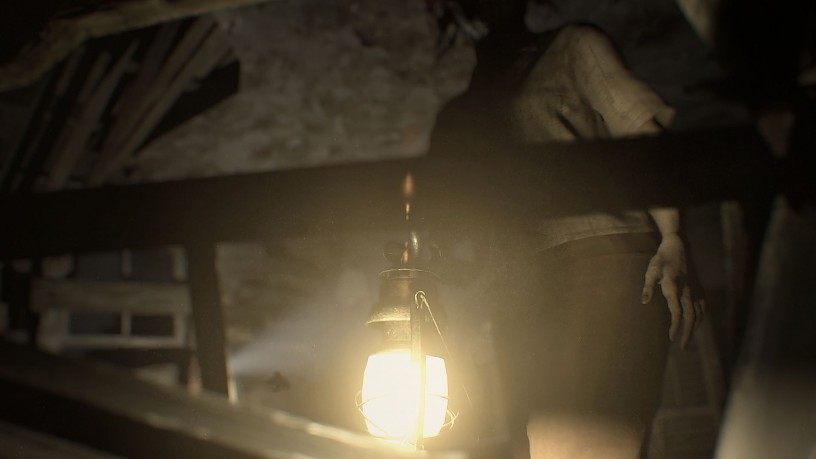 I did experience a significant headache soon after stopping the demo, however – a headache that is still persisting even as I write this, hours later. I've had similar headaches after playing the Paris Apartment demo on the Oculus Rift, so I don't chalk it up to the individual hardware so much as the act of moving around a VR space without room-scale tracking.
"...That analogue range of movement and peeking was powerful enough to make the act of hiding feel more tense and dramatic"
Still, when hiding, even without room-scale tracking, the PlayStation VR's freedom of head movement allowed for some highly immersive moments, such as peeking around a corner, or through broken planks of wood, at the Baker's mother as she searched the room you were concealing yourself in. The stealth systems driving this section of Resident Evil were incredibly basic, amounting to simple occlusion behind solid objects, but the ability to have that analogue range of movement and peeking was powerful enough to make the act of hiding feel more tense and dramatic.