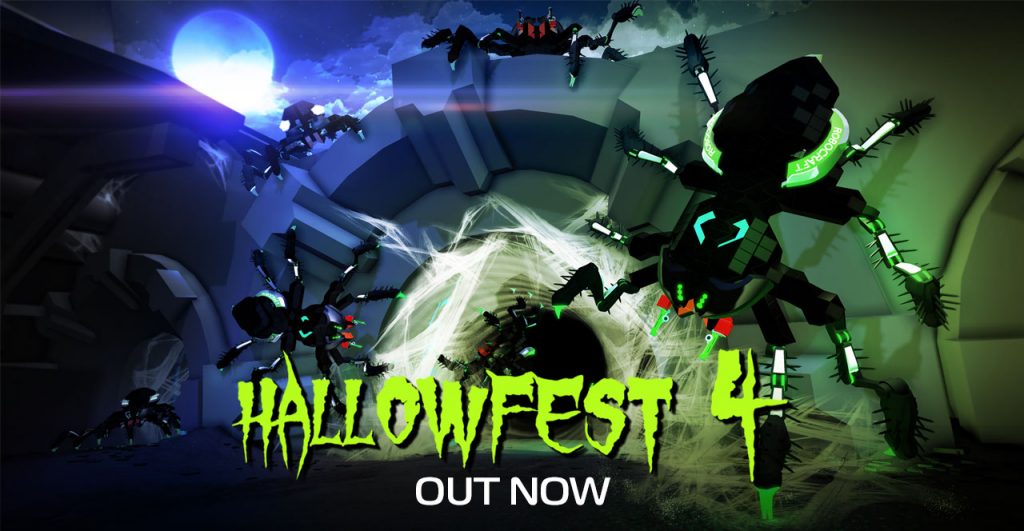 Something wicked this way comes

Hallowfest has once again corrupted the world of Robocraft! Players can celebrate the spooky season with our in-game event Hallowfest 4. For this year's event we've added some arachnid-inspired Spider Legs, introduced a special "Bats & Spiders" BRAWL, given the Mothership a Halloween make-over and much, much more.
Alongside the Hallowfest 4 event, we've also made some improvements to a number of parts including all Wings & Rudders, Hover Blades and Insect Legs. If you're a Robocraft content creator or streamer, we've added a HUD toggle switch just for you! We've also fixed a number of bugs too.
---
NEW:
Hallowfest 4 special event

Halloween mothership
Spooky in-game music during battles, in the mothership and during menus
Pumpkin salvage crates
Cackling skulls from Aeroflaks
Spooky Aeroflak explosions
Hallowfest 4 splash screen
Scary death screams when a player dies in battle

Spider Insect Leg Part

Rarity: Epic (Uncommon during the Hallowfest 4 event)
Robot CPU Load: 44 pFlops
Base Health: 59,400
Base Speed: 155 mph
Speed Boost: 1.1%
Mass: 16.0 kg
Jump Height: 67.4 meters
Bats & Spiders BRAWL - It's land vs air in this spooktacular halloween-themed BRAWL. Who will be victorious in the battle between bats and spiders? Create Robot monstrosities and fight to the death!

BRAWL Rules:
Permitted weapons/modules: all weapons and modules permitted
Permitted movement: Insect Legs and Wings/Rudders only
Permitted CPU: All
Game Mode: Battle Arena
BRAWL Reward: x3 XP and x1 crate for first victory bonus
HUD - ON/OFF - Players can now hide/unhide the in-game HUD by pressing the +/= key. This has been added to enable streamers and video content creators to capture cleaner gameplay footage. Players can also turn on the HUD by pressing the TAB key.
3 new Spike Cosmetics - Spike Claw / Spike Needle / Spike Pin

Rarity: Uncommon
Robot CPU Load: 1 pFLOP
Base Health: 0
Mass: 0.0kg
Note: These items are classed as cosmetics and so cannot be forged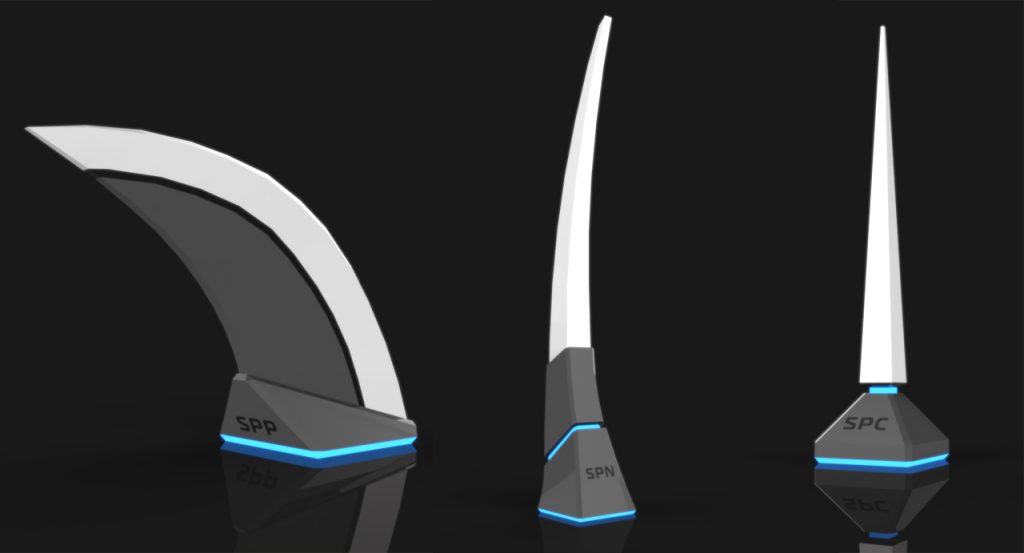 IMPROVEMENTS:
We have made a number of improvements to Wings and Rudder parts including Bat Wings and Rudders at all sizes. The rate at which they 'bank' and 'turn' and 'elevate' as well as their 'thrust' has been adjusted. We have improved the largest parts a small amount, and the smaller parts have been improved a lot to ensure less performance loss when using smaller Wing and Rudder parts. We have also greatly reduced the loss of performance the heavier your Robot gets - so rather than a 75% reduction in performance, you'll have a 50% reduction.
General improvements to Insect Legs making them more enjoyable to use in battle
Improvements to Hover Blade parts
Battle Arena rewards increased from 3+3 to 4+4
Steam Achievements have now been localised
OTHER CHANGES:
The rarity of all Spooky Cosmetic parts has been reduced to Uncommon for the duration of the Hallowfest 4 event
The drop-rate percentage of Legendary parts in all crates has been increased to x5 for the duration of the Hallowfest 4 event
Hover Blades are now affected by carry mass
Unity game engine updated to version 5.6
BUG FIXES:
Fixed a bug which caused a 'Photon Error' when a player purchased a Robot from the CRF and immediately dismantled it. This photon error would then lock a player out of their account when re-logging
Fixed a bug which prevented some players from editing Robots due to a "Cubes you don't own are placed on this Robot" error
Fixed a bug which caused default player avatars from appearing correctly in the party invite widget
Fixed a bug that caused your 'cube/part gun' to incorrectly display the number of laser wasps you own when completing the tutorial