This weekend we have another update to Half-Life 2: Wars for you. Beta 2.0.5 is mostly bugfixes, balance changes and general tweaking, as well as a lot of small improvements - you can now use team colors to show allies and enemies as two colors rather than individual colors, we've updated a lot of the text copy throughout the mod to be a little more descriptive, added an option for "bonus crates" that give a little resource bonus, and more! Check out the full changelog and download at the bottom of this post.
We also have two videos for you that were uploaded this week, one showing off the latest Overrun gameplay (with zombies!) and the other giving a quick overview of the bonus crates. Check them out, but first we'd also like to ask for your vote in this year's Mod of the Year awards! We have made the top 10 a few times in past years - 10th in 2008 and 9th in 2010 - and the mod has come a long way in the past year or two, so if you like what we're doing show your support and vote by clicking below!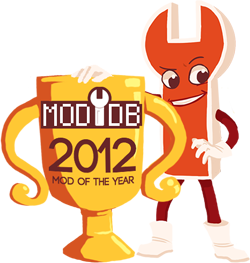 Click the button below to install or update Half-Life 2: Wars via Desura (this is the recommended method). Alternatively, you can download the full HL2: Wars Beta 2.0.5 beta files in 7z archive format (extract to your Steam/SteamApps/SourceMods directory).

WARS BETA 2.0.5 CHANGELOG
Balance:
- Increased costs Combine Metropolice from 2 to 3 requisition
- Reduced costs Rebel soldier from 4 to 3 requisition
- Increased DPS Rebel Partisan from 5 to 10
- Reduced hp Rebel Scout from 75 to 35
- Reduced DPS Rebel Scout from 10 to 5
- Reduced Rebel Partisan bonus accuracy from passive ability Revolutionary Fervor
- Reduced Slash attribute damage bonus from 30 to 25
- Reduced Black Headcrab damage from 80 to 40
- Reduced Headcrab damage from 30 to 20
- Reduced Fast Headcrab damage from 15 to 12
- Reduced Poison Headcrab damage from 80 to 40
- Reduced Zombie damage from 80 to 60
- Reduced Fast Zombie leap attack damage from 75 to 15
Overrun:
* Added Zombine from wave 5 and onward
* Added Poison Zombie from wave 7 and onward
* Added Rebel Veteran to Overrun (Rebels)
* Headcrab Cannister now contains 3 to 6 headcrabs, instead of a fixed number of 6
* Reduced frequency of Headcrab Cannister launches (Zombie wave type)
* Reduced costs Combine/Rebel AR2 soldier from 4 to 3
* Reduced costs Rebel Medic from 3 to 2
* Removed tier2 requirement Combine Mine
Added:
* Support for garrisonable buildings (Sandbox)
* Always show unit health bars using the command "toggle_alwaysshowhealthbars", with default key binding "\"
* Relationship based team colors (cl_teamcolor_relationbased)
* Option for random bonus crates (any game mode, enabled by default)
* Poison Zombie (Sandbox & Overrun)
* Zombine (Sandbox & Overrun), including a pull grenade ability
* Combine Gunship (Sandbox)
* Combine Helicopter (Sandbox)
* Dog (Sandbox)
CPU Player:
* CPU Player no longer sends groups of units to the same control point
Unit AI and Navigation:
* Units now have a max chase distance when auto attacking an enemy. When exceeded, they return to their idle position
* Units no longer auto chase after enemies if they have no line of sight and are not under attack by that enemy
* Units return to their idle position after finishing an auto casted ability
* Air units now build their routes directly to their goal position, except when they are stuck/blocked
Fixed:
* Fixed RTS/FPS config being mixed up due asynchronous write of host_writeconfig
* Minimap sometimes incorrectly showing enemy units
* Soldiers no longer try to move to the same cover spot
* Fixed "single unit" type cast abilities not checking for all units in the selection, but only for a single type (e.g. grenade ability).
* Fixed incorrect client side gun position used, resulting in incorrect weapon tracer effects
* Fixed broken Rebel Medic heal upgrade abilities
* Broken AR2 alt fire ability Combine Elite when the shotgun is equipped (no longer possible to use the ability in this case)
* Unable to switch the autocast setting of abilities (right click ability button)
* Vortigaunt dispel ability now also applies damage to other units than antlions
Misc:
* Updated unit names and descriptions
* RTS Keyboard binding config page now shows more appropriate descriptions for RTS mode
* Added filter entities for player owner "filter_owner" and unit type "filter_unittype" (Hammer)
* Added entity "event_building_listener", which fires events when a building construction is started or finished (Hammer)