If you've played previous incarnations of The Ball, you've noticed that you aren't alone in the ruins you explore. There is another presence that watches you. Is he a guardian or a nemesis? Friend or foe? For many, he'll draw comparisons to a certain mysterious spook, but he is commonly referred to as "The King".
The final version of The Ball will have you seeing a bit more of the King. You'll also be able to finally find out how he is connected to the Ball and this secret underground civilization. The puzzles, the creatures, and the ancient ruins that you will explore; the King is at the center of all of it. But is it his kingdom or his prison? That's for you to find out.
Of course, the move from mod (even a multi-award winning one) to a full-blown commercial game is a big one. So, being in line with Teotl Studios' quest to beautify the visuals beyond what you've been exposed to so far, they decided to give Mr. King a makeover: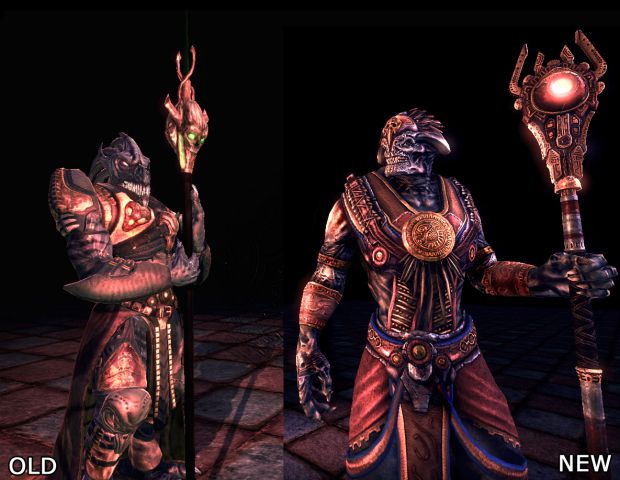 Above you can see the before and after. The King has had a few nips and tucks as you can see - a much more defined jawline and a fancy headdress establish a more powerful, regal look. Also, you'll see that he's ditched last year's gaudy gold metallic, bird skull adorned look for something even more tribal. Feathers are all the rage this year and Kingy's set to to take the fashion world of Toltec by storm in this hot little number! A new and improved staff is the perfect accessory for asserting your status.
Enough about fashion - on a more serious note, Teotl Studios members will be present at the Nordic Game Conference mingling with some of the best and brightest developers in the Nordic and and global games industry. Give us a shout on our twitter or facebook if you'd like to meet with us there.
Next update: Nordic Game happenings and ... a release date?