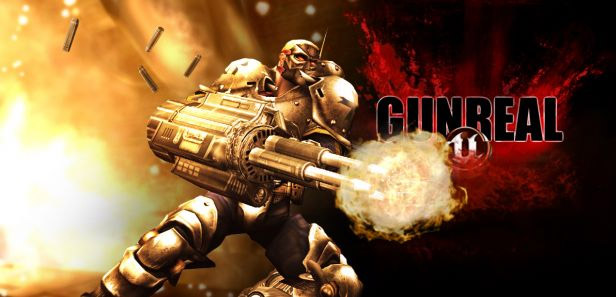 The Gunreal Beta is going great (if not slower than originally anticipated), and we're up to patch 5 (one more on the way, and it could be the one that brings us to the final release). We've also given the Auto Updater-hungry Mac users a new ingame notification feature, to inform them of all new patches. Now the Mac users too can return those Psychic Receivers that most game companies still think everyone has; new patches are in for some quick downloads.
For those new to Gunreal, here's the trailer (showing an older build of the game):
We've also got the "How To Test" video on Moddb, for those who haven't checked it out yet (you can also watch it on Gunreal.com, on the download page), and for those interested, there's also the sound demo MP3, showing off some of Gunreal's sound design.
The final version of Gunreal (hopefully delivered in the next patch - not sure yet) will sport 2 different flavors of gore to choose from: Blood, and Blue Acid. On first bootup, you'll see this screen, giving you the choice.
---
And finally, lots of screenshots/art is posted here on Moddb.
Happy fragging!
---
Notable recent updates:
- Mac & Zip users now getting ingame notification of updates (a button appears on the main-screen, which takes you to the download page)
- New Turret (almost finished)
- New loading screen setup with fading effects on match-begin
- Shopping Terminals now have health bars, and regenerate health when not taking damage
- New "Healing Ward" feature for CTF (unfinished). Flag-carriers can crouch and hold still to charge up a healing blast that effects all nearby players (including enemies).
- ...a bunch of other stuff
Major Upcoming Changes:
- Completely new match-setup screen (going back to the way you used to setup matches in UT99, but heavily revised)
- A new gore style to choose from (and updated gore in general)
- Tons of minor updates/fixes/rebalances