The GUI is getting a makeover with new animations
While the 7DRL had animated window borders, text printing, and button hover highlighting, all were just simple features copied over from the original source at the time (X@COM). Nonetheless, it was definitely a feature that had players going "wow" from the start, so we need more of that.
I've done a comprehensive review of all previously static parts of the interface looking for new areas to animate, and updated old animations to fit with the new style. All sound effects were also replaced with better versions, with new ones added where appropriate
Probably the most static part of the interface that needed to show some appropriate activity during startup was the HUD's upper-right status info:

It doesn't make the HUD any more useful, but it's fun.
Special Effects
While the animations described above are merely eye candy, I took the opportunity to also add special effects for visual reinforcement of important Cogmind-related status events. These are both informative and aid immersion (remember, you are the Cogmind!).
When the core is low on integrity, all right HUD window borders will glow red, and if overheating to dangerous levels they glow orange. I'm not too happy with the appearance of the glow effect, but it'll do for now.
The other two effects are far more effective: Garbled data is displayed whenever the core takes a direct, where the greater the damage the larger the effect's area; and system corruption intermittently causes glitches across the interface, with frequency and amount based on the current level of corruption. These effects aren't annoying--just enough to tell/remind you what's going on, but there will be an option to turn them off if you like.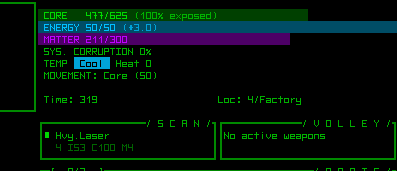 Cogmind just sits around naked taking a beating so I can record the effects in one corner of the screen.
These help address one issue in the 7DRL whereby it could be easy to forget/overlook your dangerously low core integrity until it was too late, that and you could easily overheat without noticing (later 7DRL fixes added messages and the occasional alarm/warning sound, but it's always nicer to communicate your condition in an another direct and obvious manner).
Showing when the core itself takes damage will also help draw attention to the amount of coverage your current build has.
There's still plenty more to do with the GUI. The original status and info windows haven't been touched because their content will be changing before they're completely redesigned, and there will be several new windows coming to support new features, but it's about time to get back to expanding the game logic itself.