New WIP video of the project, I hope you'll like it
Titan awareness
When the titan got a target, his head and body will follow it. The first body part to follow the target is his head, and when it reach the angle limit, the whole body turn to face the player too. This way, we can avoid having the head turning on itself, by 360 degrees.
The eyes movement, as well as the body turn animation are not implemented yet, but that's something that I'd like to add in the future.
During attacks, the titan can follow player movement too. This way, when the titan is trying to catch, his hand will move depending of the player location. If he is trying to escape with a dodge, the titan hand will try to follow the direction of his target. Thanks to that, I can limit hitbox issues, and too obvious player teleportation in the hand when he is caught.
To do that, I'm using blendspace in Unreal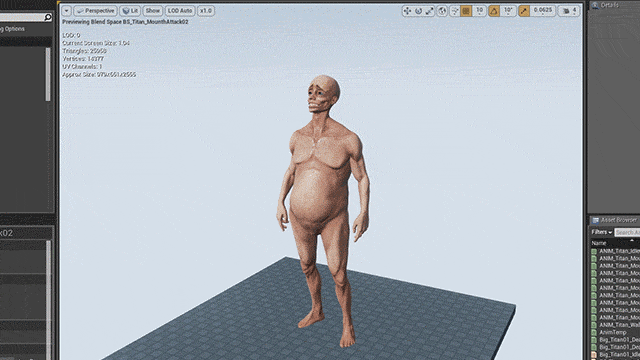 Lastly, the titan is able to anticipate the player location so he can time better his attacks.
Red spots in the following gif represent the player location that is used for triggering attacks. If the spot is in the titan attack range, then he will start the attack. This way, if the player is far, but is coming really fast toward the titan, this one will be able to launch the attack sooner, because he knows that, if the player doesn't deviate from his trajectory, he will be in range when the attack will reach the target point.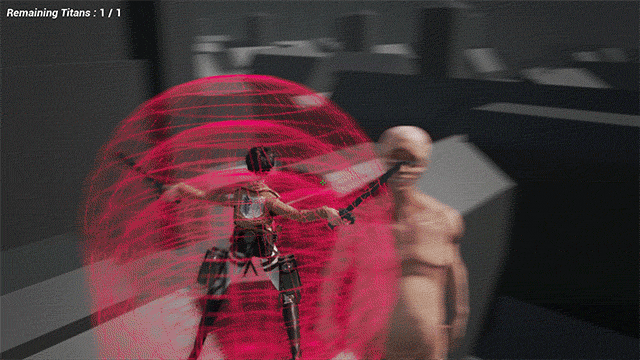 How to kill a titan
For now, it's almost impossible to kill a titan. The main reason is that all the gameplay features has not be implemented yet. Dodges will have some invincibility frames, which will allow the player to go through some attacks if it has been well timed.
Moreover, I plan to implement a counter attack system, which can be executed after a well timed dodge. If the player can do a counter attack, he will obtain an advantage over the titan, that need to be determined yet. (Maybe a dismemberment or tendon cut thing, like Levi did)
Another thing that need to be taken in account, is the fact that the final game will be multiplayer, and that attacking a titan alone will be difficult, but targeting a titan with several player should lower the difficulty too.
Finally, when it'll be time to balance the game, it will be easier for me to "dumbify" the titan, rather than the contrary. And if I decide to add several difficulty level, it would be easier to start working on the hard mode first.
Thanks for reading and following me :D
Guedin