If you're excited by this news join us by downloading our demo and send some skeletons flying (and support us on Greenlight and Kickstarter!)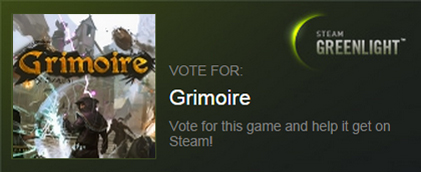 This is a major milestone for Omniconnection and is the first step to steam integration. With a successful greenlight we'll be on our way to running multiplayer tests through the steam service which means we can finally implement a much needed server browser and patching system. These critical features will allow us to ramp up testing, speed up content delivery, and make the game available to far more people than is currently possible.
Furthermore, now that we've done the work necessary to reach a larger audience, we can refocus our efforts on improving Grimoire itself. Please support us on Greenlight and Kickstarter and help us finish this beast!