This weeks update is about our first game mode: Conquest which is inspired by classic games such as Day of Defeat and the Battlefield series. In a Conquest match House Validus and House Magnus battle over powerful sources of magic scattered throughout the Empire. Soon we will be adding these ancient ritual sites to each map along with their corresponding ley-lines. Capturing all of the sites results in a large number of bonus points with control points resetting to their default owners and each team starting fresh from spawn. Players begin in a spawn room and then travel through a portal which takes them along the ley-lines to the ancient ritual site their team controls that is closest to the central site.
If you are familiar with multiplayer shooters you might be thinking this sounds just like every other generic control point game mode. In Grimoire however we have added a unique spawn and travel mechanic which we believe will create all sorts of strategic options by offering players the choice to flank, defend against incursions, or go on the offensive-- every time they respawn.
This is how it works:

You can fast-travel from the spawn room...

If you don't press anything you will travel all the way down the line to your furthest controlled ritual site

Enemies can capture ley-lines to block travel

Like a train, you can hop off at any stop
We have begun implementing this new system by adding new visual effects to represent the ancient ritual sites but the actual travel mechanic and ley-lines are not ingame yet. We hope to complete this new system before early access launch.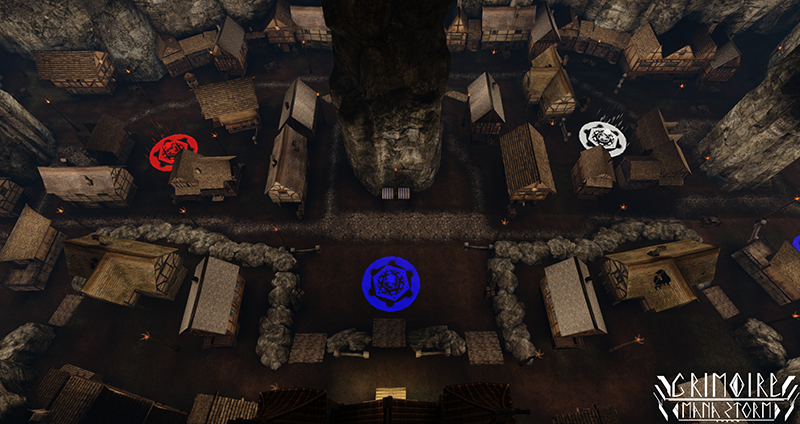 You can see more screens of our current four maps here.
We would also like to announce that we must delay Open Alpha until we get a critical connection bug fixed. We will however continue to do our Saturday alpha test at 3 PM EST (9 PM CET) as well as the occasional quick test. As always we are extremely grateful to our awesome community for all the support and feedback, thanks everyone!