In case anyone missed the previous update, here is the gist of it: OKHLOS GOT GREENLIT !!! And only six days after we launched the campaign!!

It's been a extremely frantic and tiring week but we are ecstatic. First and foremost, the overall response was great. Many long-standing Okhlos supporters turned up once again to vote and share the news. The response from the local community was great. More than once they would beat us, sharing news in different sites or forums! And at the same time, we found lots of people who had never heard about the game until now, and fell in love with it. It was wonderful to read all the comments and messages. So we thank you all for that!
Steam Greenlight is not the same of what it used to be when it first started. Many more games are getting greenlit every week, for one, which gives you much better chances of getting among the top games. But, at the same time getting noticed these days has become increasingly harder. Putting a game on Greenlight is not something that Kotaku or Gamespot are going to write about anymore. But this is not to say that there are no news outlets or sites that write about Greenlight anymore. We found out that many sites are stilling willing to write about a game on Greenlight, if they find the game interesting enough.
The first articles that begun to appear when we launched the campaign were at Pixel Dynamo, this news bit at Gamers FTW, or here at Load the Game. Not long after that some larger sites wrote very nice pieces about Okhlos. Like at Okhlos: My Big Fat Angry Mob at IndieMag. And then Killscreen gave us Okhlos Turns to Ancient Greece to Explore the Phenomenon of Mob Mentality. Neat!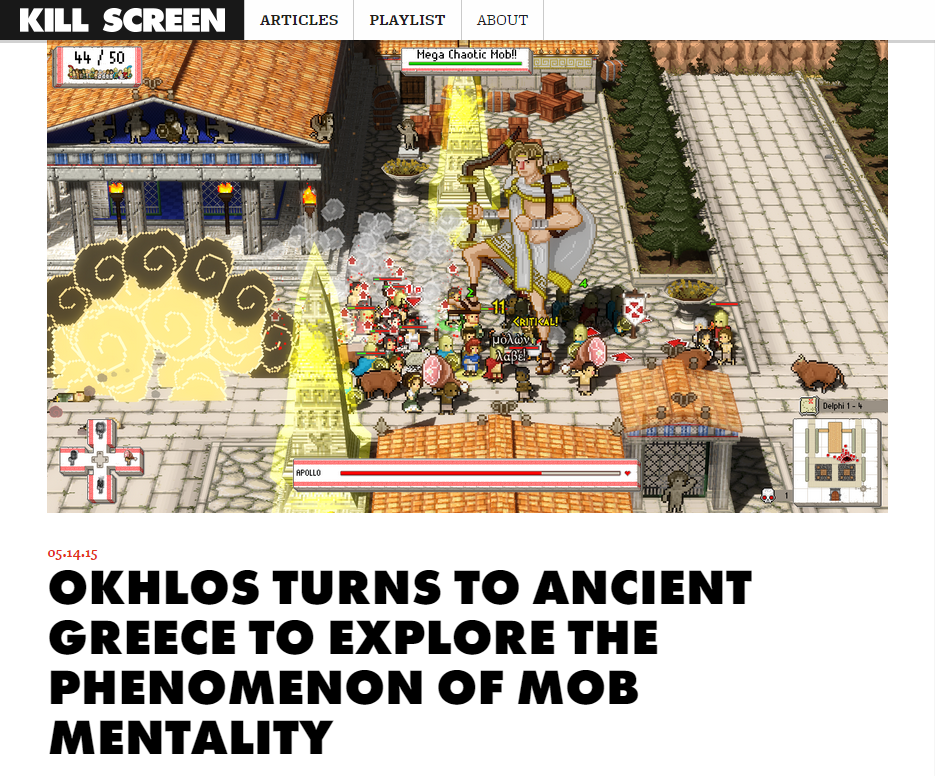 Like Killscreen, many sites covered Okhlos!
Then we were delighted to see that Megawacky, who runs the webcomic Bits & Bytes, devoted an entire strip to Okhlos! You can read the Okhlos, and the whole webcomic, which is full of game references and jokes, at the Bits & Bytes site!Another guy who showed once more how amazing he was, is Pixel Prospector. He runs one of the best, most comprehensive sites on the planet with resources for indie games. That alone is enough to put him in our good list for good. But asides from this, he runs a pixel art devoted blog called Pixel Artus, and this week he took over Tumblr with a series of Okhlos' gifs (more than five hundred likes and shares!).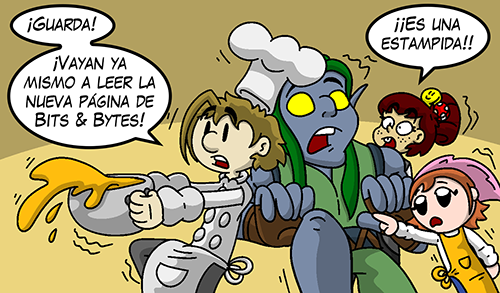 Bits & Bytes preview (Spanish only, sorry!)
Something very interesting we discovered these days was that we got a very large number visits, votes, comments and likes from different places spread from all over the world. We expected most of them to come from the US (where most gaming sites are from, and Steam users are from) or Argentina (Hi, mom! Thanks voting us!) but we were surprised to find, for instance, that IGN Africa wrote about the game, where the Greenlight Brigade highlighted Okhlos among the best of the weeks roundup. Or that, at Game Guide France, they published a very comprehensive piece about Okhlos. Or that a games' blog from Japan, Shibayama Blog, which is quite big, also pulled up the news about the game, followed by lots of tweets and comments in Japanese. Neither where we expecting so much visits from Russia. But a curator of pixel art works posted about Okhlos at VK (the second largest site in all of Russia and one the largest in all Europe) so visits started pouring from there.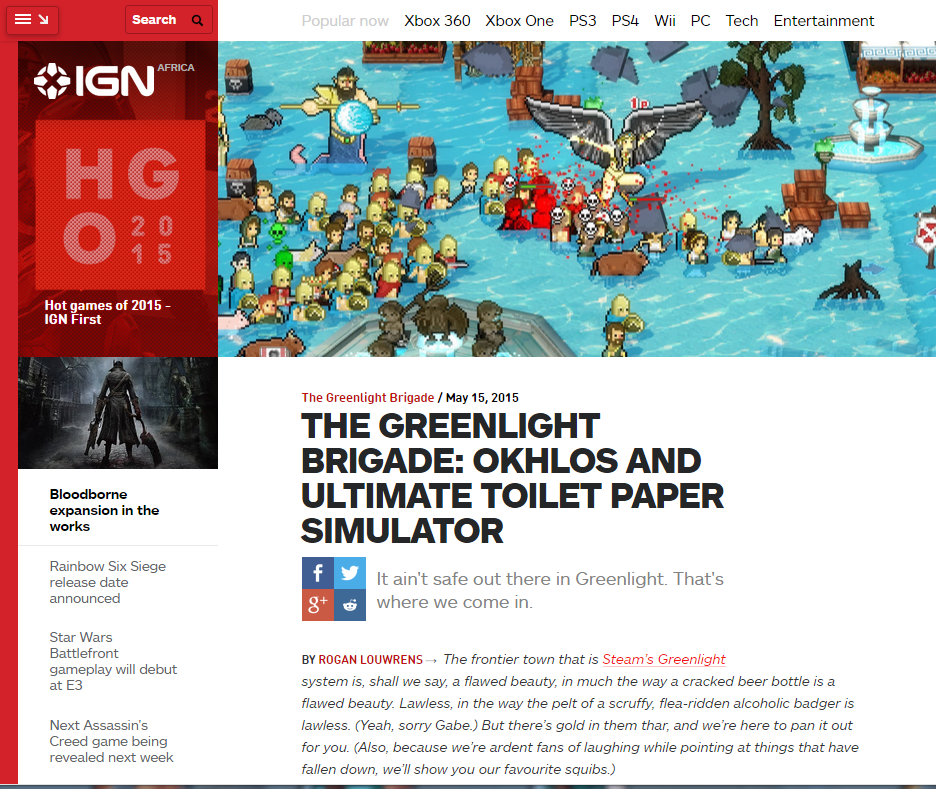 Are you really posting screen captures of gaming sites?
The best part of this is that it is not over. Just yesterday, the amazing Richard at Games Freezer, who had already played Okhlos at Rezzed and wonderful words about it, and now he did it again. And a few minutes ago, just before we hit the publish button, we heard the fine folks at Checkpoint published this beauty of an article (in Spanish). So, we can't stressed how happy and thankful we are. It's wonderful time to be part of the angry mob of ancient Greeks.
Now time to get back to work! Somebody has to finish this game!
This post was written by @SebaGioseffi
Here is an actual screen of the game!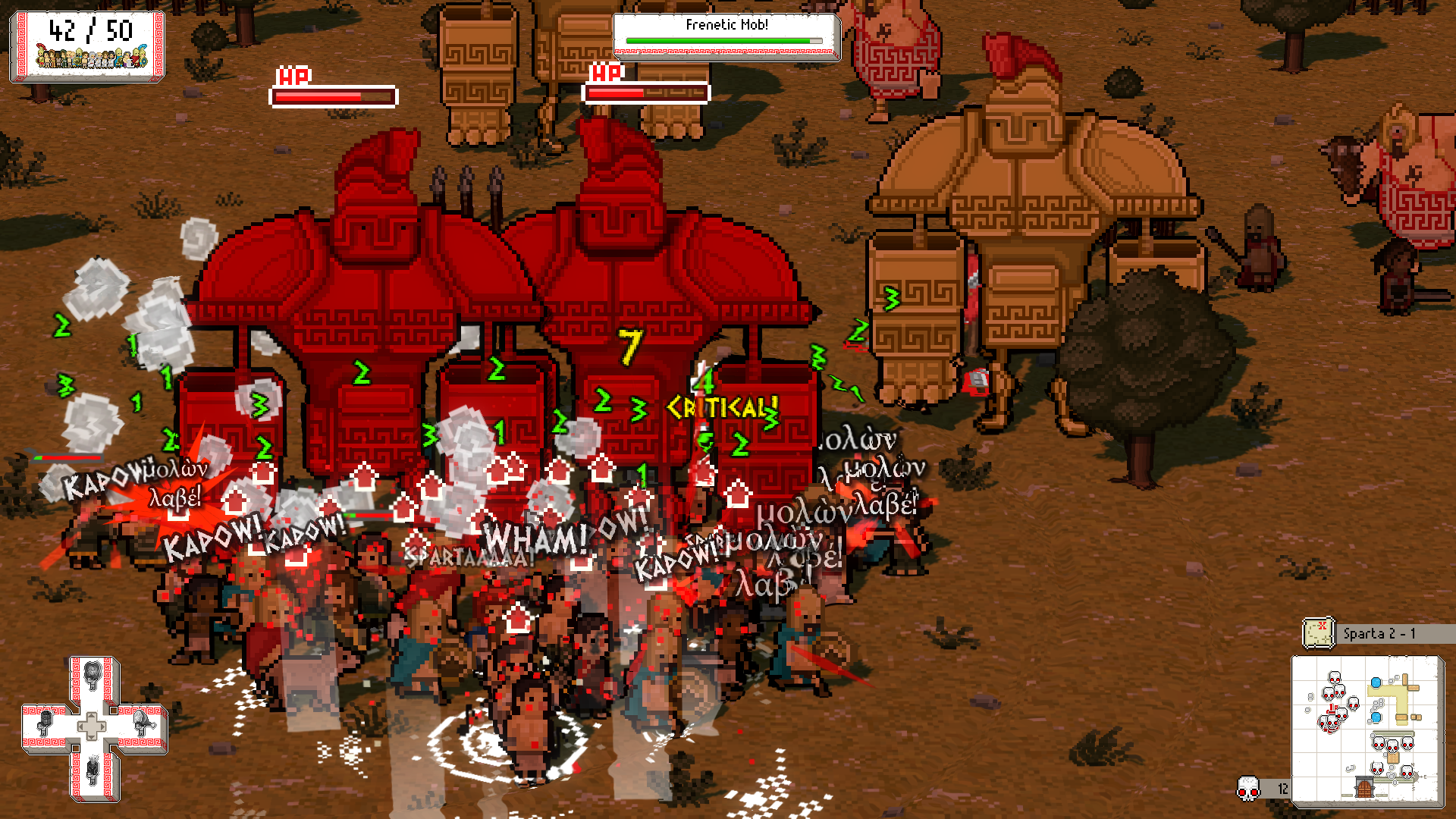 A few Automatas locked in fierce combat! Click to enlarge!A few Automatas locked in fierce combat! Click to enlarge!