A TEAM OF TWO

We're are back! This time with some teleport effects :DWe where at the Lisbon Games Conference showing off Greedy Guns early this month. People seemed to really dig the 2 player co-op, as one should, but it had two big issues.
The second player could be off camera and go through a door, making both players go through a door without knowing why
A player could get locked inside an arena or boss battle while the other got locked out.
Both players having to use the store to equip items wasn't clear
So we drank some chocolate flavored milk and soy beverage and got to thinking. Then because we couldn't get any ideas we resorted to stealing some :P . So off we went to replay Trine 2 and Guacameelle. What we came up with was the following.
Player 2 no longer triggers anything (boss battles, doors opening or closing)
When player one triggers an important event player two gets teleport there (see pic below)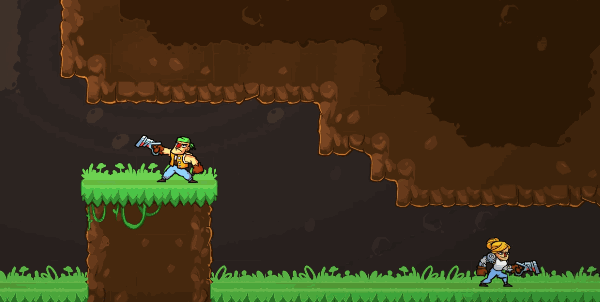 When player one dies player 2 has some time to pick up a medal that will make him(her player one. He or she now controls the camera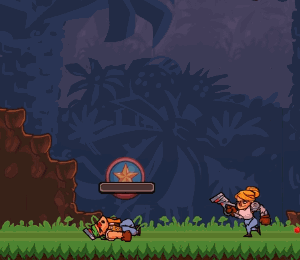 This way player two doesn't have to be nearly irrelevant (like tails in sonic 2).
HEAL ME!
And also we get to keep the "Healing" mechanic in, which people really thought was cool. Kids especially got it right away, without the need for a tutorial. Also we gave the revive some flair with these new particle effects!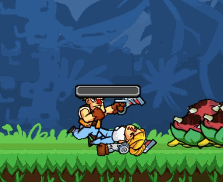 NEW STORE
The store was a mess. People got really confused by it (our fault of course...) and the overall design didn't feel too coherent. It didn't scream CRT monitor enough for our liking so we are working on a new one. Simpler interface, cooler looking.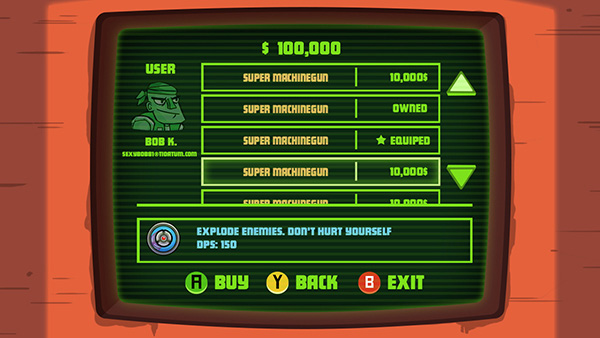 The before picture looks more like a mobile UI then a proper CRT inspired UI. But then again, we make 6 mobile games already so...
COMIC CON PORTUGAL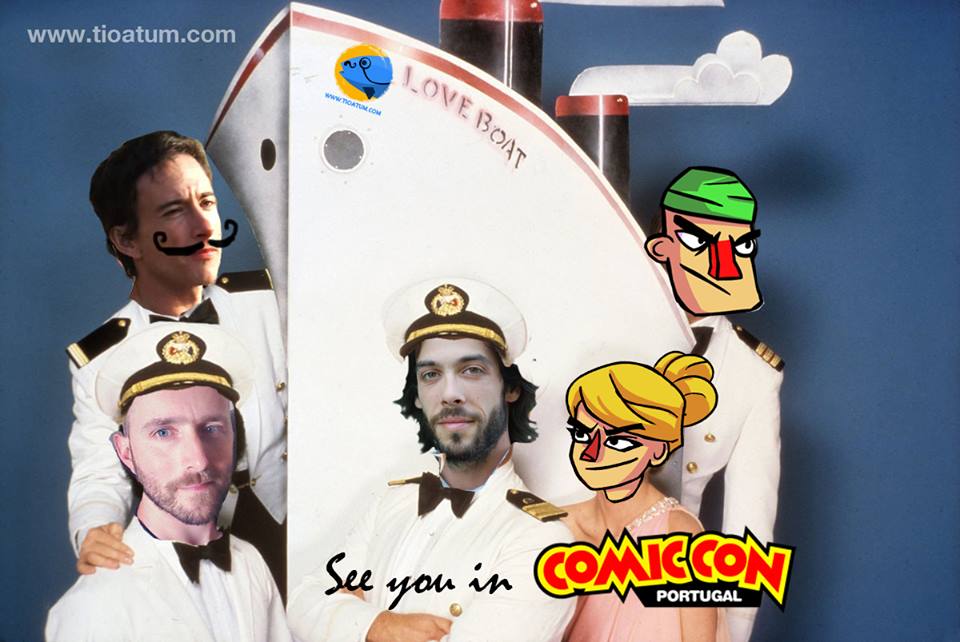 Why are we updating so much stuff you ask. Are you calling us lazy? Well we'll be heading to Porto soon for Comic Con Portugal. We want to fix all the major issues we found on our latest event to make sure we get brand new feedback! If you are in Porto and can't aford to go to comic con just send as a tweet or email. Who knows, we might be showing it on our hotel lobby as well :)
DID YOU HEAR THIS YET?
In case you missed it last time Miguel Cintra our resident sound man will be uploading the Greedy Guns soundtrack as it gets done to Bandcamp. This is the first track, an extended boss theme music for your listening pleasure.What do you think? Does it make you wanna shoot your way through waves of enemies?
Greenlight!
Oh, and don't forget, we are already on Greenlight and need your vote!
So what do you think?
Do you like our new additions? Got any ideas? Lets hear it in the comments or just reach to us on the facebooks/twitters!