For quite some time it's been hinted that we are heading towards major graphics update. And we certainly are. Work with the graphics engine, planning of graphics structures, perspective and style has been carried on behind the scenes (mostly) in silence. With so much work with game content additions - which are always the top priority - I honestly thought that we wouldn't be seeing any graphical improvements in the next version but what do you know...

Things have clicked and the road to updating tile graphics, even for the next version, is now clear. The original graphics update plan was to increase tile size at once and redraw everything from a scratch. This plan has changed a bit and the new master plan is to go through an intermediate graphics update stage where redrawing of bigger tiles can be proceeded, and their smaller counterparts will be used with the current grid size. We can keep up pouring in new game content while still featuring updated graphics, and when it's time to make the final step with increased resolution and grid size everything's drawn already.

It's a lot of drawing nevertheless, but we're hopeful to get majority of tiles completely redrawn for the next version. We'll probably see dozens of completely new item sprites as well.
Here's a screenshot with bunch of redrawn items - that's what you'll see in action in the next version. (Old terrain features like trees and such are pending to be redrawn too.)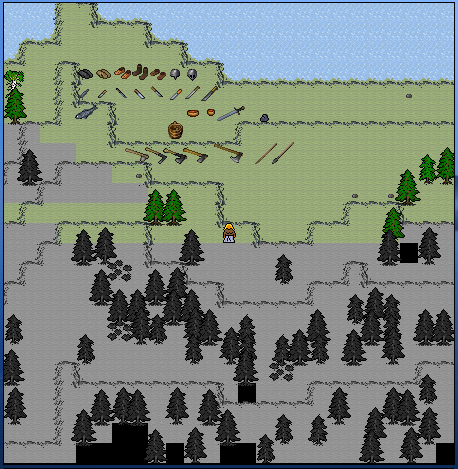 Updating graphics isn't restricted to mere redrawing of sprites. Newly planned graphic structures and engine allows new kind of presentation of things. We've added a little bit of eye candy for example to redrawn fire sprite. Just because it was fun and possible we gave it an extra frame and made it so that size of the fire is now represented by scaling the fire sprite instead of using multiple sprites.
Fire is important. Good looking fire may not be that important, but the outcome is quite pleasant.
Here our character is burning fires of three different sizes: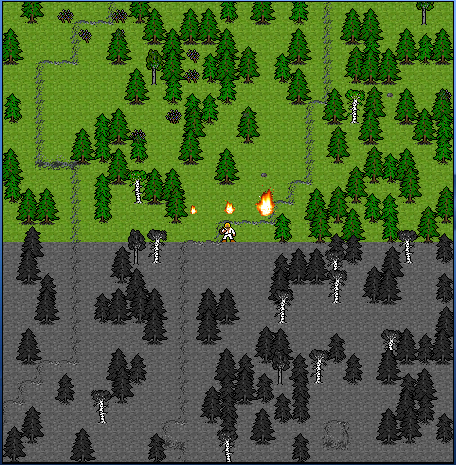 But what's more important and also a long-awaited feature is dynamic day and night lighting cycle. It's coming up, and we've got a few early screenshots here. We'll be having map color scheme to change according to time of the day - and reacting somewhat to the season as well. It will be quite cool for the atmosphere and very smooth transition featured on minute-by-minute basis (game time). In the screenshots below you'll see how dawn, noon and dusk will look like in the winter and autumn. In action, there will be hundreds of different shades in between these stages. (PS. Non-visible winter map coloring will be adjusted also. What's visible and what's not isn't and hasn't been all too clear.)
Day and night lighting cycle is coming up. Example of dawn, noon and dusk in the winter:




Day and night lighting cycle is coming up. Example of dawn, noon and dusk in the autumn:

---
UrW is being developed with your support.This could be a good day to utilize your squirrel hides and
Donate to support UnRel World development
Thank you!

UnReal World is distributed free of charge and survives solely on donations. As a reward and to thank you in return, our characteristic video greetings can be downloaded after placing a donation of any sum.
---
Stay tuned for more -- and feel welcome to join at Official Unreal World forums for good talks
and frequent tidbits about ongoing development.