After much confusion resulting from people being banned for modding Grand Theft Auto 5, Rockstar has come out and endorsed single player modding on their blog. The announcement was tucked away in a Q&A posted by Rockstar, which we have quoted below:
Q: "I'm having soo much fun with GTAV on the PC but I just have one question about it, how come you are not allowing mods for it?" - @ClarkMatthew63
Q: "Will I get banned from GTA Online for using a FoV Mod or Oculus Rift mod?" - @Mattophobia
A: We have always appreciated the creative efforts of the PC modding community and we still fondly remember the awesome zombie invasion mod and original GTA map mod for GTAIV PC among many other classics. To be clear, the modding policy in our license has not changed and is the same as for GTAIV. Recent updates to GTAV PC had an unintended effect of making unplayable certain single player modifications. This was not intentional, no one has been banned for using single player modifications, and you should not worry about being banned or being relegated to the cheater pool just for using single player PC mods. Our primary focus is on protecting GTA Online against modifications that could give players an unfair advantage, disrupt gameplay, or cause griefing. It also bears mentioning that because game mods are by definition unauthorized, they may be broken by technical updates, cause instability, or affect your game in other unforeseen ways.
Currently due to the infancy of the community modding tools, the biggest changes you can make to the game involve Script Hook V, This alows .asi plugins to modify the games memory files. Some great examples are SuperSlowMo on demand, a native script hook trainer with fun goodies (monkey around) and you can now become the law with Police Mod. All these scripts and more are included in our GTA Script starter pack.
Whilst you are playing around modding GTA V you might want to grab OpenIV to take a peak into what makes this GTA tick. (Update Open IV 2.6 is out that allows you to edit RPF archives on PC) turn off water and improve car deformation and handling mods are now available
It is important to note that mods which affect GTA Online and give players an unfair advantage will lead to bans, which we think is fair enough. So if you are playing online, make sure you have uninstalled all mods before you play.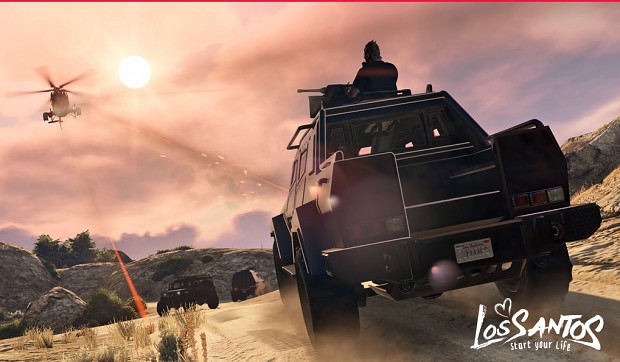 Los Santos Life
- one of the popular GTA 5 mods on ModDB
To celebrate we are going to be showcasing and featuring GTA 5 mods as they come in. So if you are working on a mod for GTA 5 submit it today and happy modding!