Update Number 3!
This is the third official update regarding Grand Games and Grand Heist. March marked the one year anniversary since the team was created. Much has happened in this year, and we have expanded our team size to 15 developers, but we have lost one of our most important; The team co-founder Waspy has left the team due to personal issues and for his music passion. He has decided that music is one of the most important things in his life, and we wish him the best of luck!

We have also come up with a plan on how we plan to continue development, release, and distribute Grand Heist. We have steamworks access, so we plan on using many of the features that comes with access.

With the first release, we plan on shipping the multiplayer version of the game which includes 4 levels and 3 game modes. We will also plan on shipping the single player in 'chunks' as free DLC. This is because we do not want to rush through the development of the game, and we want feedback from our fans on what we have created, before we move on and develop more. We also believe that long term support with free DLC and updates is the best choice.

Here is some media to keep you guys updated. Ingame screenshots are coming next! I promise!



Closed Testing
We plan on having closed multiplayer testing available through steam in a couple of months. This will include one level and one gamemode, with a large variety of classes. I will keep everyone updated and have a news post when registration will be open. We would like to thank our sponsor, Host.gd for providing server space!
First Announced Multiplayer Gamemode - Pickup
Read about this gamemode by going to the following link:
Click Here!
Story - How it's Evolved!
Wow, how the story has changed since we began developing this game all those months ago.. First, I shall talk to you about the environment that Grand Heist takes place in. There is a force somewhere that actually changes the way we know the Earth. Various cataclysmic events are always occurring all over the face of the planet. Asia and South America have almost disappeared completely because of the craters that are covering the ground. Australia has been divided into two smaller islands. The northern half of Africa has simply vanished. And to make it worse, the ocean's water is no longer there..
Important, well-known locations around the world are known to the survivors as Nodes. The few gather at these locations in search of goods and necessary items needed to survive. Of course where there are people suffering, there are thieves and scavengers who will do everything they can to take advantage of people.
This world is the result of man's actions and failure to learn from their mistakes.
New Members
We have two new members on the team who will be creating models for us. They are Janpec and Ewi. Welcome to the team you guys!
New Website Design
In order to improve the look of our website, we decided the most reasonable thing to do was to start over from scratch. The new website look can be seen below, and viewed at www.grand-games.com.. Hope you like it!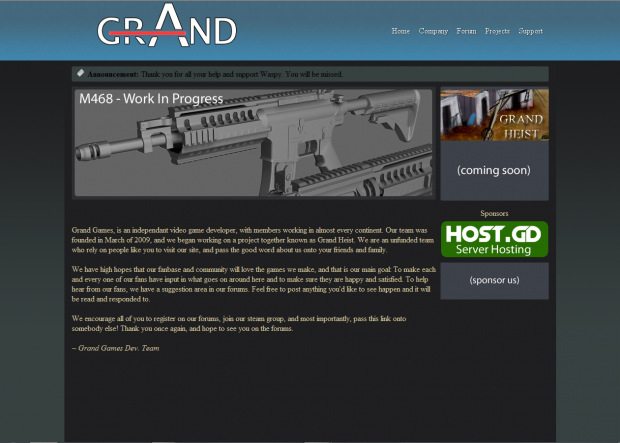 Important Links
Moddb.com - Be sure to track our ModDB group!
Steamcommunity.com - Be sure to join our Steam group!