Over at Zoonami.com they ran an article about the level design of Goldeneye 007. The thing that really stuck with me was the concept of creating a map without too specific mission data at hand to begin with. When creating Prison I didn't know what I was going for, but soon it came clear to me that it's a Bunker type of map.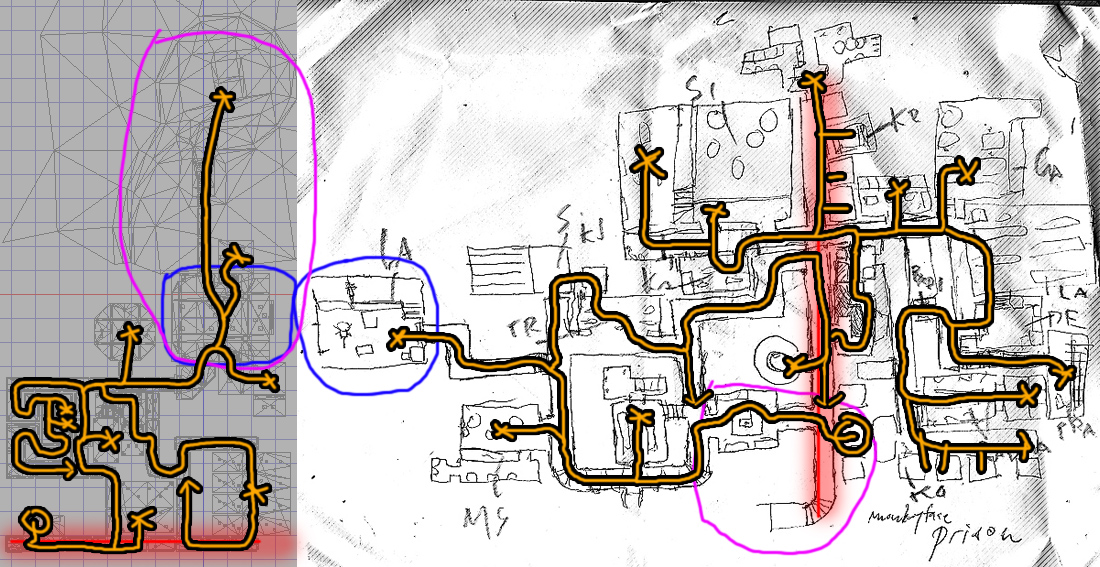 Here we have the two maps. Bunker and Prison. Here I've drawn some graphics on the overview pictures of each level to dissect them some The purple circle indicates what part of the level is actually seen in the movie. In both maps it's a rather small area, and they're both located near the exits. This allows the mapper to continue on an established theme without having to follow some strict blueprints, almost like free-form jazz! The red line indicates the "main" corridor, a corridor you immediately have to enter and presents you with a number of different paths to choose from. As you play the level more, the reward would be the knowledge of where each path takes you and which one is the most beneficial to you in different scenarios, regardless of the mission type. Inside the blue circle is the "main" room. A room which will be given special attention with a specific visual profile, something to really set it apart in tone from the other rooms. In Bunker there's no doubt that it's the main room, it's hinted in every way possible, with the computers, the big screen, the Goldeneye wall and the side rooms with glass walls. It's where it all boils down eventually. Prison will have the same thing, not necessarily the same props but it'll be a big room with an industrial laser, warm colours and a long way to the ceiling.

And finally, there's the orange line. It's me trying to figure out what ways a beginning player would choose, and why. I've watched friends and family run through Bunker and taken notes. It's nothing new, but visually interesting locations attracts the player, as well as light sources, guards, moving objects, signs and so on. The crosses are meant to signify dead ends. Both maps have basically the same amount of dead ends. The main difference between the maps, as I see it, is how Bunker is more circular, while Prison is in that sense more like Facility, with the level split up into different segments. On the other hand, you could say that the entire level is circular, which would certainly differentiate it...

That will be enough ramblings for today. Hopefully there'll be more media for you next week. 'Til then.

monkeyface, okay.