After a couple of weeks of pause, 'I, Mayor' is back with a new version!
Please note that a new version of Java was released. Make sure your Java is up to date
(Java RE SE 7 Update 17 (1.7.0_17-b02)).

This version features mostly additions that improve the game experience in whole and of course bugfixes.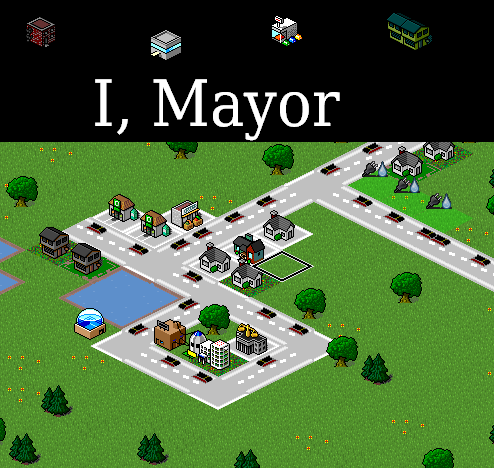 The music can now be turned on or off by pressing F6. Many people in the community requested that, as they wanted to do some other stuff from time to time, while waiting for the money to come in.
Note that you can now also delete with the right mouse button, which was also called for by the community.
The main part of this update is probably the bugfixes. Errors including from saving/loading or moving around and clicking have been fixed. If you still experience any inconveniences with bugs, please feel free to contact me, as I would be happy to clear out all possible problems!
I want to thank you again for playing the game and pointing out where to add or improve stuff; your feedback has made developing 'I, Mayor' really great fun!
Also, 'I, Mayor' will go up on Desura soon. So keep an eye out for that and if you want to my twitter account too: Twitter.com :)
Allright that is it for now, stay around for any content that is coming up!
If you have any questions or critics, I would be happy to receive them.
See you soon,
toddy