"GarryWare Two". That's it !
No ragequit from sneaky snipers.
While almost every other gamemode is about killing someone else, "GarryWare Two" is a non-combat gamemode, which is, if we can put a name on it, a WarioWare-type Party game set on a Multiplayer First Person Shooter environment.
Ok, what the - ? WarioWare is a platform game. It's not multiplayer, and it's not even close to a First Person Shooter. Does it mean it fails ? Have you actually tried it ?
( What is WarioWare ? )
For those who don't know what WarioWare is : Basically it's a game developed by Nintendo where you have to interact with the game controls specific to a platform (1-axis Accelerometer, Touch screen, Wiimote) in order to perform a simple action on a very short timespan, and this keeps going (Those games are often available right when the gaming platform is released, and is used to demonstrate the console capabilities during game shows). Looks silly, it is. Looks easy, it is not.
In the WarioWare case, it's aggremented with characters on the Wario universe.
(The WarioWare development team are also behind the game Rhythm Heaven.)
Alright. Where's the huge list of developers you're looking for ?
Uhh ... There's none.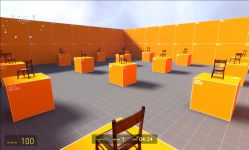 No, really, we're not looking for anyone. GarryWare first prototype was made on April 2009.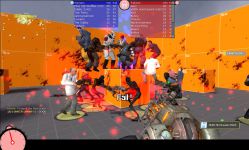 On the 18th of April, it was already running as a Garry's Mod Beta gamemode.
(This is some footage online, on an overcrowded server)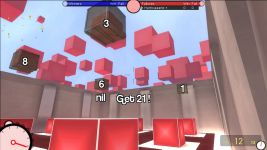 It took several iterations ...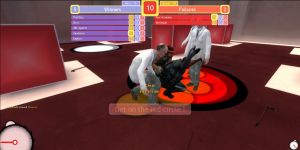 ... until 6 months later, when GarryWare Two was released.
What about actually playing it ?
Yeah, enough talking.
If you want to play that game :
+ Find a server hosting GarryWare Two.
- Garry's Mod gamemodes are immediately playable when entering a server. The game will download all required clientside resources for you to enjoy the gamemode as if you installed it !
- To find a server easily, type wa_ in the map filter in Server search. wa_ is the map prefix for GarryWare gamemode. You will likely find wa_edge being hosted, or wa_prism.
Note that GarryWare Two runs on Fretta servers, that means some servers may be hosting it but is not currently played. Don't play GarryWare Two twice in a row, it's boring, take a tour on what Fretta has to offer by playing the other gamemodes too.
- Make sure you're playing on an up-to-date server. This may not be the case for all servers. You won't know if a server is updated until you fully joined, but this will cause no harm at all.
+ If you know what a SVN is already, download GarryWare Two. It's free, the entire source code (Lua) and contents are made available as a project hosted on a SVN repository.
Please refer to this thread for SVN Url and instructions. I will not provide information on how to use SVNs.
Note that you should only download GarryWare Two if you have Steam friends to play with and host ! If you do not have an opportunity to prepare a game, just go online on a filled server and play without installing !
Facepunch.com
To convince you into playing it, just look at that footage from GarryWare Two :