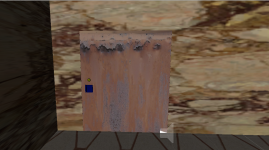 Well, alpha 3.0 has finally been released! In this version, you will get to play level 4 and level 5. I felt like the last release was too short. So, I decided to put the 2 levels together. I had this level done a while ago; I just wanted to fix some minor issues before I released it.
There's a little more interaction in this level than the 4th level (Obviously). Even though this level is smaller than the third, I used some of the things I did in the 3rd level for you to escape in the 5th level. I think you would like the ideas I have for you to escape this time. In my eyes, this is the best level yet even it is small. If you guys feel like it was too easy or some of the items could have been hid better, just post on the main page to get my attention. Any feedback is better than nothing.
I still don't have a main menu set up for this level yet. And I'm planning to have it all set up in the beta version of the game. I was fighting back and forth with myself if I should have it in the legacy version of the GUI or the new GUI. I figured just to use the new GUI. I worked with the new one on my class game project; And it's alright. It's a plus when you can visually see where the elements is at then code it and hope it's in the right area (Even though that has been working for me all game lol).
I mention the beta version earlier. Which brings me to discuss when the final, final, game is going to be released and how many more levels will be left. There will be only one more level left in this game. I believe I mentioned it in one of my earlier news blogs, but it will be a throwback to one of my levels I did starting out in game design: Warehouse level. I don't even think I still have the files for that game (Which I did in UDK). I think that the level would be nice for this game. Just got to figure out the items to escape.
The beta version will ship a little after I release Alpha 4.0. And that will include the main menu. The final game will be released in the summer (FINALLY!). I have just little tweaks here and there with the game. I also do plan on making a Captured part 2 game. This one will definitely have A.I in it. I was going to add in this game, but I'm not that experienced with that part. But, I want to study that RainAI before I dive into that field.
I hope you guys enjoy the game! Please leave me feedback on how to make the game better!