I'd like to apologize for the total lack of updates and blog posts over the last 6 weeks, nothing new has been added to the website in a while and that's just a poor effort. A lot has been going on and social media got pushed to the back burner. But we will get some new screenshots and post them over the coming days. We will also start work on a trailer soon. In the meantime, here is blog post with a little more in it than usual to make up for the slackness in the summer.
I haven't written a post in a long time as things have been a little hectic over the last months. In addition to the considerable workload, I had several weddings and a stag to attend to. Productivity drops the days following monumental events such as these. Summer is also the favoured period to take some time off; so the summer months saw less progress than we would have hoped for. We still progressed though, just not as fast as previously estimated.
We have had a lot of work and have been struggling with some elements of the game. Figuring how to make the game balanced and fun throughout; trying to get scoring and currency right has also proved to be difficult. In short, we grossly underestimated the amount of work that had to be done and the game is delayed… Finalising things such as scoring, character/ammo balance, cost of things isn't the most fun part in game design.
We were hoping to finish the whole game by September, but now it has become clear that the singleplayer game won't be finished until the end of the month and the multiplayer aspect of the game will not be ready until sometime in October. So this pushes back the game a little further. This is very frustrating and depressing, but we have no choice but to carry on, we must finish this game!
The current plan is to finish all critical aspects of the singleplayer game in September and try to launch a Free Lite version of Apocalypse Neighbors and Apocalypse Neighbors minus the multiplayer mode, sometime in October; on iOS and Android devices. We will then implement multiplayer and remaining items, as well as extra polish; and release an update that completes the game in November. That it is our plan, and we'll see it through if the Gods smile upon us a little longer!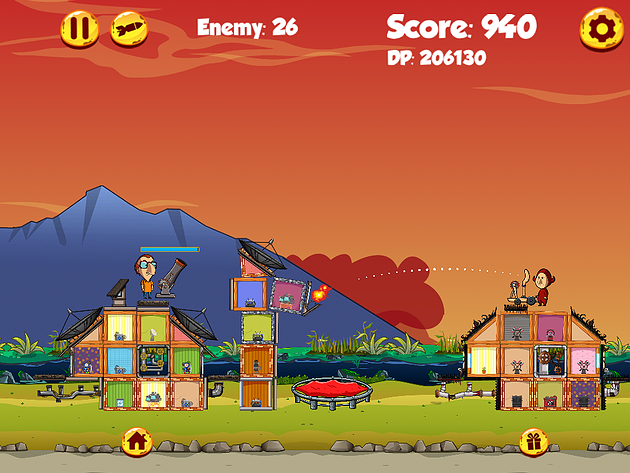 Progress was slow this summer, much time was spent tuning what is already in the game, improving memory and game stability. That being said, lots has been added to the game; we now have construction, there is still work to be done on this side of things, but this 3rd iteration of construction is getting closer to our vision. Though it has now become apparent some things we wanted to do simply won't be possible. This is mainly due to the poor processing power of the iPhone 4 and similar devices on Android. And we can't really afford to discount that market just yet. Upgraded versions of the game may come in the future, versions truer to our initial vision; only time will tell.
Many of the defences have now been implemented, they add a new dimension to the game's strategy; and they are fun to play with, according to the people who have been playing with them. There is still some work to do but we are getting closer to a completed and balanced attack/offence arsenal.
All specials, special ammo and ammo are implemented, and we are almost satisfied with the performance of everything; there is still a bit of tuning left to do, but we are almost (finally) done with this. Implementing and tuning the 40 or so ammo and the dozens of specials will have been a long process, much longer than we ever anticipated.
If you want to read more head over to the BoomCo Games website and check out the blog page.