Dear players,

Over the past three weeks, I got a lot of feedback from that helped me a lot to improve the game. I want to thank everyone who sent me an e-mail for their feedback and I want to encourage any players to send me (more) feedback. The reason for this semi-public beta phase is to get feedback and to make the game better with your ideas.

There will be another update before the game's release in May! Starting next week, I will give you detailed previews of the next major content update!

Below you will find a summary of the changes that went live with today's update.
List of crew members
On the left side of the screen, you have a list of all your crew members. As suggested by you, there are two new features. An icon will be shown for each character indicating the character's current action including healing, repairing, resurrecting, etc. In addition, double-clicking on a crew member's status panel will open the crew overview to check and alter the crew member's skills and equipment!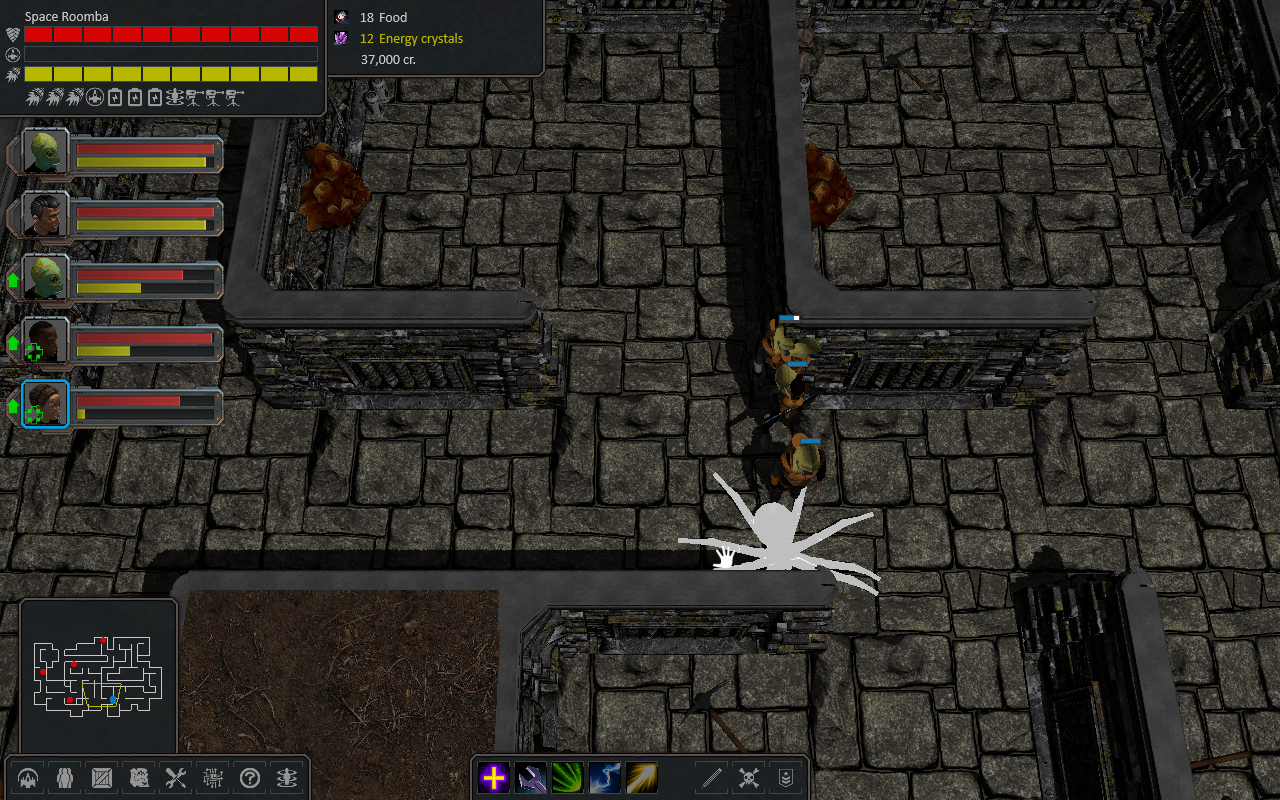 Missions
Multiple players requested a way to see how far away their missions are. This would help to prioritize missions and to get an overview how expensive it would be to travel to a place. With today's update, the distance to the mission target will be displayed in the mission panel on the right side of the screen.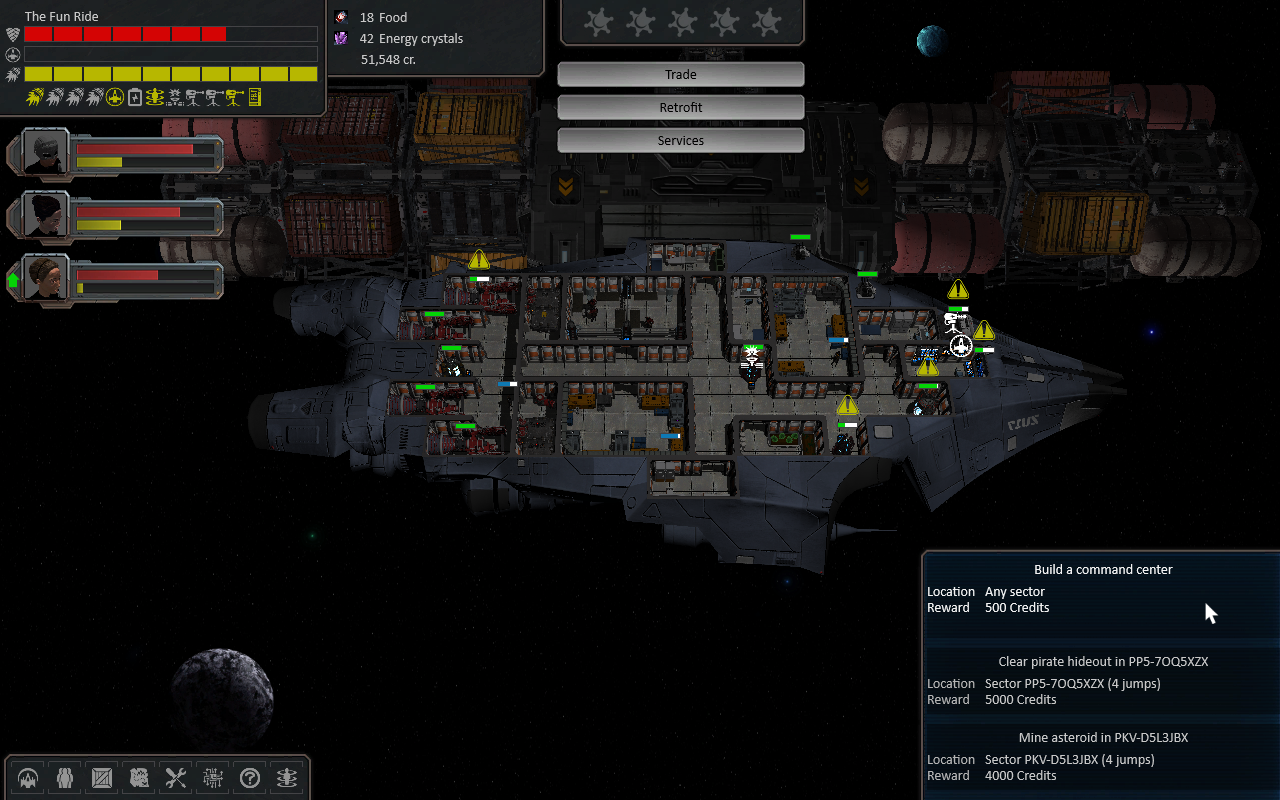 Creating new games
I got some feedback regarding the creation of new games and starting with today's update, you can remove added bonus cards. Also, you can see the description for any locked card instead of just a face-down card. Finally, the vertical orientation of stored captains was fixed (minor visual bug).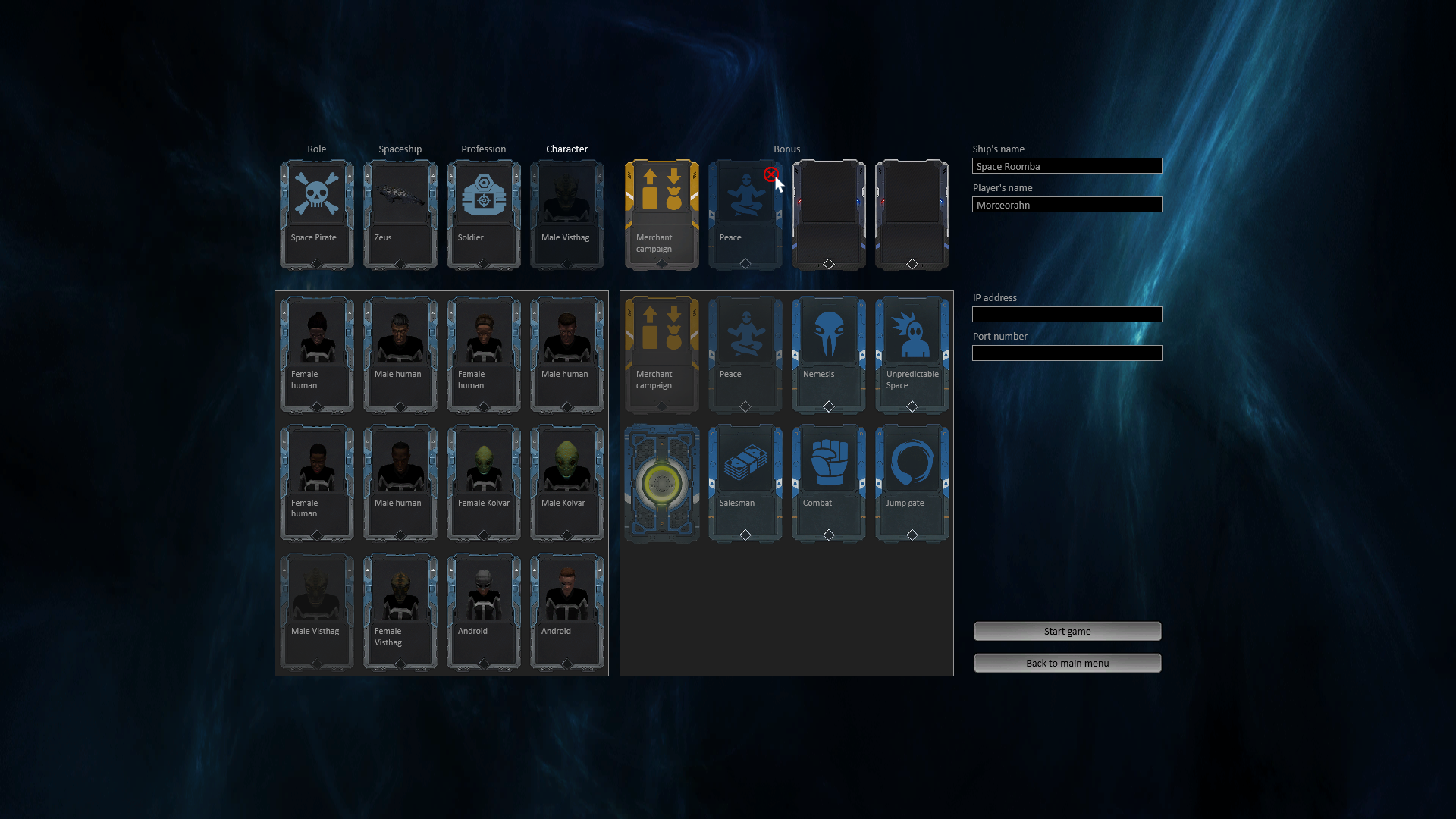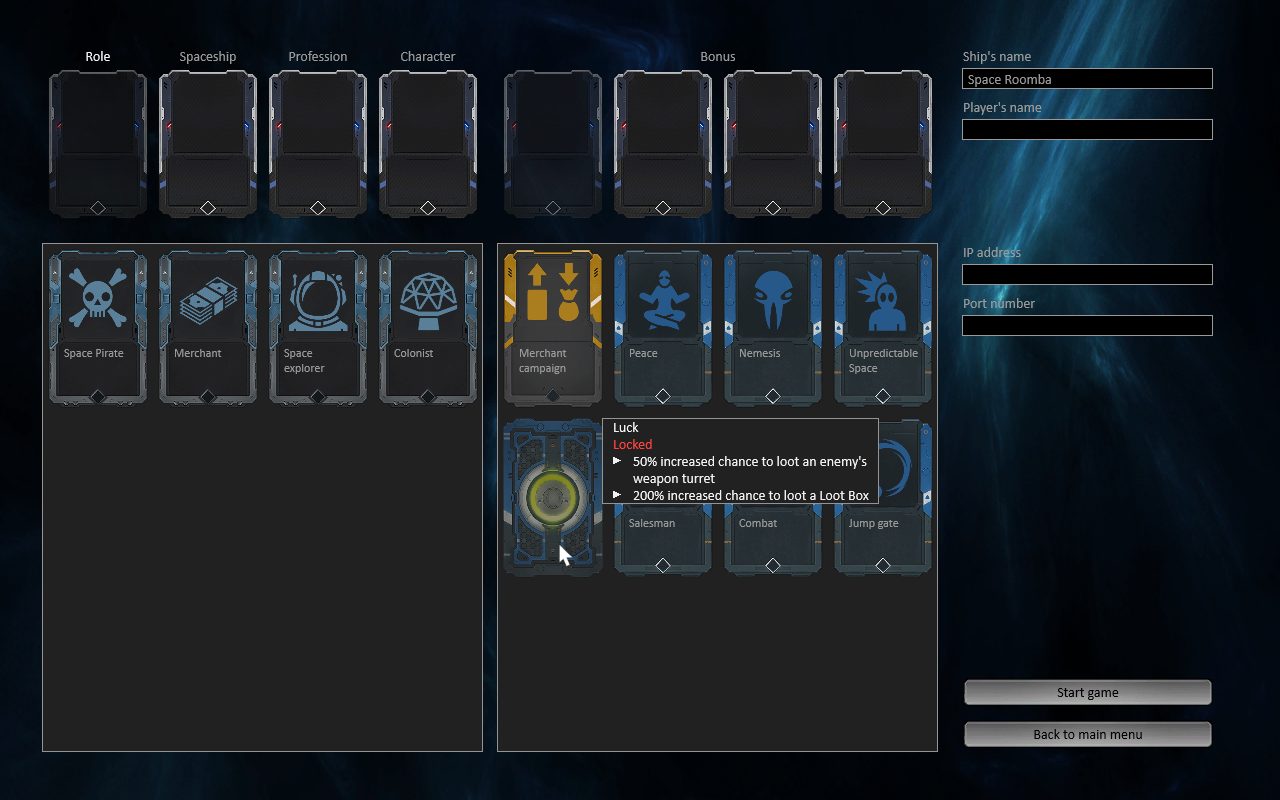 Tool-tips
Tool-tips have been added at any place that was requested by you, including the ship equipment's icons.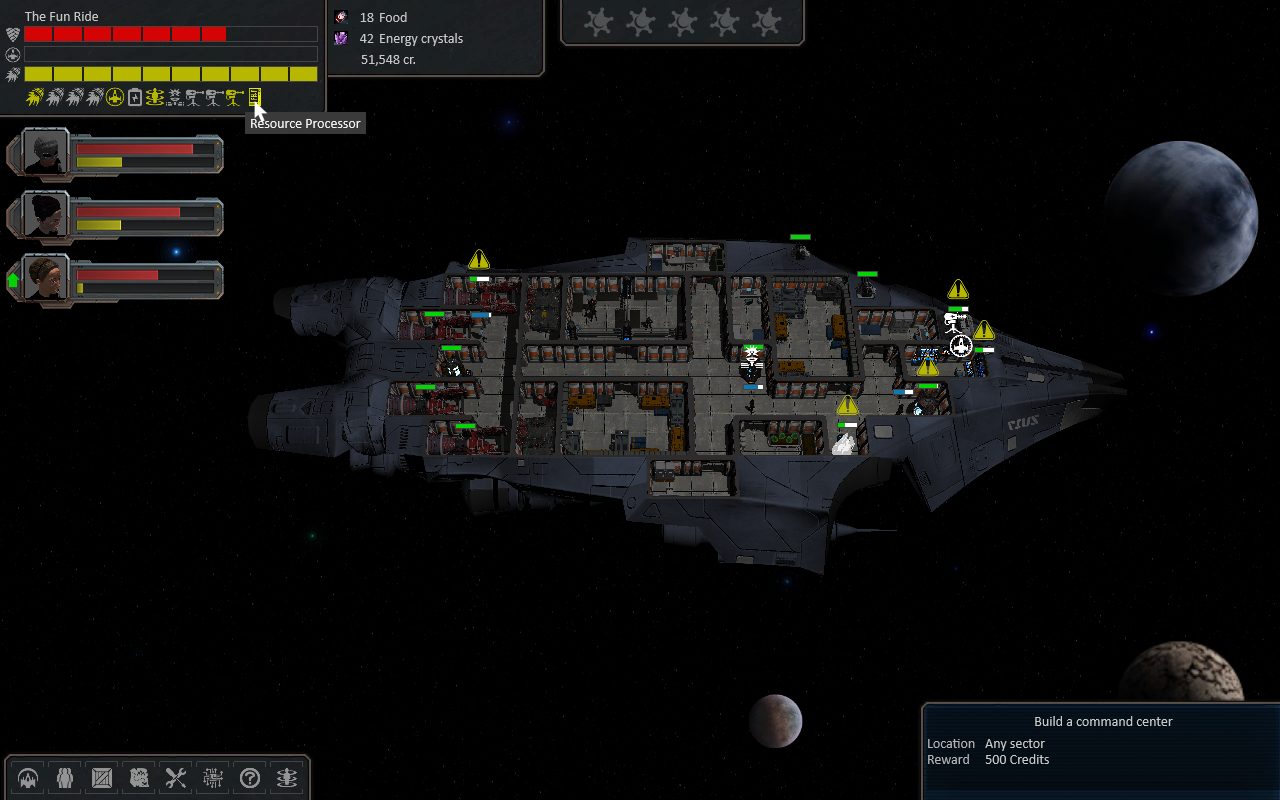 Further improvements
The wait time for time-consuming actions during space events have been cut in half
High-pitched weapon sounds have been replaced with new sound effects
Unhandled errors during run-time are logged in the game's log file, making debugging much easier and faster
You can level-up the skill of a crew member by clicking anywhere on the skill in the crew overview. You do not have to click exactly on the icon anymore.
The prices for goods at space stations have been adjusted so that you can still make money with crafting, but the profit is reduced to improve game balancing.
The view for completing a story line mission no longer overlaps with the dialog for the next story line quest.
The game gets paused, when the in-game menu is opened.
A notification is displayed when neighboured system are being scanned (pilot ability).
A notification is displayed, when enemy troops are about to board your ship.

If you want to assign a key to a function in the main menu and you select a key that was already used, a message dialog pops up. Now, when you close it, the settings menu is re-opened.
After closing the dialog to dispose goods from your inventory, the inventory window is re-opened.

Dialog to dispose goods from the inventory
Question dialogs (Escape pressing means cancel)
Dialog to recruit new crew members
Any rename dialogs
Dialog to add new trade routes
Crafting dialog
Dialog to promote crew members to officersThe following dialogs can now be closed pressing the Escape keyMany improvements regarding dialogs have been made.

Added tutorial descriptions for two new menu buttons: Help window and teleporting your crew back to your ship.
The tutorial description of character roles no longer overlaps with other roles.
Bug Fixes
Resolved mistake when calculating the cargo capacity for planetary outposts
Moving the camera in the level editor did not always update health bars and creature icons properly
After destroying a room in a planetary outposts any icons associated with this rooms were not removed.
You could give your spaceship a name only consisting of spaces.
You could name your captain " ".
Mouse scrolling in the main menu's settings did not work.
You could drag & drop empty inventory spaces.
NPCs could have Zeus-class battleships with four officer quarters. When they were captured by the player, the player could have an illegal amount of officers.
Resolved an issue when targeting the far-right turret on Aurora vessels.
Fixed a bug calculating the guest capacity for guest quarters that prevented retrofitting your ship when you had guests on your ship.
Fixed a grammar issue in a German translation.
If a player was defeated by an enemy spaceship, a sound was played that indicated that the player had won.
There have been a couple of issues regarding keyboard layout.


After assigning a new key, the highligh border around this key was still visible.
If keys were assigned during the game, the help dialog was not updated.
Fixed a spacing issue when displaying the keyboard layout in the help dialog.
The Strg key was not properly translated in English.

Tutorial


You could open the Galactic Map during the combat with the merchant, but you were not able to close it again.
If the weapon terminal was manned before the relating tutorial step was described, the crew member had to be re-assigned to the terminal to continue the tutorial.
If the player did not attack the merchant with any weapon turrets, the enemy was destroyed with drones and he got stuck in the tutorial.