No more missions. So what?
Hey all! I've never got the chance to post something on Moddb so far. Though, lately I've been working on quite a lot of things : I've put some numbers in the capital ship prototype we're working on, and made the first tests. Meanwhile, I've populated most of the systems with NPCs. I may show you some areas soon.
However, today we're going to talk about something else. As you may know already, there will be no missions in Freeworlds: Tides of War. So, the question is : what are we replacing them with?
The first idea is to put a lot of hostile NPC everywhere. That's what I've done when populating systems. Around 10% of the NPCs you encounter are pirates. The galaxy isn't homogeneous : core systems are safer than Outer Rim territories, and even within a same system there can be huge variations : stay close to Military Checkpoints and Police Outpost to be protected! On the other hand, most of the pirate bases are under imperial or republican assault.
Besides, around eight months ago Aldebaran came with another, new and great idea : the Raid Systems. You may have already heard this word before. Basically, they are small systems dedicated for fighting. In these systems, you will be fighting waves of NPCs, and progress in the system until you reach the final objective (for example, a boss). With Raids, we're not only replacing missions, but we're giving them a background. You're actually trying to do something, and not just kill swarms of NPCs without thinking.
Although this is a great concept, nothing had been done so far. You've guessed that I'm here to show you the first Raid system!
The idea behind it is that we wanted to put the awesome Death Star Zaxx and Sov have done. However, in 12 ABY the Death Star shouldn't exist anymore. Thus, i've thought about using the Raid concept to create a simulator of an Historical Battle where the Death Star was present. Of course, i want to talk about the Battle of Yavin.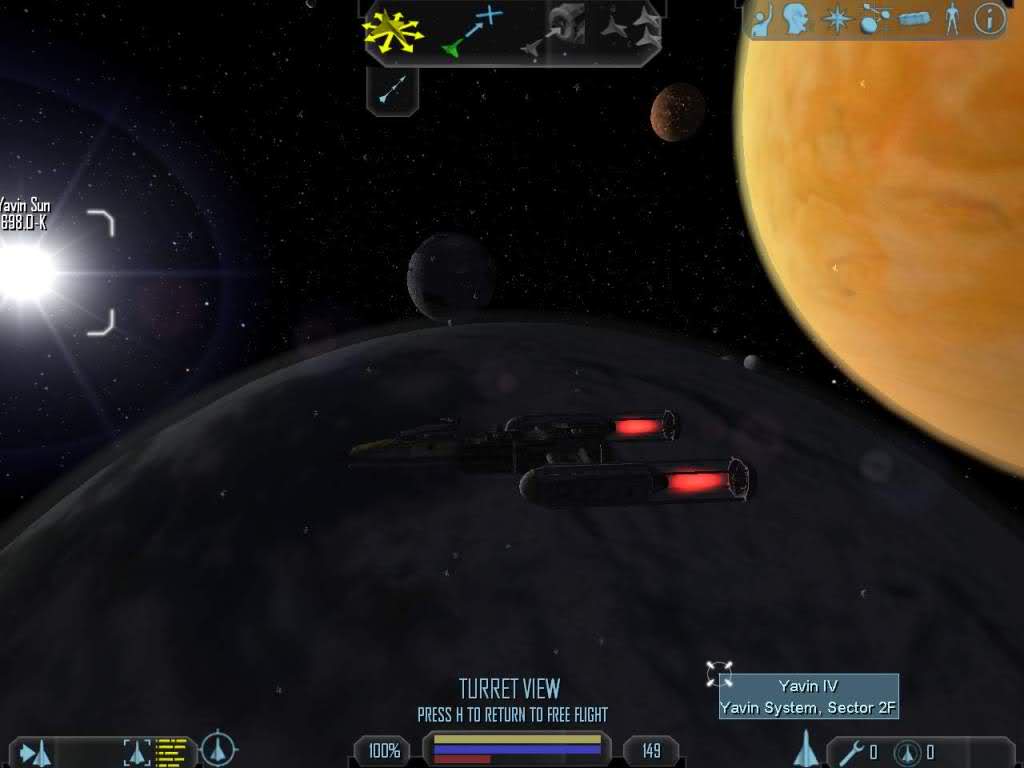 Here is the explanation i wrote in the Development Section :
"Deety" wrote: But think about this. As a Rebel :
- you dock to some capship somewhere in republican space. When you undock, you can jump to a Republican Fleet system (as you do for every Raid).
- there, you choose the "Battle of Yavin Simulator" buoy. Undock, and you "jump" (we can do some kind of jump sequence to show that you're entering the simulator) to Yavin. This Yavin looks like the real Yavin, except that there is a Death Star instead of its debris.
- we'll think about a way to kill the cruise speed (Interdictors?). Then, all you have to do is to reach the Death Star through the ennemy lines (TIE swarming!). We can think about secondary objectives : for example, you have to kill an ISD to use a jump buoy and get closer to the Death Star.
- once you reach the Death Star, the trench run starts. You have to get to the otherside. Heavy, accurate towers can prevent you from getting out of the trench. You win when you kill the exhaust port with a torpedo.
This was written one month ago. Yesterday, I've duplicated the awesome Yavin system Oma made and tweaked it to create the Battle of Yavin system. The battle is divided in five stages. I've used tradelanes to link the areas together :
In the first area, you're attacked by a medium, compact group of TIE Fighters. You have to shoot them down until your allies arrive.
The second stage requires you to fight your way through a large number of TIE Fighters. The next level is 20K away and you can't use the cruise speed...
In the third area, a Star Destroyer is on your way. No need to tell you what you have to do.
In the fourth zone, TIE Avengers and TIE Bombers come to party, while you have to reach the Death star surface.
The last zone (not done yet :) ) is the trench run, with Vador on your six!
The battle still needs a lot of tweaking, but it begins to look great. Here are several pictures to give you an idea :
Squadrons of TIE Fighters :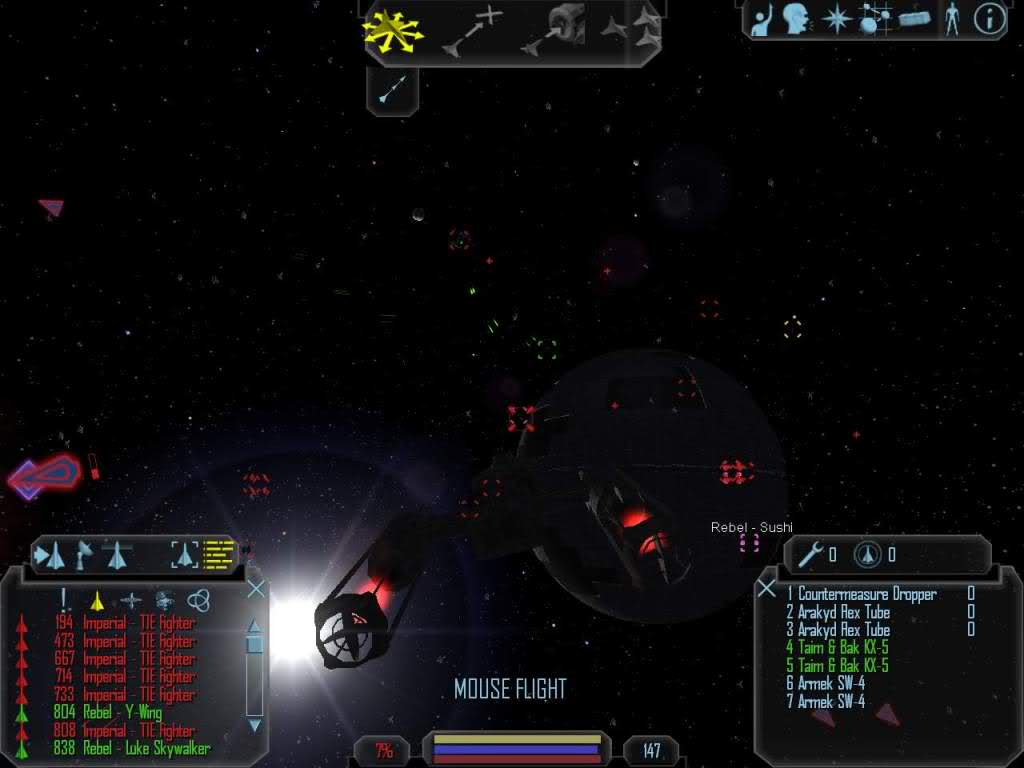 "They are everywhere" :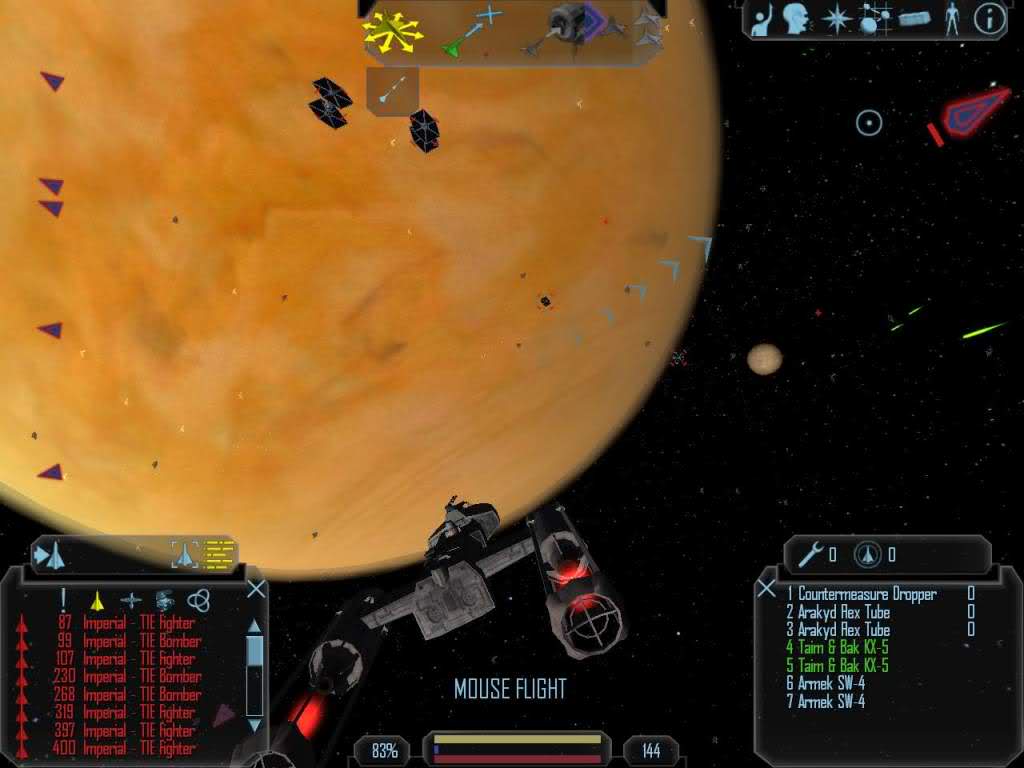 A Star Destroyer you have to destroy :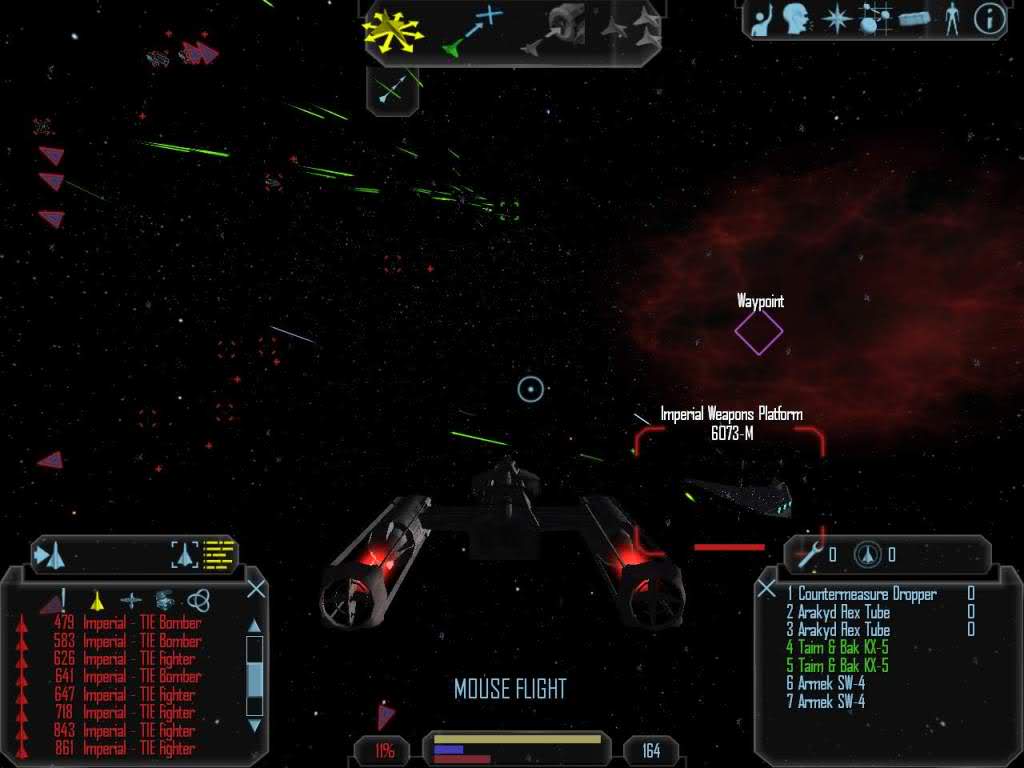 Same ISD :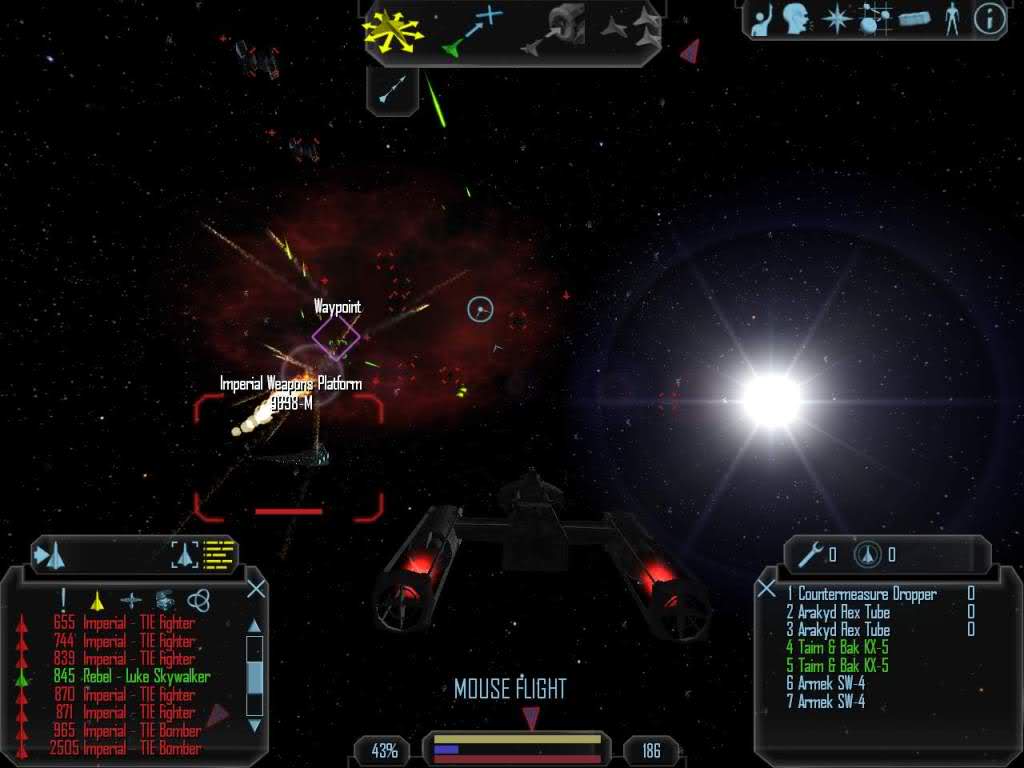 Death Star Hangar :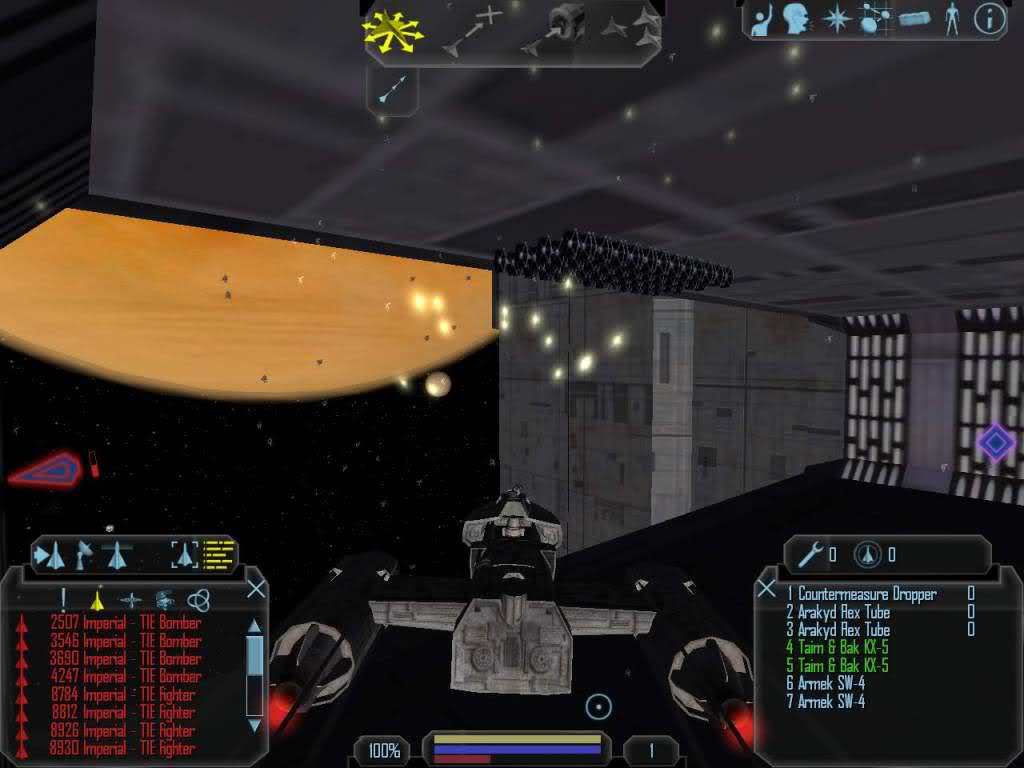 Death Star Trench :
The NPC forces are the following:
Rebel Alliance
X-wings
Y-wings
Luke Skywalker (hero)
Wedge Antilles (hero)
Millenium Falcon (hero)
Galactic Empire
TIE Fighters
TIE Bombers
TIE Avengers
Star Destroyers
Darth Vader (hero)
You may argue that there weren't TIE Avengers in the Battle of Yavin. However, as they're based on Vador's x1 prototype, i believe it makes sense to put them in the battle too. Furthermore, they represent a major challenge. You'll need a lot of friends to go through all the different battle areas!
To finish, Sushi has spent countless hours working on a presentation video. Enjoy !