Ahh, systems: so much promise, but yet they look so crap to start with! Luckily we have time for tweaking in advance of Gamecity, so everyone will be doing another mini-crunch starting next week. I've already asked our artist to expand the splatter a bit!
We will shortly be doing an interview with the very awesome Mr Ninjadave for the Indie group here on ModDB - looking forward to that one.
Another podcast should be out later today.
Thanks very much for all the comments on my track Schism, both on that page and on the previous news post. It's motivating to get feedback on the soundtrack as I write it - I'm hoping to get more done soon, but I'm back on the PR today as we really need to get things motoring in that department.
And now here's some LIFE, for those of you who are missing the Meaningless Diary of an Indie Game Man:
Um...never open Ableton Live with Fraps running otherwise this happens...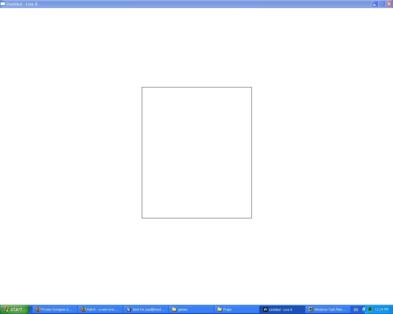 ...and this amazing white window will NEVER close. NEVER. Not with alt-F4, not with killing the process in Task Manager, not with ANYTHING. EVER. Don't you just love Windows?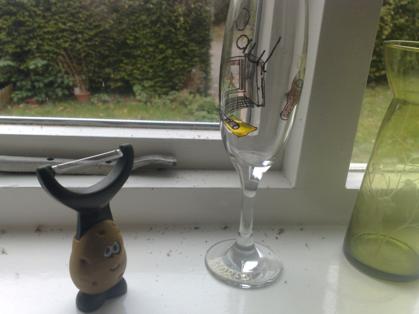 Mr Potato Man makes a welcome return to the blog. That's all I have to say about him.
Here is the story about this wine glass: I went to my girlfriend's cousin's wedding. It was ok: it was a WEDDING. Anyway, all of the guests (even the incredibly obscure ones like me) got given a hand-decorated, personalised wine glass. Mine had a computer with two sword-fighting guys on it, and pints of beer. This accurately represents about 90% of my total life's achievements, which is fantastic. Anyway if you are having a WEDDING, and you want to instantly make all of your obscure guests think you are awesome, do something as nice as that.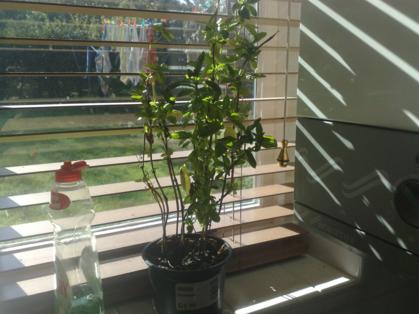 Here is the all-important Basil Update: the basil has moved from its prior home outside INTO THE KITCHEN. This is, apparently, to protect it from frost. It is, however, looking a little beleaguered, with some significant evidence of wilting.
Basil Rating: 4
More of this soon!