The First
Frontlines World War
will be on
August 1st, Sunday at 18hs GMT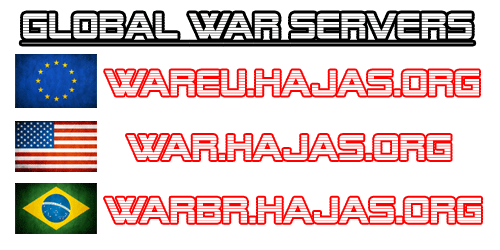 Will start at 18hs GMT with around 10hs of gameplay, which will give time to everyone from Europe and Americas participate together in a HUGE war.

========= The War will start soon as the server have 30 players online =========
Main Objective: Conquest 30 Territories first
Secundary Objective: Eliminate the entire enemy army
Army: 5000 soldiers
Reinforcements: 500 Soldiers
Weapons: Full Weapons
Realism: Level 3 (3 chances to complete the objective in no respawn gametypes)
Medic System: ONLINE
HelpMode: OFFLINE
Hardcore: HER Level 3
Want to play together with your clan mates? please register the tags of your clan replying below then when the War starts you all will gonna play always at the
SAME
side.
To connect simply open the console and type connect war.hajas.org and enjoy the war!

connect war.hajas.org
Frontlines R3L04D World War #1 @ GWS
August 1, 3:00pm - August 1, 11:45pm (GMT-3)
Join the Frontlines World WAR at the Global WAR Server ! Only default maps! You will only need the mod which will be installed once you connect to the server!
!!! ATTENTION ADMINS !!!
please execute the command fl move at your servers to redirect all connected to the GWS!
(make sure you didn't change the redirect config or this will not work)
Until there play at our servers to learn the gametypes and get highest ranks for the War!
At Blood Culture Server we always have people online around 01:00 GMT, with the Blood days every tuesday, friday and sunday... let's train for the big war together!!!

connect warbr.hajas.org
See you all on the Battlefield!